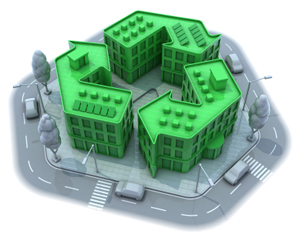 LEED. Built Green. BOMA BESt. Green Globes. Passivhaus. Living Building. Got it?
Of course not. No worries, though. You've found The Tyee Guide to green building certification systems in Canada. Give us 10 minutes, and we'll teach you enough about green building certification to fake your way through a cocktail party with the arrogant architect of your choosing.
Leadership in Energy and Environmental Design
LEED, as this mouthful of awkward acronym is more easily described, is the leading green building rating system in the U.S. and Canada. There are now more than 32,000 projects registered in the LEED program, plus 7,748 projects already certified.
The LEED standard is set -- and repeatedly rewritten -- by the non-profit U.S. Green Building Council, and administered by the Green Building Certification Institute.
The Canada Green Building Council is one of 16 international green building councils that maintain a mirror-like standard that preserves the structure and intents of the American version, while adapting minor details for domestic conditions and building codes. Through such affiliations, LEED is now in more than 90 countries.
The U.S. Green Building Council (USGBC) and its many sisters are on a mission to change the (built) world. Setting green building standards is only the beginning of an agenda that includes rewriting building codes, transforming the marketplace and educating the public. The USGBC warns that buildings are responsible for 39 per cent of American CO2 emissions, and promises that a commitment to green building can meet 85 per cent of that nation's future demand for energy while generating 2.5 million new jobs.
LEED was drafted through a consensus-based process in the late 1990s, and the first rating tool, LEED for New Construction, was launched in 2000. The LEED standards are continually revised by a sprawling network of committees.
There are now six LEED Canada rating systems, including LEED for Commercial Interiors, LEED for Core and Shell, LEED for Existing Buildings, LEED for Homes and LEED for Neighbourhood Developments.
All LEED certification systems are structured around six core categories: sustainable sites (using urban brownfields good, ripping up prime farmland bad), water efficiency (both indoor and landscaping), energy and atmosphere (extra points for reducing carbon emissions) materials and resources (the 500 Mile Diet), indoor environmental quality (no New Car Smell) and innovation in design.
LEED rating systems are points-based. A candidate project must meet a slate of minimum standards in order to be eligible. Once those prerequisites are met, candidate projects earn points by documenting that they have met or exceeded additional green building criteria. Projects that earn 40 per cent or more of available points are deemed LEED Certified. Projects that get 50 per cent earn LEED Silver rating, 60 per cent earn LEED Gold, and 80 per cent earn LEED Platinum.
Such a multifaceted rating system is neither simple nor inexpensive to administer. In order to make it work, the Green Building Certification Institute has certified more than 157,000 professionals to navigate the LEED maze. (About 10,000 of whom are in Canada.) The USGBC also offers training at its annual Greenbuild conference. (The next is in Toronto.)
LEED's complex and continually evolving nature is also the source of much criticism. Large developers gripe about the cost of hiring LEED professionals and the time it takes to receive certification, while many small builders avoid LEED altogether.
Built Green Canada
Built Green Canada, which has enrolled more than 15,000 homes, is everything that LEED is not.
Whereas LEED has been applied primarily on large projects, Built Green Canada was created for single-family homes and small multi-unit residences.
Whereas LEED often requires the use of paid consultants, Built Green Canada posts its online checklist atop the front page of its web site and encourages all comers to give it a spin.
Whereas LEED was imported from the states, Built Green Canada is a made-in-Alberta program.
And whereas the Canadian Green Building Council is on a mission to gradually upgrade laws and building codes, the Built Green Canada is committed to a "non-regulatory market-driven approach to optimize the use of innovative industry-based solutions to potential environmental problems."
Built Green began as a discussion among some Alberta homebuilders, and evolved into a project of the Canadian Home Builders' Association (CHBA). Its founders examined several Built Green programs in the United States, as well as the U.S. National Association of Home Builders green home building guidelines. Built Green Canada was launched in Alberta in 2003, nationwide the following year. (Click here for B.C.)
The Built Green program is pointedly simple: (1.) The builder must complete a two-day Built Green Builder Training course and become a Built Green Certified Builder; (2.) The certified builder submits an enrollment form, the completed checklist and a standardized assessment of the home's energy efficiency; (3.) A third party energy auditor conducts a blower door test and confirms the energy assessment. Upon completion and inspection, the builder receives an EnerGuide for New Houses rating label and a Built Green seal for the home. Both are affixed to the furnace.
The EnerGuide for New Houses rating and labeling system is the mandatory requirement at the heart of the Built Green program. EnerGuide is not unique to Built Green, but is a Canadian government program. It is based on a 100-point scale, with zero being the least energy efficient and 100 being the most. In 2005, the average Canadian home rated 66 on the EnerGuide scale.
A Built Green home must achieve an EnerGuide for New Houses rating of at least 72 to be certified. An EnerGuide rating of 75 is required to earn a silver rating, 77 earns a gold, and 82 earns a platinum.
In addition, the online checklist offers variety of green features from which the builder selects a minimum number to meet a chosen achievement level. The checklist is revised annually.
Advocates of the accessible and transparent Built Green Canada program note that it has educated hundreds of builders and improved the energy performance of 15,000 homes, very few of which would have participated in the much more rigorous LEED system.
Critics complain that Built Green requires little in the way of site selection, water savings or material selection. They further note the EnerGuide R-2000 standard -- which forms the basis for both the training of Built Green builders and the bar above which Built Green platinum homes must rise -- was drafted 30 years ago by the federal government, and represents a narrow and outdated definition of green building.
BOMA BESt (aka Go Green, aka Green Globes, aka BREEAM-Canada)
Just to spice up this alphabet soup of acronyms, the other major Canadian green building certification system has operated under several different names.
More than 800 commercial buildings have been certified under the system now known as BOMA BESt.
BOMA BESt shares a common ancestry with LEED. Both evolved from the United Kingdom's BRE Environmental Assessment Method (BREEAM), which in 1990 was first to offer an environmental label for buildings.
The Canadian Standards Association published BREEAM-Canada as a guideline (but not a rating system) for existing buildings in 1996. The American authors of the first LEED standard have acknowledged borrowing ideas from BREEAM and BREEAM-Canada.
A program called Green Globes was created in 2000 as an assessment and rating tool based on the BREEAM-Canada guidelines. And in 2004, the Building Owners and Manufacturers Association of Canada (BOMA) adopted a version of the BREEAM-Canada/Green Globe standard for existing buildings, and rebranded it Go Green.
BOMA subsequently renamed its program BOMA BESt (for Existing Buildings). BOMA BESt features four levels of certification and a simplified online application procedure. Participants assess their own facilities, then hire a third-party verifier to achieve certification.
Major commercial real estate firms such as Cadillac Fairview, Bentall Real Estate, SNC Lavalin Profac and GWL Realty Advisors use BOMA BESt, which claims its certified buildings use 11 per cent less energy and 18 per cent less water than the industry standard.
Complicating the brand a bit further, an American group called the Green Building Initiative was created in 2004 to launch an industry-led version of Green Globes in the states. That system is based on a 1,000-point scale divided into categories similar to LEED: site, energy, water, resources and materials, emissions and effluents and project management. As is the case with LEED, roughly a third of the total points are allotted in the energy category.
A University of Minnesota team published a detailed comparison of the American LEED and Green Globe systems. The 2006 study found "the Green Globes system appears to be doing a fairly good job in improving upon the delivery mechanisms employed by LEED which are so often criticized. The online approach to assessment not only improves efficiency and reduces costs, but also provides opportunities to influence the design and planning processes of the project through immediate feedback not available from a primarily paper-based system."
Next-generation rating systems
While Built Green and Green Globes serve the green building industry by providing less complicated alternatives to LEED, a new pair of labels have challenged LEED's dominance by offering even more stringent standards.
Passivhaus is a European standard focused solely on energy use. Passivhaus certified buildings must consume no more than 15 kilowatt hours of energy per square metre per year. In order to achieve this rigid requirement, Passivhause structures are super-insulated and astonishingly airtight. Many are built without furnaces, even in northern countries.
There are an estimated 25,000 Passivhaus buildings in Europe, but only a handful in North America. One is in Whistler. (Click back for more about passivhaus next week in this series.)
Living Buildings, on the other hand, produce their own energy, capture and process their own water and release minimal toxins. The Living Building Challenge describes itself as "a philosophy, advocacy platform and certification program" that aims to be the most stringent in the world. (More about Living Buildings later in this series.)
A project of the Cascadia Region Green Building Council -- the only multinational chapter of the U.S. and Canada green building councils -- the International Living Building Institute will convene its fifth annual unconference in Vancouver this April.
Get caught up on this series:
Last week: Three homes that will change how you think about green and Five Myths About Green Building.
More in this series to come in the weeks ahead.