If there's one guy in the world that Barry Joneson can't stand, it's Mike Holmes, all-Canadian reno hero. Seems strange, coming from this burly, bearded contractor wearing a hard hat adorned with red maple leaves, but it's true.
"He's the worst guy," Joneson insists. "I'd like to meet him some time and just tell 'em that."
The reason, he explains, is because of this spray foam insulation that Holmes likes to use on his hit show, Holmes on Homes. The stuff is a quick and effective insulator. But it sticks to wood like glue, making every piece it touches impossible to salvage. To Joneson, it's like watching someone throw money in the garbage. Then again, he sees things a little differently than most.
Joneson is in the business of taking buildings apart, separating the materials -- this is key -- so that they can be recycled or reused. It's called deconstruction, and compared to demolition, it's time-intensive, labour intensive, and way better for the environment. A typical deconstruction projects sees 90 to 95 per cent of the entire building reused or recycled. A demolition project typically results in 90 per cent of the building going to the landfill.
But that's not the reason why the U.S. government has poured millions into deconstruction projects in the states, or why Joneson's latest project is being held up as a case study for deconstruction in Vancouver. The reason is jobs.
The city, and Metro Vancouver, have been talking about deconstruction for several years, mainly as a means to boost recycling in the construction, renovation and demolition sector -- a sector responsible for one-third of the region's total waste, or roughly 35 million tonnes.
Then Ian Mass, executive director of Pacific Community Resources (PCR), a non-profit that offers job-training skills for people with barriers to employment, approached the city.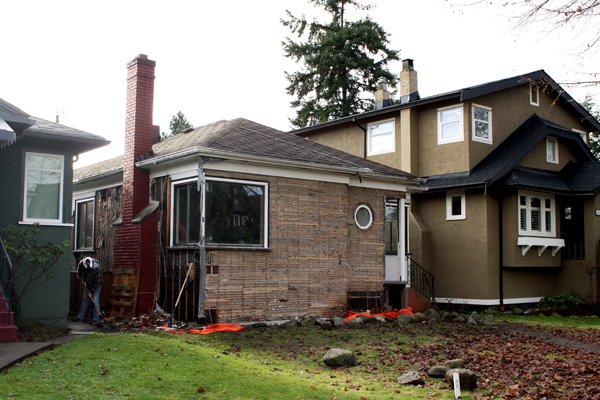 "Service Canada had some extra training dollars for this fiscal year," explains Mass. "They asked if we had any ideas on what to train youth about."
Mass made the city an offer: if they provided the manual labour, would the city find a house that they could train on? For the city, it was a perfect fit. The city would get a pilot project to study, the students would get hands-on job training, and the homeowner would get the job done at the same price as it would have cost for demolition.
PCR now has two pilot projects with the city; one will begin in February, and one is in its second week.
When I got to visit the site, a stripped-down bungalo near Point Grey, Joneson toured me around pointing out everything of value; a bathtub, stove, aluminum awnings, even door frames, could be cleaned up and resold.
Even the very structure of the home itself -- the asphalt roof shingles, concrete, drywall, bricks and wood frame, can be recycled if they are separated, for a lower cost than taking the whole jumbled mess to the dump.
For example, with a recent increase in tipping fees, it would cost Joneson $250 to take a load (a 30-yard bin truck) of mixed wood and metal to the landfill. To get rid of the same amount of wood alone would cost him $37.
Joneson started his business, Pacific Labour and Demolition, in 1994. "I don't like using the word demolition, because it's the anti-deconstruction," he says. "But when I started, if I had of put deconstruction on there, no one would have known what I was talking about." He figures he's done about 3,000 homes, and takes pride in hiring people who have a hard time finding employment. After the death of his son in 1987, Joneson went through a rough patch himself and ended up on the street addicted to heroin.
He sees deconstruction as a chance to salvage materials, and also lives -- and this perspective makes him a good instructor for Pacific Community Resources, which helps at-risk and inexperienced youth find jobs.
Joneson is in charge of training all 20 students in PCR's Work and Learn program. First, they go through six weeks of safety training in the classroom. Then, two groups of 10 will participate in a two-week complete deconstruction project, and then they get interview and resume skills training before graduation.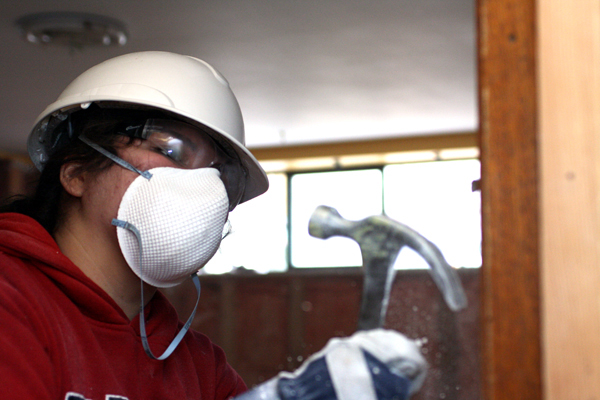 I meet one trainee, Cher Whatley, knocking down drywall in the basement. It's one of the easiest materials to deal with, she says. The 19-year-old has worked as a general labourer before, but says this is quite different.
"With a construction site, when you're doing demo, you just basically throw everything away. This is more eco-friendly." Whatley says the classroom part had some benefits, but being on the job is more interesting. She gets paid $8 an hour in this program, and starting wage in this field is about $15 per hour. Does she see a future in this line of work?
"I guess it really depends on what people think," Whatley says. "I think there's more awareness now, that we should be recycling and doing things different. If we get the word out there a bit more, this could be a very good business."
Time-lapse of a deconstruction project in Seattle. To learn more about the project, visit the blog. Used with permission from Mike Industries.
That's what the city is hoping too.
"Any new construction has to have a demolition associated with it... there aren't really any lots," says David Ramslie, sustainable development program manager with the city of Vancouver. "We, on average, see anywhere between 500 and 750 homes demolished in Vancouver a year. If less material is going to our landfill, it extends the life of the landfill. It's kind of selfish, from an asset management perspective."
It's also a sign, says Ramslie, that the city is getting serious about green and local economic development.
"When people talk about the creation of green jobs, they always think of the green architect, or the green designer. We would also like to have green jobs that are low threshold, so people that have typically had barriers to employment before can access these jobs and get involved in the green economy too."
For its part, the city contributed a $2,000 grant to Pacific Community Resources. It also fast-tracked the homeowner's building permit application. The condition of the grant is that Joneson, with the help of an MBA student, is carefully tracing what comes out of the house and where it goes.
"We want to get a sense of the order of magnitude of time and what's involved," says Ramslie. City staff are developing a broader program that they will bring to council later this month.
"The draft strategy we're putting together right now is to work on an incentive program that promotes voluntary uptake of deconstruction," Ramslie says.
He adds that while the city "wouldn't rule out the possibility of moving to a policy requirement over time," they're not going there yet.
Without policy requirement around deconstruction, it's dubious that residents will voluntarily choose this option.
Todd Senft is the president of Revision Renovations, a company specializing in high-end, eco-friendly renos.
Revision is currently involved in pilot projects with Metro Vancouver and Lighthouse Sustainable Building Centre, focused on how to maximize recycling from a large renovation project.
So far, says Senft, they are reaching about a 97 per cent recycling rate.
The cost of separating and recycling all the materials removed from the site has not been that significant, Senft says. At least, he wouldn't call it significant. Some might disagree.
"People are okay with green as long as it doesn't cost them more," he explains. "It is a short conversation to try and convince them that a thousand-dollar over a $25,000 renovation is very minor compared to the long-term environmental benefits of keeping those materials out of a landfill."
"It's hard to make it work no matter where you go," says David Bennick, a deconstruction consultant based in Bellingham, Washington. Bennick advised both Metro Vancouver and the city of Vancouver as they launched their pilot projects, and recently launched a Canadian website to try to focus deconstruction efforts here.
Bennick has been in the business for 18 years. For most of his career, like Joneson, he was a voice in the wilderness. Then, several years ago, in an effort to create jobs (and deal with the thousands of homes left vacant in the wake of the housing crisis) the U.S. government started pouring money into deconstruction projects. Since then, Bennick has launched five new deconstruction companies in 2010.
He says job training programs are essential to helping make deconstruction cost-competitive with demolition, at least at this early stage.
"To build this industry in the Lower Mainland, we need contractors providing an efficient version of this service, we needs lots of recycling options available, we need people with projects to choose deconstruction and work with this young industry," Bennick says.
"There are as many social benefits as environmental. These are local jobs, that create local businesses and local manufacturing. It's a win-win."