[Editor's note: Young Canadians of First Nation, Metis or Inuit heritage face the bleakest outlook for employment, addiction and the risk of incarceration of any demographic in the country. A better education could change that. In this series produced by Tyee Solutions Society, reporter Katie Hyslop looks at some inspiring models for doing things differently; what society's failure to help our Aboriginal youth learn is costing the rest of us; and how the federal and provincial governments might better spend Aboriginal education dollars.
For more on how this issue affects British Columbia's interior, hear Katie Hyslop's multi-part conversation with Carolina de Ryk and Robert Doane of CBC Radio's Daybreak North.]
It's a sunny June 1 morning in Yan, an ancient Haida village on the northeast coast of the island of Haida Gwaii, British Columbia. Once home to two different Haida clans, all that's left of the village is a re-created Haida building, a few decaying totem poles, and the skulls of the people that died there lying just beyond the tree line. Abandoned by the Haida in the late 19th century, today the seaside site is crawling with teenagers.
It's field day for the students at George M. Dawson Secondary, just a 30-minute boat ride across Masset Inlet from Yan, in the community of Masset. Part end-of-year fun, part educational field trip, the Grade 8 to 12 students are learning about the history of the village with an archeological tour, cooking food how the Haida did by digging fire pits, and studying the sea creatures on the beach that Haida might have eaten.
With 75 per cent of the students at George M. Dawson identifying as Haida, chances are at least some of them are following in the footsteps of their ancestors.
The trip is a great example of how Haida culture is infused into the local curriculum, and it's complementary to the lessons they learned back at school, including reading Aboriginal literature, speaking Haida, and skinning deer or catching prawns.
"The kids participate in the Haida language and activities that we have: drawing, cleaning fish, cleaning deer meat, working on clams, working on prawns. [We're] always trying to keep our kids involved with the bounty that's around us, like the food we get from the ocean, from the land, from our language," explains Marni York, the Haida language assistant at George M. Dawson.
In the past decade the Haida Gwaii School District has made efforts to incorporate more Haida culture and language into the curriculum, recognizing both the damages assimilation has caused Aboriginal Canadians and that best practice dictates teaching kids from a base of their own culture.
But there is still a tangible, inescapable tension between maintaining an Aboriginal identity and getting an education that, for all intents and purposes, still assimilates Aboriginal children into the larger Canadian society. And a public education system where the majority of teachers are Caucasian and turnover is high means the district's efforts to incorporate Haida culture into the curriculum receive mixed reactions from the island's Aboriginal community.
'Three kinds of counting'
The ministry of education allows for only 10 per cent local content in their curriculum. But district superintendent Angus Wilson encourages teachers to put in as much local information and context as they want provided learning outcomes are met, even going so far as to hold workshops for teachers about incorporating Haida culture into the classroom.
"Whether you are a Science 9 teacher or a Grade 1 teacher, the idea is that you try and incorporate some aspects of it into what you're doing. And it can even be little things, like if you're counting in primary school, you know that the Haida had three kinds of counting: they had counting people, they had counting stuff, and they had counting people in canoes," he says.
"It's a separate counting system, and that leads into an interesting discussion about why traditionally it was important to be able to count people in canoes."
Schools on the island offer Haida language classes before they offer French, using core funding for the course instead of funding targeted at Aboriginal students. First Peoples 12, an Aboriginal alternative to English 12, isn't offered -- there isn't enough demand -- but English teachers at George M. Dawson alternate classics like 1984 with Raven's Cry, a book about the affects of colonization on the Haida people.
Marine biology students at Queen Charlotte Secondary in Queen Charlotte Village, Haida Gwaii, take their classes outside to the beach and learn Haida names for the local marine life they see there.
"What I seek to avoid is a thing I call window dressing, where [we say:] 'Doesn't this look native?' and actually make it 'Are we pedagogically teaching in a different way?' And I think that since 2000, that's something that we've gone a long way toward embracing," says Wilson.
Revolving door for teachers
Haida Gwaii is an island on the northwest coast of British Columbia. A popular tourist destination in the summer with its towering trees, inlets littered with tiny islands, and wave-beaten shoreline, it's still pretty isolated from the rest of the province. Trips in or out are made by plane or by boat, and the lack of protection from the cruel Pacific winter winds means it takes a certain type of person to call Haida Gwaii home.
Given this, it isn't surprising that in the past there have been high teacher turnover rates in the district.
"The first year I taught," says Lorrie Joron, principal of George M. Dawson, "the kids were like, 'I don't have to listen to you, you're not going to be here next year.' I guess it was pretty much a revolving door, and teachers didn't stay for more than two years." She moved to the island from Ontario 22 years ago and has served as principal of the high school for the last five years.
"So I was like, 'I'm staying, just to prove you wrong,' and now I've got kids in here that are children of the kids I taught."
Despite the revolving door, most of the teachers are from off-island, and most are Caucasian. In the entire district there are only four Aboriginal teachers, although at least 40 per cent of the support staff are Aboriginal. Nevertheless, Joron says her teachers are committed to including Haida culture in the curriculum.
"They have a really, overall strong relationship with the kids, and that probably makes the biggest difference. It takes awhile for the kids to build trust in the adults in the building."
Conrad Russ is a senior at George M. Dawson, set to graduate a few weeks after the trip to Yan. He's less than impressed than his principal with the Haida culture and language he receives at the school. "It's not as much as I'd like to see," he says. "[I'd like] more culture-based things like canoeing, carving, drawing, all this art stuff. Singing and dancing, and stuff. It would be pretty fun."
Like many of his fellow classmates, mainly non-Aboriginal people have taught Russ for his entire life at school. He knows life would have been different if he had had more Haida teachers.
"I'd be way more connected [to the island] for sure. I'd know a lot more than I do. There's still lots to learn, so it'd be a lot better in my mind," he says.
There aren't that many Haida teachers available to fill the teaching jobs on the island, however. The local band councils encourage Haida youth to obtain education degrees, and this year two young Haida people returned to the island after completing their teaching degrees at the University of British Columbia. But there aren't teaching jobs available for them.
'Aboriginal life doesn't run on a school calendar'
Some members of the Haida community have seen the school's efforts pay off. Florence Lockyer, education co-ordinator for the Old Massett Village Council, says she's seen graduation rates improve for the Haida students compared to 20 years ago.
"This year we have, again, in the graduating class a dozen Haida students who are all graduating with their Dogwoods [B.C. Certificate of Graduation]," she says.
Lockyer is a member of the Haida Education Council, comprising representatives from the school board, and the education co-ordinators for the island's two Haida councils: Old Massett Village Council, and Skidegate Band Council on the Skidegate reserve on the southern end of the main island. The Haida Education Council previously negotiated the local education agreement, which determined responsibilities for educating reserve children in public schools, and is currently finalizing the draft of the district's Aboriginal Enhancement Agreement, an ongoing accord between the local Haida governments, the ministry of education, and the school board to improve Aboriginal education in the district.
Lockyer says the relationship between the district and the Haida governments' is better than it used to be. But she believes the district could be doing a lot more culturally responsive education.
"Like if there was a topic in math that you could incorporate anything related to Haida culture or being Haida, then that would somehow make that lesson more culturally responsive than if you used, as an example, rather than counting pigs on a paper you would be using agates from the beach as counting markers," she says.
And a rigid school calendar can interrupt the flow of Aboriginal life. For some families this means academics come second to cultural or family obligations.
"Aboriginal life doesn't run on a school calendar, and sometimes traditional activities like food harvesting will interrupt the academic year, and will either leave some students way behind or just out of the picture," says Lockyer.
George M. Dawson Secondary language teacher Colleen Williams is worried about the amount of language in the school, too. A Haida woman from Old Massett, she's not fluent and relies on help from a local elder to teach her classes. With only three hours of language instruction per week, most of which is spent documenting the elder speaking, Williams doesn't foresee her students ever becoming fluent without a change in the program.
"Having a one-year, full-on immersion, like say we had all the Grade 8s full-on [in] immersion for their first year: then it would work. But right now it's not ever going to work," she says.
Tension between, and within, communities
Not every Haida person is upset with the district's progress. Joanne Yovanovich is the Aboriginal principal for the district, and a Haida woman. She says sometimes the district's efforts to do more are hampered by the Haida community.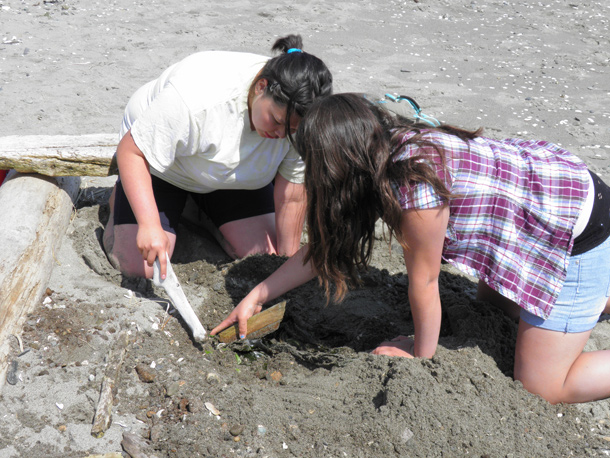 "In sciences people would like to do plants and [traditional Haida] medicines, and that one gets a little gray for us. Knowledge holders don't really see it as something that's shared and taught in school, and they have valid concerns about cultural appropriation where all of a sudden somebody's making and selling ointment using the knowledge," says Yovanovich.
"So there's that tension all the time of what is enough and what is acceptable, how many different groups of people do I need to talk to for approval to do this activity or not."
Still Yovanovich admits there aren't enough teachers adopting the Haida culture in their curriculum. She believes there needs to be a philosophical shift among school faculty to recognize the value of Aboriginal knowledge. But at the same time Yovanovich warns against teachers taking on subjects they don't know.
"Jumping into doing 70 per cent of what you do is centred around Haida culture, if you don't know anything about it, you're doing more damage than good in lots of ways," she says.
Wilson would like to see more Haida in the curriculum, too. But he thinks creating Aboriginal-centred curriculum for secondary students is going about it the wrong way: Haida students should be learning about their own history much, much earlier.
Teach First Nations, first
"We seem to be throwing a lot of stuff in at the upper level, like this is First Nations 12, First Peoples 12, and not that those are bad courses at all but it would be better in a way if it was First Nations 3 and First Peoples 3, if you see what I mean. And then you're much more comfortable learning about feudal Europe or Japanese automotive industry or whatever when you're in high school," he says.
Wilson and his district aren't waiting for the ministry to come around to this way of thinking. They're starting their first Haida immersion kindergarten program this fall at Tahayghen Elementary in Queen Charlotte Village. If the program is successful, they'll expand it to Sk'aadgaa Naay Elementary on the nearby reserve of Skidegate next year. But in an email to The Tyee Solutions Society, Wilson says even this development has critics in the Haida community.
"I had a very lengthy (but pleasant) phone call from a Haida woman (at home, on a Saturday) requesting that we reconsider the Haida Immersion issue," he wrote.
"In her view it: a) put too much stress on children learning a complex language; and b) created a racially charged atmosphere and too much emphasis has been put on racially/culturally based education that actually undermines the life success for Aboriginal kids."
It's unlikely an immersion school will be the silver-bullet solution to a century-and-a-half old struggle to both maintain an Aboriginal identity and succeed in the Canadian school system. Nor is it much likelier that any school district can please everyone in its community.
But increasing the presence of Aboriginal language, culture and heritage in the Haida Gwaii curriculum may help narrow the gap, and hopefully bring closer a time when Aboriginal children find it far easier, even natural, to imagine graduating from school.