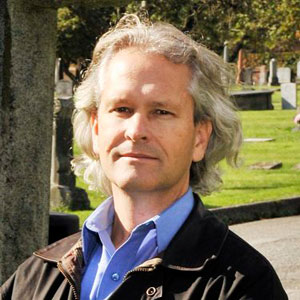 [Editor's note: Since this article was first published in the Georgia Straight last November, various civil rights groups have added their voices -- and lawsuits -- to the ongoing debate over the legality of assisted suicide in B.C.
This April, the B.C. Civil Liberties Association filed its "death with dignity" lawsuit, a B.C. Supreme Court challenge against the criminality of physician-assisted suicide. That lawsuit gained steam on June 29, when 63-year-old Gloria Taylor, who has battled crippling symptoms of ALS for nearly a decade, added her name as a plaintiff in the case.
In the first of this two part series, we meet three B.C. men who faced down immense opposition and social taboo while fighting for the right to die with legal help, and the drugs to help them do it.]
I cannot tell you Stephen Gardiner's real name or where he lives because, if I did, well-intentioned friends might try to stop him from killing himself. And he doesn't want them implicated.
I can tell you Wolf Obgielo's name, because the details of the assistance he'll get when he decides to die won't be revealed here.
Both men are terminally ill with cancer and both want to choose -- without the interference of authorities -- the time and circumstances of their death.
I can also tell you about Vancouver's 66-year-old Ken James, whose chronic back pain and heart condition are so debilitating, so unrelieved by daily morphine tablets that he says, half-laughing: "If I were a horse, they'd shoot me."
To avoid authorities that could charge anyone who helps him with murder, he's been researching the best methods for killing himself with minimal evidence left behind.
None of these B.C. men can access the prescription drug pentobarbital, which is the lethal drug-of-choice for most of the 38 or so people in Oregon who annually find release under that state's physician-assisted suicide legislation, Death with Dignity. And Nembutal, the lethal, fast-acting drug that Exit International's Dr. Philip Nitschke recommends, isn't as simple to acquire as it once was.
But there is helium-inhalation. It's a quick and easy-to-use option that New Westminster's Russel Ogden, Canada's leading researcher on right-to-die issues, knows is currently filling the assisted-suicide gap -- until this country joins the growing number of international jurisdictions where dying people can legally get help ending their lives.
In the decades ahead, no issue will be more contentious -- as Boomers age and Medicare costs go ballistic -- than the fundamental right-to-die question: Whose life is it?
No place in the nation's 'deathbeds'
These words were first spoken to me by Sue Rodriguez in the late winter of 1993, while I was researching a story on assisted suicide for Chatelaine. Rodriguez was dying of ALS then, and had decided to mount a legal challenge to the law, seeking permission to receive medical assistance when -- incapable of any movements because of the paralytic effect of ALS -- she finally chose to die. "Who should decide when I die?" she asked.
She lost the case in a famous Supreme Court of Canada 5-4 split-decision later that year. The Court ruled that no one could legally have help dying, despite terminal disease, intractable pain, prolonged suffering, or an expressed desire for relief.
So, the issue remains the proverbial elephant in the room: big, looming, and -- because of the profound ethical questions involved -- dangerous.
Few politicians are brave enough to say, paraphrasing Pierre Trudeau, that the state has no place at the deathbeds of the nation. Few doctors, nurses, or those involved with hospice care are prepared to risk careers saying aloud what everyone knows: assisted suicide happens -- discreetly -- all the time in Canada.
But were it made visible, by admitting that, the police might intervene. So instead, fear and silence reigns.
As one of Vancouver's leading palliative care authorities said to me last month, requesting anonymity, "Everyone told me not to talk to you. I could lose my job. Talking about assisted suicide is taboo." And yet, according to a February 2010 Angus Reid poll, a large majority of Canadians (75 per cent in B.C.) favour the establishment of a medically-regulated system of euthanasia; and a slightly smaller percentage favours the decriminalization of assisted suicide.
The pain of dying
In January 2007, Wolf Obgielo, then 53 and newly unemployed after decades in forestry management, left his Pritchard, B.C. home east of Kamloops to find out why his persistent flu wasn't going away. When the medical assessments were done, an oncologist informed him he had aggressive Stage 4 cancer in his lungs and lymph nodes, and had six to 12 weeks to live.
It hit him, he says, "like a sledgehammer." He'd watched his uncle dying, slowly suffocated by lung cancer. His father had hung himself in a closet in the face of prolonged chemotherapy. But for three years, Obgielo fought the disease. This past spring, however, wasted by the cancer drugs' effects, he decided to give up, and began looking at how he would end his life.
As he sits amid dozens of equestrian knickknacks and scores of wall-mounted photos of himself, his wife and two sons -- many of them of the family on horseback, riding the sagebrush-covered rangeland above Pritchard -- his breathing is laboured and words slow.
He still rides, he says. His wife helps him. He's a cowboy at heart. It's his last real pleasure. But it's getting harder now. The cancer's in his bones. His lower back. His left hip. Left ribs. His lungs and lymph nodes.
"Pain?" I ask.
"Oh, yeh!" he replies emphatically. "I've got a horror vision of me gasping like a fish in the bottom of a boat. Just flipping around, you know. People who are against assisted suicide don't know the pain of dying, the mental torture," he says. "You could live longer, drugged up. But what the hell do you live for? It's not the quantity of time, but quality of life that matters. When I can't ride my horse anymore... I'll get the help I need. The SPCA could have you charged for cruelty to animals if you have a dying animal and you don't put it down."
Canada's death dilemma
Few people in Canada knows more about the practicalities of suicide and euthanasia than Russel Ogden, 47, an instructor of criminology and sociology at British Columbia's Kwantlen Polytechnic University. If you Google "How to Kill Yourself," his name is among the first of 4,300,000 entries. On Feb. 12, 1994, the Vancouver Sun ran a front page story on Ogden, which reported he'd found 34 Canadian cases of illegal assisted suicides while researching his Master's thesis. It was, by coincidence, the same day B.C.'s Sue Rodriguez, accompanied by a still unknown physician and B.C. MLA Svend Robinson, defied the 1993 Supreme Court of Canada ruling against her wish for assisted suicide by having a doctor help her die. This was international news. Ogden instantly became an authority on the dilemma society faces when terminally-ill or chronically-pained individuals wish to end their lives, and governments prohibit it.
In Ogden's thinking today, there are four or five central issues concerning assisted suicide that will, in the coming decades, force politicians and the public to resolve the ambiguities that now govern how a sane and terminally-ill person, wishing death, dies. The first is the question of civil rights. Over the past 50 years, laws against everything from choice in abortion to gay equality have fallen. The last great taboo, to Ogden, is the right to die under the circumstances of one's own choosing. "The right to be -- or not to be -- is the ultimate civil liberty," he says while sitting in his neat suburban home with the tools of assisted suicide -- for demonstration purposes only -- in the basement below. "Suicide used to be a crime," he says. "But we no longer bury suicides at the crossroads. Suicide's legal. The quarrel now is getting assistance to die. I can't think of a single place in criminal law where helping someone do something is unlawful, although it's otherwise lawful to do it yourself."
In tandem with these steps toward the expansion of civil rights within Canada, there has been, Ogden points out, a dramatic shift in public opinion toward approving right-to-die legislation. Polls now show almost twice as many Canadians favour legalizing assisted suicide and/or euthanasia today -- permitted now in three U.S. states and a half dozen countries -- as when Sue Rodriguez raised the issue 18 years ago. It's not simply Canada's 9.8 million Boomers are getting their first whiff of Eau de Eternity. It's that Boomers have lived with choices. They've grown used to being in control. And, says Ogden, they're unlikely to accept quietly the dictates of medical professionals who remind them assisted suicide is illegal.
Furthermore, Ogden argues, the Boomers realize -- as do those in Generation X and Y -- the cost of providing a whole generation of aging Canadians with end-of-life health care is staggering. Tens of billions of dollars annually. In fact, 50 per cent of an average person's lifetime health care costs in Canada are incurred in the last year of life. This is because physicians, by and large, are fixated on prolonging life -- even among the most elderly and the dying -- through myriad Hail Mary medical procedures that stand very little chance of long-term benefit.
Ogden is not without critics. His research over the past 20 years has regularly involved both terminally ill people who seek assistance in dying, and those who are willing to assist them in that effort. However, since aiding a suicide in Canada is a criminal offence, Ogden has had to protect his sources by refusing to name names or publish revealing details. This has inevitably produced scholarly questions -- not to mention legal threats -- towards his work
It's ironic, Ogden believes, that despite most Canadian doctors' reluctance to support right-to-die legislation, the courts have taken a different approach toward the illegality of assisted suicide. In almost every case in B.C. where there have been allegations of assisted suicide amongst the terminally ill, crown prosecutors have recommended -- following a lenient, in-house protocol -- no charges be laid. And in the 44 assisted suicide legal cases in Canada since 1940 where Ogden has found charges were laid, 12 people have been jailed, including a two year term handed Dr. Ramesh Sharma of Vernon, B.C. who prescribed lethal medication to an elderly patient in 2007.
A secret death
In Stephen Gardiner's thinking -- he requested a pseudonym so he could tell me his story -- the prohibition against assisting a suicide and the uncertain nature of court actions have created for him, as for many others, a terrible lottery. He cannot seek help in ending his life -- he has terminal cancer -- without jeopardizing his friends.
So, at age 62, a year after he got the bad news, he sits in his Lazy-Boy recliner in an un-nameable Okanagan town, recording the music that will be played, and listing the friends who'll be invited, and talking about the self-activated device that will gently kill him, at the death ceremony -- seated in the very chair he now occupies -- he will soon attend.
He'd seen first-hand the problems of dying in his father's failed efforts to kill himself after a stroke. He knew he'd find a route to elude the struggle his father had faced. "There are a lot of messy ways to kill yourself," he tells me of those months last fall searching the Internet. "But if you want to kill yourself in a way that's... well... graceful, it usually requires help."
He knew he didn't want to die, oblivious to friends, in a physician-administered morphine coma. Unmarried, self-sufficient, a computer technician before his illness and a man with practical, problem-solving inclinations, he'd searched the web for spiritual advice, the legal ramifications of assisted suicide, and the various options available to him if, as he came to realize, he were forced by law to kill himself unaided.
There was Nembutal, recommended by the Australian founder of Exit International, one of 44 organizations worldwide fighting for right-to-die legislation. The problem was that this veterinarian drug -- used for putting down animals -- is only publicly available in Mexico, and even there at great difficulty. And whoever got it for him could be charged with abetting murder.
There was, as well, the fatal inhalation of inert gases like helium or argon. This method has been explored by the Swiss-based right-to-die group Dignitas. Helium is, of course, available at party balloon stores, and argon at welding shops. But the apparatus needed -- the same equipment Russel Ogden has in his New Westminster basement -- means you die with a plastic bag on your head and a pressurized tank at your side and tubes and valves in between. And that didn't fit Gardiner's idea of a "graceful" death.
Gardiner gets up from his chair, returns from his bedroom, and hands me a black, neoprene air-purifying face mask, the kind used by workers sand-blasting. It's the first time, he informs me, he's shown anyone his suicide invention.
Since the frightening feeling of suffocation comes from a face-masked person's rebreathing carbon dioxide, he explains, by attaching a carbon dioxide absorber to the exhalation valve and a closed-circuit air loop, means that with the mask on, he'll fall unconscious from oxygen deprivation within 2-3 minutes and be dead 10 minutes later.
He tells me he's thinking of getting a patent, marketing it as a "Debreather," and making a million dollars. At this, he laughs ruefully. "As long as my quality of life is good," he says, "I want to stay alive. It's up to the individual to decide when they go. Not the police. Not the medical profession. Not the law. A huge public debate is needed. But when I finally want to die, I'll die." And he holds the mask to his face and inhales.
Tomorrow, the similar "slippery slope" arguments of both Canadian doctors and Christian pro-lifers against assisted suicide. And the surprising frequency -- and intense pushback -- of assisted suicide in the few U.S. states and countries that made it legal.