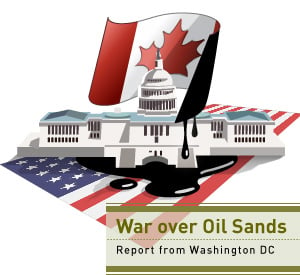 If one were to map the constellation of power within Washington D.C., Jane Moffat would be just two dots away from U.S. Secretary of State Hillary Rodham Clinton. And that makes environmentalists nervous as they try to stop a proposed pipeline that would carry Alberta oil sands crude down through the American Great Plains and all the way to Texas.
Moffat is executive director of the Canadian-American Business Council (CABC), a cross-border trade group with strong ties to Washington's diplomatic community.
The Clinton connection? A member of the CABC's board of directors, Paul Elliot, is being paid $150,000 to lobby for TransCanada, the energy behemoth proposing to build Keystone XL, that 3,200 km pipeline plunging from Alberta's oil sands to Texas refineries.
Several years ago, he helped lead Hillary Clinton's failed presidential campaign. Clinton is now Secretary of State, and the key official in charge of deciding whether to approve Keystone XL.
Friends of the Earth US, a well-established environmental group, was worried enough to file a freedom of information request, seeking to clarify Elliot's and Clinton's relationship. The request failed.
But if anyone had any confusion about where Jane Moffat stands on Keystone XL and environmental criticisms of the oil sands, this interview will put those doubts to rest.
In the my various conversations for this series with Washington-based lobbyists pitching the oil sands, no one had as blunt an assessment of their green opponents as did Moffat. Forget the smooth, friendly-toned diplomacy of some of her peers.
In a boardroom office overlooking Washington's K Street, renowned as a stronghold of lobbying power, Moffat batted away some environmentalists' arguments as "ridiculous," claimed Keystone XL will create "thousands and thousands and thousands" of jobs, dismissed the 40-year-old Friends of the Earth US -- which claims ties to green groups in 76 countries -- as an organization nobody takes seriously, and framed the global energy picture as Canada and the U.S. "against the world."
Here's more of what Moffat had to say. . .
On the Canadian-American Business Council's role in Washington: "We advocate on behalf of the Canada-U.S. relationship. We raise awareness. We have events. We do policy papers, speaking engagements -- all kinds of stuff. We have all sorts of different members. Energy companies are just one group of those members."
"We're here in the U.S. knocking on doors saying 'Don't forget about Canada.'"
On the CABC's political reach in the U.S.: "We do a lot of outreach to existing members of Congress and new members of Congress to educate those members."
"We work with the administration, various agencies, with all kinds of different people; at the state level as well; governor's offices; state legislators."
On the CABC's relationship with Canada's U.S. ambassador, Gary Doer, and his American counterpart: "They're very active. We engage with them, we meet with them, they reach out to us for our assistance and guidance and we do the same."
On getting a tour of the Alberta oil sands:"I was shocked. I am a recipient of the information that the [environmental] groups present, so I was expecting to see something vastly different than I saw. I didn't realize that when they reclaim the land -- the success, that vegetation grows and we're not killing the boreal forest."
"As you know, there are arguments as ridiculous as I've heard people say things like we're killing the polar bears that live north of Fort McMurray. Or that seals are associated somehow. It's just ridiculous. So I think [the CABC] is here to educate, and bring awareness about the issues."
On why it's easy to sell the oil sands industry to Americans: "Canadians may interpret what they hear in the media to be 'Americans hate the oil sands' but that's not the case. I think generally speaking American people and American legislators see Canada as this stable partner and source of energy. I mean, where do you want to get your oil, Iran and Venezuela?"
"Really, these oil companies and the [Canadian and Alberta] governments are implementing really good ecological standards. I think they could do more and continue to improve that. The CABC is really supportive of environmental sustainability and the responsible environmental development of the oil sands."
On the CABC's relationship with Gary Mar, who just quit as Alberta's top oil sands salesman to run for premier: "Gary is doing a wonderful job down here. Everybody knows him. I recently had a conversation with someone from a governor's office out west. He said, 'Oh Gary's out here and he's such a good advocate and champion of this great resource.'"
"He's out there all the time pounding the pavement."
On why the Keystone XL pipeline needs to be built: "The creation of jobs from this project is unbelievable, in these economic times. This project is going to create thousands and thousands and thousands of jobs directly and indirectly for years and years. It's going to bring a secure source of oil to the U.S."
On major safety concerns that have been raised by some observers about the pipeline: "Environmental organizations say the oil sands are disastrous and the pipeline shouldn't be approved. Really, when [people and policymakers] are educated about it, the pipeline is not a tough sell."
"The pipeline's only really about this big" -- Moffat makes a hugging shape with her arms. "It's not that big. It's not that long."
On the controversy surrounding Paul Elliot and the freedom of information request filed by Friends of the Earth US: "Just looking at [FOE's public statements] there are so many inaccuracies, I don't know whether anybody could take that very seriously. And I don't think anyone has."
"I don't know if it's even worth responding to. They've raised no new arguments, they've raised nothing. They just scream on the paper about a bunch of stuff that isn't even true. I don't think anybody takes them seriously."
On why it's "naive" to think we can move quickly off fossil fuels: "We're not getting off fossil fuels in the next 30 to 50 years, are we? We're not shutting down the pipes tomorrow."
"I think it's naive to suggest as of tomorrow we're not going to exploit any more oil opportunities in North America. That just makes us more reliant on dangerous and hostile sources."
"We can work together to develop a sustainable [oil development] process. I mean it's Canada we're talking about, a country that regulates so many things and has good environmental standards and laws in place to protect the environment."
"Alberta has some of the highest environmental standards in North America, doesn't it?"
On why the CABC needs to stay vigilant on issues such as oil sands: "The more that Americans learn about Canada, the better for everybody. We're in this together. It's like us against the world. So in order to be competitive globally, Canada and the U.S. really, really need each other."
On Monday: The transformation of Canada's U.S. ambassador from climate change crusader to top oil sands salesman.