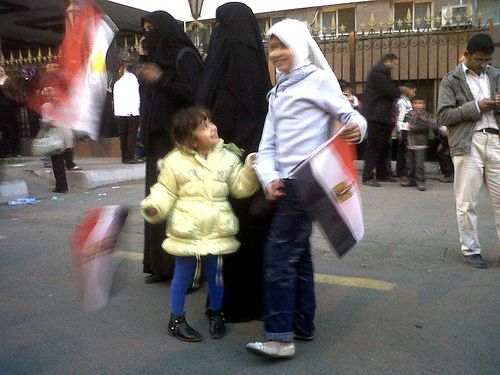 As an anthropologist of education I have been gathering life stories of Egyptian youth for the past five years. Yesterday, we met "Karim", a 22-year-old man and seasonal laborer waiting for an opportunity that will allow him to "begin" his life. He is what can be called a "youth-in-waiting," and has the classic profile of either a potential extremist youth, or a withdrawn apathetic youth.
Today we meet Dina, a member of what can be called the "internet generation." She discovered how her internet behavior could contribute to stirring a generational consciousness around rights and justice. Those who came of age just after she did found even more powerful uses and organizing capabilities of social networking and digital media.
When I interview "Dina" in 2006, she is a 21-year-old university student still living at home. She wants to live an ethical life and to be able to fulfill her desires for a career, love, marriage, and family, but she is highly skeptical that she will be able to realize these commonplace goals.
Both these youths are Muslims, but Islam holds a different meaning to each of them in terms of their everyday practices and self-identity. Karim is lax about religious practice but finds some personal comfort in religion, whereas Dina takes pride in her piety and wears her religion on her sleeve. Although the two may differ on their discourse and practice when it comes to Islam, they converge in a markedly similar way about the difficulties of being young in contemporary Egypt and the quest for an alternative order.
Dina: piety and rights
Dina, who is majoring in veterinarian science, lives in Alexandria with her parents and two sisters. Her father works as a lawyer and her mother, who earned her BA, stays at home and looks after the family. They maintain a modest but comfortable middle-class standard of living and enjoy close relations. Religion plays an important part in the life of the family; they observe daily prayers and read the Quran together. Dina, who wears a hijab and has committed the Quran to memory, self-identifies as a pious Muslim youth. Like so many of her generation, Dina aspires to live up to the standards of a virtuous person whom she describes as someone who maintains "high moral standards, preserves [Arab and Islamic] values and traditions, treats her parents well, and follows her ambitions." She believes her outward piety will help her in attracting a compatible life partner. She is currently single, but dreams of finding a love with whom to build a family.
The language of religious piety that permeates Dina's life is mixed with a liberal discourse about freedom, rights, and justice. For instance, she depicts her home life as a setting in which freedom and fairness are the norms. She says, "Our parents give us a lot of freedom. They let us express our views freely and ask our opinion."
That she refers specifically to freedom of expression and consultation indicates that she has absorbed a particular understanding of freedom rooted in a liberal discourse. Interestingly, when she speaks of restrictions she faces from home, such as the rule that she cannot stay out past sunset, she does not frame this as a lack of freedom. She views her curfew, which sometimes displeases her, as a judgment her parents make about safety and the reputation of girls. Freedom, on the other hand, relates to human respect and dignity.
She juxtaposes her home life, which is built around relations of piety and fairness, to an external environment of corruption and decay. Her principle point of contact with social institutions has so far been through her participation in the education system. From an early age Dina performed at an extremely high level at school, but she does not mince words about the flaws of the education system. She describes it as "broken and sinking," and in dire need of reform, beginning with the need to change the "phantom of the examination system."
'Wasta'
Dina views school simply as a gateway to the university and credits her mother -- not her teachers -- for her good grades and success so far through the system. She scored high on the secondary school-leaving exam, which determines university admissions, the Thanawiyya Amma, but not high enough to enter her faculty of choice -- the faculty of medicine. She settled for joining the school of veterinary medicine and is currently a second-year student in this highly regarded faculty.
As a university student, her immediate gripes have to do with lack of fair play in the education system and concerns about whether, after years of dedicated study, she would ever have the opportunity to apply her hard work and ambitions to a career. The more awareness she gains of the functioning of the education system, political system, and outlying society, the more she becomes demoralized about the role of connections (wasta) in getting ahead. She has been dismayed at the degree of nepotism in higher education as she witnesses the children of professors and parents in position of power get the highest marks and job opportunities (apparently unwarranted), whereas those with no connections go unnoticed, underrewarded, and underemployed.
The lack of fairness in the university parallels what she regards as a more endemic problem -- the prevalence of corruption and connections (wasta) in the everyday functioning of Egyptian society. "Egyptian society is thoroughly based on connections. It leads to corruption, which spreads like fire from dry leaves." The root of the problem, she argues, emanates from a government that denies citizens even basic rights as it promotes the interests of the rich and powerful. It uses the entire security apparatus to safeguard the few as it neglects and persecutes the many. She explains:
"The police protect the wealthy people and lock up the poor people who fill the state prisons. In the old days we used to say 'the police in the service in the people' (as-shorta fil hidmat as-shaab). Now we say, 'the police and the people in the service of the nation' (as-shorta wa shaab fi hidmat al-watan). What I want to know is what, actually, is the meaning of the term nation (watan)? Isn't the nation supposed to be the people? Or does nation mean something else? Does it mean the president?"
'Egypt is really going downhill'
Mirroring Karim's sentiments about how Egypt has become synonymous with the president, she declares: "Egypt has become a kingdom of kings. But even in kingdoms the name of the president doesn't become a substitute for the name of the country. In England you don't have people saying 'England is Elizabeth.' But here we have the expression, 'Egypt is Mubarak' (Misr Mubarak). We need to change Egypt from the government of a king to a government of the people. Egypt is really going downhill."
The Mubarak regime's close association with the United States further reinforces Dina's judgment that the political elite look out for themselves at the cost of the interests and rights of an entire nation. She strongly criticizes the government's tacit acceptance and complicity in the policies of the "imperial U.S.," which she views as a "thug nation," especially vis-à-vis Iraq, Palestine, and Lebanon. She considers the U.S. interference in national economic policies for liberalization and privatization through the International Monetary Fund and World Bank a central cause of the economic insecurity and unending hardships for the majority of youth.
Most upsetting to Dina is how the Egyptian government ignores the plight of its own people and punishes those citizens who agitate for political and economic reform. She stresses: "The government should start trying to listen to the problems of the people, and especially the youth, to give us our rights. We need our rights! Every citizen should have justice and the right to an honorable life." Despite her strong political views, Dina deems Egypt "no place for political ambitions," because on-the-street activism can carry heavy risks like torture and imprisonment.
Youth and digital media
Dina spoke these words prior to the sea change that occurred with online Egyptian communities in the past two years. Young people are becoming more emboldened and a growing number of youth seem to be turning to information, to taking part in communities made possible by the new media to find alternative spaces and ways of engaging in the world and collectively finding ways to alter it.
Throughout the Middle East and North Africa and the African continent, new information and communication technology has changed the landscape of youth culture, youth sociability, and political engagement. The rate of Internet penetration in Egypt is 21.2, slightly below the world average of 28.7. In Egypt, which has the highest number of Internet users in the African continent, the number of mainly young users continues to rise at a meteoric level.
In the year 2000, there were a mere 300,000 Internet users in Egypt, a number that increased to six million by 2006 and 10.5 million in 2008, and 17 million by the end of 2010. The Egyptian blogosphere and social networking sites like Facebook (launched in 2004, the Arabic version was launched in 2009) constitute a veritable cultural revolution mainly as a result of the rapid increase and innovative behavior of youth users of digital media. The ways individual youth use new media invariably differs, but it would not be off the mark to suggest that most use it for some form or another of subversive activity.
In the five-year period from 2006 when youth like Dina were using the internet to circulate news and critical opinion, to 2011 when they used Facebook to launch a revolution, a sea change occurred. The current generation has arrived at a full awareness of their common grievances, and consensus that they need to do something about them.
The lives of Karim and Dina speak to the struggles of a generation. They want their civic and political rights, economic justice and opportunities, and the ability to live lives of dignity. They have risen to reject the old order and demand a new one. The revolution has overturned the old regime, but the hard work of rebuilding is ahead. The world is watching and putting great hopes on the youth of Egypt to reshape and remake society.
This is the second of two parts. To read the first, a profile of "Karim", click here.