It's over 25 years since Tla-o-qui-aht elected chief Moses Martin stood on the shores of Meares Island and warned logging giant MacMillan-Bloedel that his people would not allow any trees to be cut there. "If there's a thousand Indians arrested, there's going to be a thousand Indians to replace them," he cautioned.
Tla-o-qui-aht managed to stop logging on Meares Island by declaring the island to be a "tribal park."
"It was a huge conflict," Martin remembers. "We had no idea of what a 'tribal park' actually was at the time. We were looking for a way to protect the island, and it jumped out at us as something we could do, even if our idea of it was somewhat blurry."
That protest, back in Jan. 1985, was the beginning of the decades-long "War in the Woods" to protect Clayoquot Sound's old-growth forests -- that culminated with the arrest of over 800 activists in the summer of 1993, and that continues today with on-going disputes over Clayoquot's remaining pristine river valleys.
Meares Island is still locked up under an injunction that prohibits any logging until First Nations land claims have been resolved. But in the intervening years, developers and industry players have started to look to other parts of Tla-o-qui-aht traditional territory, with proposals for ventures ranging from logging to microhydro to tourism activities.
The idea of a "tribal park" -- a concept born of conflict, in a moment of desperation -- is now being used today by a new generation of First Nations leaders to try to merge various stakeholder interests and values regarding land use. One of those new leaders is Eli Enns.
Enns is now learning about his father's Tla-o-qui-aht traditional cultural heritage from tribal elders. But he grew up mainly with his non-native mother, in Manitoba, and did his bachelors degree in political science. "I was fully aware of the political atmosphere I'd be coming to work in," he says of his decision to return to his paternal homeland, "so I've made it my business to understand Canadian constitutional law, the division of power between the federal and provincial governments and municipalities, and the B.C. Terms of Union of 1871."
What Enns wants to work towards is a way of reconciling our government systems with First Nations traditional hereditary governments that, as he puts it, "have existed here in Clayoquot Sound since time immemorial." Enns has latched on to that old blurry vision of "tribal park," thinking it through to come up with a clearer vision of what a tribal park is -- and what it can be.
"It's easy to give lip service to traditional teachings such as hishuk ish tsawalk [everything is connected] and iisaak [respect]," he says. "But to integrate those values and worldview into the way that we approach economic development is a real challenge. The tribal parks model works towards achieving that balance."
The Kennedy River watershed southeast of Tofino -- including Kennedy Lake, and all of the mountainsides and rivers draining into the lake -- is one portion of Tla-o-qui-aht territory that is of interest to non-Native "stakeholders." Enns uses that term to refer to any person or group who has an interest in the land, be they government or industry or private landholders.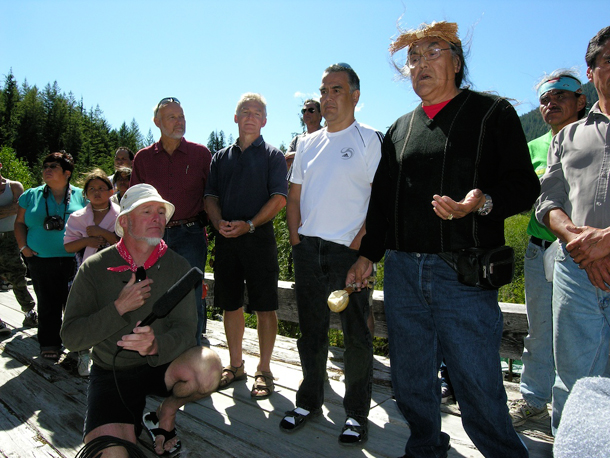 "So I went to the elders," explains Enns, "and they said, 'This is not Kennedy Lake, it is Haa'uukmin.'" Haa'uukmin is Tla-o-qui-aht for feast bowl, in reference to the richness of the watershed: its salmon, cedar trees, wildlife, and medicinal plants.
Enns and his colleague, Sayah Masso, started working through the many proposals, along the way learning about Tla-o-qui-aht traditional governance processes. "We came to realize that the best way to govern this watershed was as a tribal park, so we could strike a balance between environmental stewardship and economic development."
Enns emphasizes that a tribal park is inherently different from a federal or provincial park. Its boundaries come not from superimposed interests or values, but from the nature of the land itself. "Think of a landscape that is connected by water, connected by height of land." He smiles. "Water doesn't care where it falls -- it may fall on Crown land and then flow over some imaginary boundary into private land. But it's all connected, in spite of any superimposed boundaries, and that's what hishuk ish tsawalk is all about."
He considers the lay of the land, the watershed itself, to be the base map. Other interests, such as a national park or an Indian reserve or a tree farm license or private lands, are values superimposed upon that base map. "The role of a tribal park is to act as mediator beween these various interests."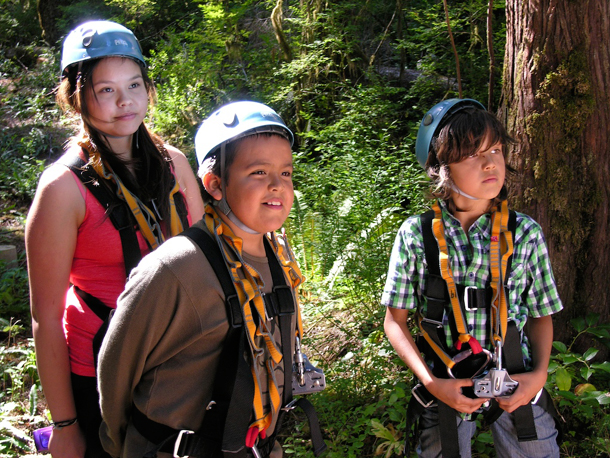 The governing of the tribal park is also different from that of federal or provincial parks. Enns says that the governance system can appear to be very complex, because it relies on the tribal park's many partners. "It's like having a set of tools at our disposal," he says. "For example, for our watershed management plans we work with Parks Canada as well as other partners." Decisions are made by many different people who have interests in Clayoquot Sound and the two tribal parks, according to their capacities, their interests, and their partnership agreements. In addition to Parks Canada, tribal parks partners include B.C. Parks, environmental groups such as Ecotrust and the Western Canadian Wilderness Committee, several universities, and private companies.
This month, Haa'uukmin Tribal Park celebrated the opening of one of those "interests": a new zipline running down the centre of the Kennedy River canyon. This zipline is the brainchild of Louis Rouleau, float plane pilot and owner of West Coast Wild Adventures.
Rouleau had tried out a zipline in Costa Rica, and it had occurred to him that Clayoquot's ancient rainforest would be a great setting for a zipline. On one of his float plane flights, Rouleau was forced by cloud cover to fly low over the Kennedy canyon. "I saw the river all white and boiling, and it just touched me: this is the spot we could put in our own zipline."
"Louis approached us several years ago with the idea," remembers Enns. "It was a really respectful approach -- he went that extra mile to educate himself about the land claims process in B.C." Enns coached Rouleau on how to pitch his idea to Tla-o-qui-aht leadership.
Compromises were made, as they are in any partnership, and stumbling blocks were encountered -- including a flood last winter that saw the river rise 20 metres and destroy the concrete pilings that anchored the newly set lines. But last week, the Kennedy canyon zipline -- six separate lines traversing one-and-a-half kilometres of the canyon -- opened, with a ceremony that drew about 100 people representing groups as diverse as B.C. Parks, private industry, local politicians, and Tla-o-qui-aht First Nations.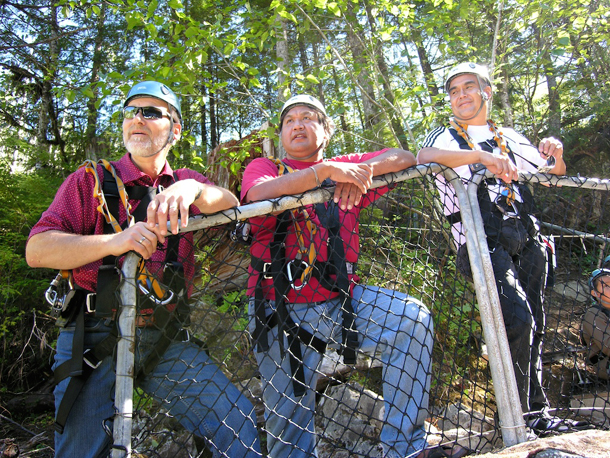 Local NDP MLA Scott Fraser, who showed up to try out the zipline, pointed out that this is an economic development project that will benefit the entire region. "It's an example for the rest of the province, of how First Nations and non-native groups can work together in a sustainable way."
Former Tla-o-qui-aht elected chief Moses Martin approves of the partnerships. "We know that non-native people are not going to go away. And neither are we. So we have to find a way to live together, work together."
Martin says that there was a time and place for the pounding of fists and demanding, but that today much more gets done by respectful discussion and negotiating.
And he is hopeful about the partnerships being forged by Tla-o-qui-aht's young leaders. "One of things that Eli and the new generation can do is to look at how things worked for us 100 or 200 years ago, and figure out why they don't work for us today." Tribal parks provide a new model for First Nations and non-natives to find ways that do work, so we can all live and work together.