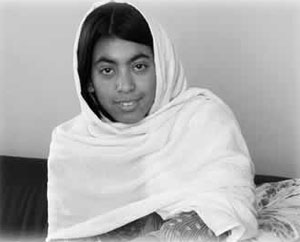 [Editor's note: This is last in a 10-part series by Terry Glavin profiling Afghanistan's "unsung heroes," a project supported by the Canada-Afghanistan Solidarity Committee and the Funders Network for Afghan Women.]
Majabeen is a dark-eyed, raven-haired and 17. She's the oldest of the 29 girls at the Omid-e-mirmun orphanage in Kabul. She is going to go to university. She is going to be doctor.
When Majabeen was small, her father died in a car accident, her mother remarried, and the new husband wanted nothing to do with Majabeen or her younger sisters Qamaria and Zamaria. So the girls were abandoned. That was six years ago, and that's how these three sisters ended up here.
You would have no inkling of this sad story upon meeting Majabeen or her sisters. You would not know, either, that the two-storey brick house where they live is an orphanage.
Daughters as chattel
There used to be a bright blue billboard outside: Omid-e-mirmun, Funded by Afghan Women's Counseling and Integration Community Support Organization. The reason it was taken down involves Raisa, a girl of 13 years, delicate features and a beaming smile.
Raisa came to Omid-e-mirmun after running away from home. Her parents had decided to sell her as a bride to an old man, and if they found her here, they would take her and sell her. If she defied them, they would kill her.
Most Afghan marriages still involve girls under the legal marriage age of 16. Girls are routinely married off by their parents to secure loans, to pay debts, to trade for livestock, or to obtain favours of one kind or another. Girls who rebel are commonly put to death.
From the time I arrived at Omid-e-mirmun to the time I left, I didn't see Raisa stop smiling, not once.
'I will become a doctor'
Majabeen also smiles a great deal, but she is also given to the utmost seriousness. When she talks about her future, she speaks emphatically. Before she came to the orphanage, Majabeen had never been to school, so even now, she is only in Grade 6. But she is determined.
"I am going to school, and I need a good education. I will pass," Majabeen declared in that matter-of-fact way of hers. "I will become a doctor."
Of the 48 girls in her class, at a school just around the corner from the orphanage, Majabeen had come in fifth in the last year-end tests. She said she was not satisfied. "I have to work harder. I am decided."
For her medical training, Majabeen expects to attend a university in Canada. The Omid-e-mirmun orphanage was more or less founded by the Afghan Women's Organization in Canada, and it operates with support from the Canadian Women for Women in Afghanistan organization. CW4WA has established a scholarship fund to bring prospective university students from the orphanage to Canada.
Sisters' advice
"I am not scared to come to Canada," Majabeen said. "I would like this. It is a little bit cold, and there are many big cities, but I am not afraid."
Why choose to be a doctor?
"I really like to help people. I like to do this very much. My other sisters" -- this is the way the girls of Omid-e-mirmun refer to one another -- "they tell me that to become a doctor is good for me, and good for my life. Or to become an NGO director or a teacher. But my sisters tell me that it is best to become a doctor."
In the meantime, Majabeen studies hard. She spends four hours every afternoon studying mainly English, but also the Koran, which is expected of Afghan students. She likes tailoring, and gardening, and playing volleyball at school.
"I like to talk with Canadian people and I would like to be invited to Canada, but I will come back and support my Afghan people," she told me.
"There are not enough hospitals and good doctors here. There are many people who are sick. If I was a doctor, I could take care of these people."