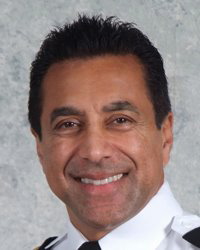 [UPDATE: Kash Heed spent roughly 12 hours back in cabinet. He was sworn in by Lt.-Gov Steven Point at 8 p.m. last night. In the morning, sometime around 8:15 a.m., he called Premier Gordon Campbell, who is away in Europe, to resign again. The story below lays out events leading up to late last night when it was posted. For today's latest, go to this Hook blog item.]
The special prosecutor who yesterday exonerated Kash Heed today withdrew from the case, revealing that his law firm had donated to Heed's campaign during the election.
Earlier in the day Premier Gordon Campbell had reappointed Heed as solicitor general, citing the special prosecutor's report.
"I am a partner in the law firm of Harper Grey LLP," Terrence Robertson wrote in a letter to Robert Gillen with the criminal justice branch of the Attorney General ministry today. "Sometime in May of 2009, shortly before the Provincial Election, my law firm made a political contribution of $1,000.00 to the B.C. Liberal Party, Kash Heed election campaign.
"I was aware of the contribution to the Heed campaign by my law firm, but did not believe that it was a conflict of interest that would preclude me from acting as Special Prosecutor."
He continued, "Several weeks before charge approval, I was asked by the RCMP whether I felt there was a conflict of interest due to my firm making a campaign contribution. I provided my opinion that I did not feel there was a conflict."
Further reflection
After issuing yesterday's report he had second thoughts about the donation, Robertson wrote: "Given that charges were not approved against Kash Heed and upon further reflection, I have concluded that my continuing as Special Prosecutor on this matter may well provoke comment from the public and the media as to whether I am sufficiently independent to act as Special Prosecutor in this matter."
He said he believed his recommendations were made objectively, but that he is withdrawing from the case. Gillen accepted Robertson's decision, and will appoint a new special prosecutor.
Yesterday, on Robertson's advice, criminal and Election Act charges were laid against Heed's campaign manager Barinder Sall. Also charged were the Heed campaign's financial agent Satpal Johl, and the owner of the North American Mailing company, Dinesh Khanna.
The charges relate to an illegal brochure and alleged interference with the investigations into who was responsible.
Today Premier Gordon Campbell reappointed Heed as solicitor general. Campbell's announcement cited Robertson's report that "fully exonerated Heed."
"His commitment to the duties and responsibilities of Solicitor General were paramount last month when he stepped aside," Campbell said in a news release. "I am sure this has been difficult both for Kash Heed and his family."
Back in the saddle
Heed also stressed that he'd been exonerated, speaking in the afternoon before Robertson's donation revelation.
"It's been a long three weeks, but it's great to be back in the saddle," said Heed.
Responding to reporters' questions Heed denied his election was tainted or that he is serving under a cloud. "I was confident I'd done absolutely nothing wrong," he said. "The special prosecutor has made his ruling, and he has exonerated me."
Mike Farnworth, the New Democratic Party's critic for the ministry of public safety and solicitor general, expressed some doubts about the decision. "The premier has exercised poor judgment," he said. "This election has been tainted. There is a bit of a cloud."
The charges against Heed's two most senior staff members are serious and Campbell should have waited until the court case is over before deciding what to do, he said.
Prosecutor was independent: Heed
At 5:31 p.m., the criminal justice branch sent out a statement that included Robertson's resignation letter. A little more than an hour later Heed took questions from reporters in his recently reoccupied Solicitor General's office.
"My reaction is the same as my reaction earlier," said Heed. "It was reviewed by an independent special prosecutor. The findings exonerated me and I'm living by that right now and we are ready to move forward."
Heed declined to comment on whether the process that exonerated him was tainted.
"We have a tainted investigation, in terms of the special prosecutor and the revelations that came up today, and we have a tainted exoneration," said Farnworth after learning of Robertson's withdrawl from the case. "As far as I'm concerned the premier has no choice but to reverse his decision and Mr. Heed must be out of cabinet immediately."
Once a special prosecutor is appointed, the new person will have to review the entire process from the beginning, he said. "The fact of the matter is the special prosecutor who exonerated him is a donor to the B.C. Liberal Party."
"It's frustrating you know," said Attorney General and Liberal house leader, Mike de Jong. "I'm angry. We have an independent process everyone relies on."
He said he had spoken with Premier Campbell, who is disappointed but will keep Heed in cabinet. "We're going to rely on that report, we have relied on that report," he said.
Still, de Jong criticized the process that reinstated him. "I have no hesitation telling you that you don't appoint someone to investigate a matter when a firm they're associated with has made a donation to a campaign that is the very subject of the investigation."
Harper Grey and Harper Grey Easton have given $24,170 to the B.C. Liberal Party and its candidates since 2005, according to Elections B.C.'s donations database.