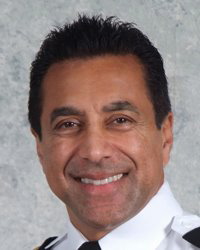 The RCMP investigation involving former Solicitor General Kash Heed is related to a brochure that was distributed during the provincial election campaign, the Tyee has learned.
"We did forward an issue to the RCMP," said Nola Western, Elections B.C.'s executive director in charge of electoral finance and corporate administration. "We did not know at that time it had anything to do with Kash Heed or any other candidate."
Heed announced today he was stepping down as the minister of public safety and solicitor general during an RCMP investigation into Elections Act violations.
Under the Elections Act any election advertising has to include the name and contact information for a registered sponsor. During the election a brochure came to Elections B.C.'s attention that had no sponsorship information on it, said Western.
While it didn't mention any particular candidate, she said, "They were brochures that were very critical of the NDP."
The RCMP reportedly told reporters in Vancouver that the investigation related to Heed came from a complaint made to Elections B.C. and passed on by the agency to the police.
Terrence Robertson has been appointed as the special prosecutor in the case, the criminal justice branch of the ministry of the Attorney General announced today. The announcement noted that the police investigation was into "possible offences involving [Heed's] campaign office."
Anonymous brochure upset opponents
Heed's NDP opponent in Vancouver-Fraserview was Gabriel Yiu. Yiu did  not respond to a phone message by publishing time, but the Tyee reached Helen Lim who volunteered on his campaign. She said she remembered the brochure well.
"I threw mine away," she said. "We were really upset."
The brochures were written in both Chinese and English, she said. "The Chinese was worse than the English." It alleged that Yiu and the NDP supported an inheritance or death tax, something that wasn't true, she said. "That to Chinese people is very taboo."
The brochures also incorrectly said the NDP would force everyone to join unions and people who did not join unions would not be allowed to work, she said.
'I have done nothing wrong': Heed
"I am confident that I have done nothing wrong," said Heed's statement. "I fully support the RCMP's efforts and will be co-operating fully with the investigation."
Heed will continue to represent his constituents as an MLA and Attorney General Michael de Jong will act as Solicitor General.
"I have concluded, out of the respect and regard for the office of Solicitor General of British Columbia and to ensure the continued integrity of that office, that the appropriate action is to step aside pending the outcome of this investigation," Heed said. "I have spoken with the Premier and he has accepted my decision."
When Heed first learned of the investigation on March 24 he was told he was not a subject of the investigation, his statement said, but on April 6 was informed the "investigation was evolving" and the RCMP wanted to interview him to determine if he had a role in the allegations.
On April 7 his lawyer found out a special prosecutor had been appointed in the investigation. Special prosecutors are appointed in situations where "there is a significant potential for real or perceived improper influence in the administration of criminal justice."
Heed, a former West Vancouver police chief, was first elected in June. He is the third B.C. Liberal solicitor general in two years to resign under a cloud.
John van Dongen stepped down after his record of driving infractions became public during the 2009 election and former Chilliwack mayor John Les moved to the back benches in 2008 after it was revealed a special prosecutor had been appointed in a matter related to land deals while Les was mayor. The results of that investigation still have not been announced.
"These are clearly serious allegations," said NDP public safety and solicitor general critic Mike Farnworth, noting that most people will find it disturbing that the last three Liberals to serve as the top police officer in B.C. have each had to resign due to police investigations.
Farnworth questioned why it took until Friday afternoon for Heed to make his statement when he's known about the special prosecutor since Wednesday. "That's typical take out the trash day with this government," he said. "I think the timing is more to do with government damage control."