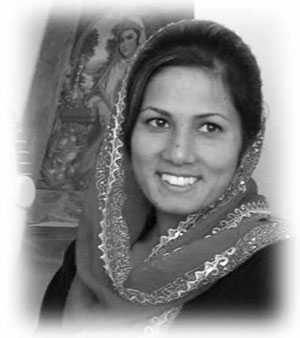 [Editor's note: This is fifth in a series, running Thursdays and Fridays, by Terry Glavin profiling Afghanistan's "unsung heroes," a project supported by the Canada-Afghanistan Solidarity Committee and the Funders Network for Afghan Women.]
For Yasameen and Raziea Rasoul, the whole thing began more or less as a lark. The next thing they knew they were international celebrities, greeting U.S. Secretary of State Condoleezza Rice at Kabul Airport, having lunch with ambassadors, and entertaining visiting journalists. The world moved on, but something unexpected happened along the way.
Yasameen and Raziea fell in love with soccer. Soccer fell in love with them. Nowadays, the Rasoul sisters are playing out their parts in a cultural revolution that's quietly transforming Afghanistan. Yasameen, 19, is the star forward of the Afghan national women's soccer team. Her 18-year-old sister Raziea, a midfielder, is the team's captain. Yasameen is also the coach of the Kabul Tornadoes. It's a boy's team.
The big story about Yasameen and Raziea is far from over, and the place it really begins is in a bombed-out neighbourhood of Kabul a short walk from the once-glorious 16th-century Babur Gardens, in the shadow of Sher-e-Darwaza Mountain.
One way of starting the story is with Duaine and Barbara Goodno. Duane was with the Peace Corps and worked as a Defence Department bureaucrat, and Barbara was a U.S. army major. With their own four children grown, they retired early and took up a new calling, coordinating development projects in Afghanistan.
On his first visit to Kabul, in 2002, Duaine wandered away from a tour of the Babur Gardens and found himself invited in for tea with a family in a collapsed two-storey house nearby, where the Rasoul family had settled as squatters. Back then, the only way to tell Yasameen and Raziea apart was that Raziea parted her hair on the right, Yasameen on the left. They were 11 and 12, but they'd grown up so malnourished they could have passed for seven-year-old twins. You would not know that to see them now.
You could say the Goodnos ended up adopting the Rasouls, or the Rasouls adopted the Goodnos. Either way, over the years, it was Yasameen and Raziea who would end up at the heart of the story, and it really started to take off when the Goodnos tried to give Yasameen and Raziea a break from the grind of Kabul, with a holiday in the United States. The visa rigmarole was a nightmare. The trip had to be cancelled. But Duaine had an idea.
Back in the States, there was the Afghan Youth Sports Exchange (AYSE), set up by Awista Ayub, the Afghan-American founder of the women's ice hockey team at the University of Rochester. There was also the Sports Leadership Academy set up by Julie Foudy, an Olympic gold medalist and the former captain of American national women's soccer team. They didn't seem to have difficulties getting visas for kids from faraway places.
Duaine had noticed that Yasameen and Raziea were always kicking around a basketball outside his offices in Kabul's quiet Karte Se neighbourhood, and their girlfriends would often join in. The Goodnos put two and two together, came up with five, and with the help of the ASYE and Julie Foudy, the Rasoul girls and their friends were a soccer team at the July 2004 Children's Olympics in Cleveland, Ohio. U.S. President George Bush was there. He'd heard about the Afghan soccer players, made a fuss of them, and voila -- fame.
Fleeting spotlight
For a while, the news media just couldn't get enough of the story. It was a story about proud and plucky Afghan girls, defying their country's brutally misogynistic conventions, all for the love of soccer. Defence secretary Donald Rumsfeld had the girls around to play a game on the Pentagon lawn, even. But after the dust had settled, Yasameen, Raziea and their friends were the same rambunctious Kabuli girls they'd been before all the hubbub, except for one thing. They'd become well and truly mad about soccer. And they weren't going to let anyone get in their way.
Out of the media spotlight, Yasameen and Raziea soldier on. There have been triumphs along the way, but defeats, too.
Down through the years, Afghans have maintained an abiding love of soccer. Even during the Taliban era, when the Afghans' beloved kite-flying was banned, soccer was hard to suppress. So the Taliban put soccer games to their own grisly purposes. The Taliban often carried out barbaric ritual executions of accused adulteresses, and chopped off the hands of convicted thieves, at half-time during games at Kabul's soccer stadium. But at that very stadium, in 2007, the Rasoul sisters proved to Afghanistan they weren't just some American public-relations exercise.
The time had come to select players for a women's national team. Only five of the eight original "Afghan Star" teammates from the Children's Olympics in Cleveland entered the tryouts that day, but Yasameen and Raziea were among them. They shut out their opponents five games in a row, four at 3-0, and one at 1-0. That's how the Afghan national women's team was born.
Their away games haven't been especially thrilling. In indoor stadiums with different rules, unfamiliar artificial turf and boots that didn't fit, the Afghan girls suffered a 23-0 loss in Iran, a 15-0 defeat in Oman, and an 18-1 drubbing from a Palestinian team in Jordan. "But I made that goal," Yasameen piped up.
There have been other defeats, too.
Committed to bringing more girls' teams into the Afghan soccer federation, Yasameen had handpicked some bright prospects in Kabul for a team she was coaching. "It didn't work out," Yasameen said. First, she couldn't find a field that would allow girls. When they finally found a field, they were routinely harassed and bullied by local men. The girls gave up. So did Yasameen, but only by shifting tactics.
Your Kabul Tornadoes!
If girls' teams were going to have such a hard time of it, even in the Afghan capital of Kabul, then maybe the place to start was with a boy's team coached by the national women's team star forward, Yasameen reckoned. "This is how I decided to try again." The idea is that maybe this way, she can till the ground for more girls' teams down the road.
That's how the Kabul Tornadoes was born. It's still a rough outfit, but it's coming along.
"Things are changing," Yasameen said. "Now, there are boys who are coming to the games and they are very happy. They are coming to be on my team. They listen to me. They always come to their practice, and they are actually very good,"
In the meantime, Yasameen is quietly coaching a girls' team, too, behind the walls of a local school.
But it all takes a toll. Yasameen and Raziea go to school full-time. Sundays, Tuesdays and Thursdays they practice for two hours with the national team at the soccer field inside the International Security Assistance Force compound in Kabul. Raziea's coaching duties are an extra burden, and for Yasameen, there's another two-hour stint three days a week for the Tornadoes, and the same again for the girls' school team she's coaching.
'Playing soccer, that is not wrong'
"I know what people in the world think about Afghanistan, because they always show the bombs and the killing. But they don't show the good news. For me," Yasameen said, "playing soccer, going out, shopping, the games I like playing, bicycle races -- this is not wrong. There are bad things. But I am not scared."
So what about the future?
"I want to be a doctor, to help my country, or the second thing, a professional woman player. And if I could have it, I would like to have a beauty parlour." She laughs. "And also to play basketball."
Raziea is no less hopeful. "First of all, I want to be a professional player," Raziea said. "If not, then a reporter, a television reporter, at the Olympics."
"Then you can interview me!" Yasameen tells her sister. "I will be the professional player, and you will come and interview me!"