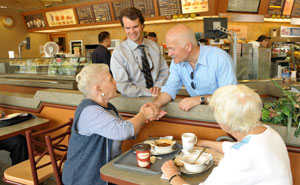 If the Fin Donnelly campaign now underway in New Westminster-Coquitlam says anything about how the New Democratic Party may run in the next federal election, the message is this: Make the HST a federal issue, pin it on Stephen Harper, and keep Jack Layton in the picture.
"I'm hoping that the message that I've been hearing about the HST will bring people out to vote," Donnelly told The Tyee. "This is the first opportunity that people in B.C. will have to vote on the HST. This is a chance for them to express their concern, their anger."
And as NDP leader Jack Layton tours New Westminster this weekend -- for the fourth time since the Nov. 9 by-election was called -- it appears that the HST may be on its way to becoming something more than just a B.C. issue.
'Keeping a seat warm for Fin'
It's pretty easy to see the difference between the Donnelly's campaign and that of his rivals in Monday's by-election. Just look at the signs staked throughout New Westminster, Coquitlam, and Port Moody.
None of the signs promoting Diana Dilworth of the Conservative Party, Ken Beck Lee of the Liberal Party, and Rebecca Helps of the Green Party mention the leaders of those parties. Donnelly's signs read, "Jack Layton and the BC Team."
Layton has made three trips to the New Westminster-Coquitlam riding since this by-election was called, and plans to be here again this weekend. He's appeared at about a half-dozen Donnelly events, and has campaigned on the streets of New West during every visit. That's more groundwork in B.C. than all the other party leaders combined.
Fin and Jack appear to genuinely enjoy one another's company. Both men cut their political teeth in municipal politics. Both were swimmers.
"I'm thrilled that Fin Donnelly has decided to be our candidate," Layton told a campaign audience. "And I'm keeping a seat warm for Fin Donnelly to get down there in November. You be sure to send him."
Donnelly returned the praise. "I've certainly had a lot of encouragement and support from Jack," he said. "He's just encouraged me to be who I am."
But the cold reality that underlies their warm relationship is that Layton, whose party has been unable to break out of its distant-third position in national polls, needs to hold on to the seat that was vacated when Dawn Black left the federal party to move to provincial politics last spring.
Losing New West would likely be perceived as a more damaging set-back for the NDP than gaining it would be for the Tories. (The federal Liberals have not historically been competitive in this riding.)
We're not in Ontario
The Fin and Jack show is also test-marketing a new message. They argue that through the Harmonized Sales Tax -- or HST -- Prime Minister Stephen Harper is raising taxes on working-class Canadians during a recession.
Federal Conservatives and BC Liberals claim the HST merely shifts and equalizes taxes that already exist. Along with many economists, they claim that the new tax structure will make provinces that adopt it more competitive.
Ontario residents appear to have believed that message. There was surprisingly little public comment when that province adopted the HST earlier this year.
Not so in B.C., where the new tax scheme was unveiled just days after Premier Gordon Campbell was re-elected last May. Fueled by the provincial NDP, an anti-HST backlash has been building all summer.
Donnelly has made the HST his top issue, outranking tried-and-true NDP issues such as the Fraser River sockeye crash, the lack of funding for the Evergreen Line and the lack of federal funding for affordable housing.
"I have talked to thousands of people since the summer, when I was nominated, and I'd say the biggest concern I've heard is the negative impact the HST will have on families, students, seniors, small businesses," Donnelly told The Tyee.
"This is not making life more affordable. It's making it harder to survive in a tough economy," he added.
'Wrong tax, wrong time, wrong people'
Donnelly seized on the only all-candidates forum of the by-election (as of this writing) to press Conservative candidate Diana Dilworth on her assertion that the HST is "a provincial issue."
"If Diana is serious that she thinks this is not a federal issue, then I want to know if she will oppose the enabling legislation?" Donnelly asked Dilworth during a joint appearance on CKNW.
Dilworth replied, "No I would not."
And the HST has become Layton's top issue, too, at least when he's campaigning in New Westminster.
"We are fighting this new tax on families right down the line. We're not going to let them bring it in. It's the wrong tax at the wrong time on the wrong people," Layton told a campaign audience.
The anti-HST message work well for Layton, because the Conservatives brought the plan to the provinces, and key Liberals have indicated that they support it. If it works well in this by-eleciton, there's a good chance Layton will expand the NDP's anti-HST campaign to other parts of Canada -- particularly Ontario.
Donnelly new to the NDP
Donnelly is best known in B.C. as the guy who twice swam the 1,400 kilometre length of the Fraser River to draw attention to threats to salmon and other species. Altogether, he's made 14 marathon swims covering 3,200 kilometres of B.C. rivers, lakes and ocean.
But his life ashore has left him well-positioned to take on this curiously cobbled together federal riding, which includes the eastern part of New Westminster, the southwestern part of Coquitlam and a southern portion of Port Moody.
He was born in New West, grew up in Port Moody and now lives and works in Coquitlam.
Donnelly studied at the University of Victoria, worked for the federal government, then founded the Rivershed Society in the wake of his first Fraser River swim. He was elected to Coquitlam City Council in 2002.
Asked to list his top accomplishments, he named two:
"I lobbied strongly for a social planner. What the social planner got us was the ability to update our affordable housing strategy. And what that got us was the ability to address homelessness as a municipality," Donnelly said.
"Second, as a Metro Vancouver director, I brought forth a zero waste motion. That has evolved into the Zero Waste Challenge, which is something that I was very proud to bring forward," he added.
Donnelly remained politically independent as at city councilor, and only joined the NDP earlier this year. Asked how long he'll stand by his new party, he replied as follows
"I will serve as long as people will have me," Donnelly said. "I didn't take this decision lightly... I'm looking at doing this a long time, and really making a difference as a New Democrat MP."
'What would Tommy D. do?'
Donnelly's campaign is run from a dingy New West storefront that looks and sounds like something out of a movie set for a 1970s campaign. Dog-eared manila envelopes lay strewn across shabby used furniture. Fifteen phone lines are in regular use as volunteers strive to contact 500 would-be voters each day. A photocopied photo of Saskatchewan's most famous former premier is taped alongside one such desk. Handwritten above the image is the question, "What would Tommy D. do?"
One almost expects Warren Beatty to come bursting through the door in long hair and blue jeans. One settles for Jack Layton peering down from posters on every wall. (No hair, polyester slacks.)
Like the Dilworth campaign, Donnelly expects to raise and spend the limit set by Elections Canada. For this riding, that's about $72,000 during the campaign period, and another $89,000 during a ramp-up period.
Donnelly figures he's got more than 100 volunteers in a by-election that all sides agree will be more about turning out the party faithful than converting the masses.
"We're attracting younger people as well as the NDP base," he said. "That was a bit of a goal for me, to bring in some newer people."
But critics of the campaign, particularly Conservatives, complain that the NDP amounts to little more than a made-for-TV party. Dilworth and her supporters have frequently pointed to the access to power the riding would receive if it elected a Tory.
Donnelly, on the other hand, would become a back-bench member of a back-bench party.
I asked if he expects to be able to accomplish as much as an MP as he did as a city councilor.
"I think so. Totally," he replied.
"I think New Democrats have been the effective opposition. I think they have been effective because they attract people with passion and people who want to make a difference in the country. I feel I am one of those people."
Coming on The Hook Friday: The Liberal and Green candidates running in the New Westminster-Coquitlam by-election.