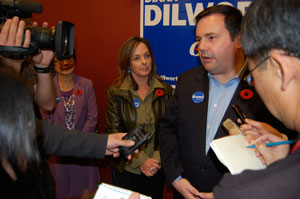 If the Conservative campaign now underway in New Westminster-Coquitlam says anything about how Prime Minister Stephen Harper hopes to win a majority in the next federal election, the message is this: Run for a strong economy, run against crime, and run away from public debate whenever possible.
"This riding has always been what I would call kind of a cusp riding," former Conservative MP Paul Forseth explained. "There's an inner-city voting pattern, and then it becomes more Conservative as you move out. And this community is right on the cusp of that, so that always makes things interesting here."
Forseth, who won four contests in the suburban swing riding but is not a candidate in Monday's by-election, expects local sentiment to mirror national polls that put the Tories within reach of the 12 seats needed to form a majority.
"There's a good chance here," Forseth told The Tyee. "I'm hoping that because Conservatives have a rising reputation nationally -- it's showing in the polls -- maybe that will spill over to here. And that will give voters the confidence to say, 'Yeah, Diana Dilworth is a young, new, fresh person... We've had enough NDP ideology rammed down our throats. So let's go for the Conservative option.'"
And so it was that The Tyee went looking for Conservative candidate Diana Dilworth. That's when things got a little strange.
'Um, we're going out'
I started phoning the Diana Dilworth campaign on Oct. 16. I left one or two telephone messages a day for nine consecutive workdays. I also wrote several emails, and even phoned the national Conservative Party headquarters in Ottawa seeking comment on the Nov. 9 by-election in New Westminster-Coquitlam.
No one called me back.
So on Oct. 28, I dropped by Dilworth's campaign office in person.
Dilworth, a three-term Port Moody City councillor, was standing near the front door. She shook my hand and greeted me warmly.
But when I explained that I was a reporter, she dropped my hand and took two quick steps backward.
I asked if we could schedule a time to talk about her campaign.
"You know what?" she asked. "We probably could." She then gestured toward two men who were standing near the door, and added, "But all these people are waiting here."
I said I'd be happy to wait.
"Um, we're going out," she responded.
"For a couple hours," one of the men volunteered.
"Yeah. We're going out. And then I'm going to a senior centre. And after that, uh," her voice trailed off.
"You know what?" she asked again, using the question like a turn signal. "Talk to Paul. Paul can figure out my calendar."
She then scurried out the door.
After she'd left, Paul, a pleasant volunteer, explained that he knew nothing about Dilworth's calendar.
He telephoned campaign manager Mike Martens, who told me he'd look into the matter and call me back.
Blown off in Burquitlam
Given that I'd already waited nearly two weeks for such a call, I did what I often do when I feel rejected: I walked out for a cheeseburger.
As I trudged across the Burquitlam Plaza parking lot, I got to wondering: Was it just me? Or had Diana Dilworth blown off other news reporters as well?
I Googled while dining.
In the Georgia Straight, I found this: "Conservative candidate Diana Dilworth didn't return The Straight's call before deadline."
In the Vancouver Sun: "Dilworth, a Port Moody councillor, was unavailable for comment Monday. However, her campaign manager issued a press release highlighting the economy and crime as the top election issues."
And, a week later in the Tri-City News: "Dilworth wasn't available to comment before the Tri-City News' deadline."
So it wasn't just me. I felt a bit better. (Or was that the root beer talking?)
I walked back to where my car was parked, just outside the Dilworth campaign office. It had been about half an hour since the candidate had rushed out the door.
I guess Councillor Dilworth's afternoon plans must have changed. Through the plate glass window, I could see her sitting by herself at a desk. She did not appear to be meeting with anyone. She appeared to be sitting alone, staring off into the distance.
Dilworth ducks debates
Over the next few days, I learned that with the exception of a tightly structured appearance on CKNW's Christy Clark Show, Dilworth has yet to participate in any all-candidates' debate.
A New Westminster community group called Tenth to the Fraser abandoned plans for a debate after Dilworth declined to participate.
"She never returned our calls," Will Tomkinson told The Tyee. "The Dilworth campaign did eventually send a note saying there were already two debates scheduled, so she would not participate in ours."
Figuring two local debates were enough, Tomkinson threw his meager resources into other projects.
But as it turned out, there were no other debates.
"The other events never really were scheduled," Tomkinson said. "Perhaps the staffer I was communicating with was confused."
Likewise, the Dilworth campaign never returned calls or emails from the Douglas (College) Students' Union, which plans to hold an all-candidates meeting tonight (Nov. 4).
"I left numerous messages. I've been told her campaign manager would get back to me. But I never heard from him," said Priscilla Bartleman, external relations coordinator for the students' union.
Campaign manager Martens later told the Tri-City News that a scheduling conflict prevented Dilworth from attending the Douglas College event. But Bartleman disputes that version of events.
"We asked all the campaigns to indicate dates they would be available," Bartleman told The Tyee. "If she'd let us know her availability, we would have scheduled something else."
And the story is much the same at Burquitlam Community Association. The neighbourhood group left numerous messages for Dilworth. None were returned.
"We sent somebody down to her office to ask," association president Don Violette told The Tyee. "We were told she is too busy, and that our event is not on her schedule."
Campaign manager Martens told the Tri-City News: "She'll be a no-show at the Burquitlam meeting because of concerns the venue isn't a 'credible venue for citizens to find out what the candidates are all about.'" Martens also told reporter Diane Strandberg that the meeting held for last year's federal election was "incredibly biased" and "unruly."
Voilette disputed that claim. He said his group has been sponsoring debates for more than a decade, and noted that all questions to the candidates are submitted in writing.
He also said the Burquitlam group will hold its debate with or without Dilworth. That event is scheduled for 7 p.m. tomorrow (Thursday) night, Nov. 5, at the Sir Frederick Banting Middle School.
'Folks, this is a political meeting'
The day after my visit to her office, a man named Dane Minor called me on behalf of the Dilworth campaign. He invited me to cover a "town hall meeting" about immigration on Halloween. And he promised I'd get a half-hour with Dilworth afterward.
Centennial Secondary School was festooned with Dilworth campaign signs. On the way into the gym, I was handed a flyer that asked, "In an unstable world, shouldn't some things be stable?"
The brochure went on to list three such things: "Our Economy, Our Security, and Our Families."
Richmond MP Alice Wong opened the meeting, praised Dilworth, and introduced Immigration Minister Jason Kenney to an audience of about 100 souls, three-quarters of whom appeared to be of Asian or Indian descent. Wong's head was barely visible above a giant Diana Dilworth sign that obscured the podium.
Minister Kenney -- the Calgary MP who made headlines last year after he banned British MP George Galloway from Canada -- spoke for about half an hour.
"Folks, this is a political meeting," Minister Kenney said. "We are so glad to have a strong candidate who I believe will be the next Member of Parliament."
Kenney praised Dilworth's credentials: She is a single mother with two grown children. She ran her own small business, which contracted filing and clerking services to area municipalities. She has worked for the Fraser Basin Council, a non-profit that advocates economic and environmental sustainability. And she has served three (non-consecutive) terms on Port Moody City Council.
He concluded with an attack on two NDP Members who he said voted against a bill aimed at fighting the trafficking of sex workers.
"This is one of the reasons why we need Diana Dilworth in Parliament," Kenney said. "Diana Dilworth will support common sense and decency... You don't have to take a chance on the NDP candidate when it comes to reflecting our values."
Kenney then fielded seven questions from the audience. The diverse crowd posed a series of detailed inquires about live-in caregivers, professional licensing, family reunification and immigration quotas. No one asked anything of, or about, Dilworth.
'This riding does matter'
The audience scrummed Minister Kenney after the meeting. Dilworth stood at his right elbow, nodding seriously as he spoke.
Paul, the polite volunteer I'd met at the Dilworth office, confirmed that the campaign had set aside time for me after the meeting. So rather than hog the scrum, I chatted with a couple of the other Tories in attendance.
Yonah Martin ran for this seat at a Conservative in 2008, losing to NDP incumbent Dawn Black by only three per cent of the vote. Primer Minister Harper subsequently appointed her to the Senate.
Senator Martin predicted Dilworth will do better because she started campaigning earlier.
"I'm confident that people have heard the difference between having a Member of Parliament at the governing table versus elsewhere," she said.
Also milling about was former MP Paul Forseth, who'd served the region for 12 years. Forseth had hoped to run for his old seat, but missed a filing deadline for the by-election. He was first elected as the MP for New Westminster-Burnaby in 1993 as a member of the Reform Party. He won reelection in 1997 with Reform, in 2000 with the Canadian Alliance, and in 2004 as a Conservative. But he lost the riding to Dawn Black in 2006.
Forseth said the "cusp" riding consists of two regions: New Westminster, which is more friendly to the NDP, and Coquitlam-Port Moody, which is more friendly to the Conservatives.
"The strongest NDP polls are in New Westminster. But that doesn't mean that we can't win," Forseth said. "When I won, sometimes I may not have won every poll in New Westminster, but I was always competitive. And they I would make it up in one of the other areas."
Forseth now plans to run in Burnaby-New Westminster during the next federal election.
"This whole controversy around the minority status has just really turned people off," he said. "I hope that maybe voters have had enough of that, and they're prepared to say that, look, we need a majority government."
I asked the veteran MP how important this riding is to Tory hopes for a majority.
"Yeah, this riding does matter," Forseth said. "And, yeah, there is a trend toward majority government."
'You know what?'
I waited until nearly everyone else had left the school. That's when campaign handler Dane Minor told me that Dilworth would only have a few minutes to speak with me.
"This really isn't a good time," Minor said. "We have a very busy schedule."
I mentioned that it was he who has proposed this time and place. He shrugged.
Dilworth walked up. I asked questions.
What would she do to improve the economy?
"I would particularly look at the businesses, and look at where we can provide tax incentives. See, you know, the Conservative government has helped businesses by producing some tax cuts for them, and tax credits. So again, it's just supporting incentives and supporting programs to help the businesses."
What did she mean by a comment she'd made on CKNW that appeared to express support for private health care?
"What I said is there's certain options that could be looked at in changing our medical system. And you look at private care: You know what? We already have chiropractors. We have naturopaths. We have cosmetic surgeons. There are choices for people who want to look at those options."
So what is she saying about private options?
"I'm not saying private options. What I'm saying is that if there was proposals that came forward to look at other options, I would look at them."
I asked a few quick questions about her campaign. She said she has 200 volunteers going door-to-door. She said she will raise and spend the federal limit on her campaign. (In this riding, the limit will work out to about $72,000.)
I asked her to name her top achievements on Port Moody council.
"I brought in a retention and recognition program for small businesses. We recognized that our small businesses didn't feel like they were getting enough attention. So we brought in a program where once a year we had an annual event. We invited every business in town to come in. We did a number of connections."
She added that she was "the driving force" behind Port Moody's adoption of a sustainability plan, and noted that Port Moody is "The City of the Arts."
I asked whether she will participate in the Burquitlam debate.
Her reply began with that same turn signal she'd flashed earlier in the week.
"You know what?" she asked. "I haven't looked at my calendar. As you can appreciate, candidates' calendars are huge."
I observed that she had yet to participate in any local candidates' forum.
"There hasn't been any all-candidate meetings yet," she replied, in what appeared to have been a much-improved recollection of her huge calendar.
Minor put his hand up and said, "Last question."
I asked who'd paid for the town hall meeting,
"As far as I know, it was a campaign event," Dilworth said. "The specific logistical details, I don't understand all of those."
I asked if there was anything else she wanted Tyee readers to know about her.
"I've got a two-year track record of working in federal government, running my own business, working for nonprofit. I believe that helps bring a very healthy perspective."
Tomorrow: A look at Fin Donnelly, the NDP candidate in the New Westminster-Coquitlam by-election.