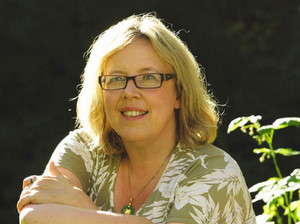 "We set a new record in 2008. We're the party in Canada that's got the largest number of votes without electing anyone," Green Party leader Elizabeth May grumbled.
"And we could do that again," she added, "unless we do something differently."
What the Green Party of Canada plans to differently, May told The Tyee, will be to focus a disproportionate share of its resources on her election as the next member of Parliament in the Saanich-Gulf Islands electoral district.
The Maritimer announced on Tuesday that she has moved to British Columbia, will challenge activist Stuart Hertzog for the Green Party nomination on Sept. 19 in Sidney, and expects to face off against incumbent MP Gary Lunn in the next federal election -- which Ottawa insiders anticipate could come as soon as Nov. 9.
May explained her decision in an interview with The Tyee.
"We never identified it as a priority for the leader to win a seat. That wasn't even in the campaign plan as a goal in the last election," May said. "This year will be different."
2008 strategy: Throw spaghetti at the wall
"We got almost the same number of votes as the Bloc Quebecois in 2008. They got 49 seats and we have none," May said.
She blamed her own party's lack of strategy.
"We didn't have an election strategy. Our strategy was like, 'Throw more spaghetti at the wall. Something's got to stick.'"
Nothing stuck.
"We had a face-to-face meeting in Quebec City in early November. We started discussing what we should do differently... We realized that even if we were to increase our vote base 50 per cent above 2008, if it was evenly distributed we would still be denied seats -- thanks to the perversity of the first-past-the-post system."
So the Greens decided that, whenever the next election was, they would focus more effort on winning a seat. Surprisingly, she compared her party's position to that of the Reform Party in 1989.
"In fact, you could make the case that the current governing party was struggling to win its first seat when it was Reform, and got a seat when Deborah Grey won in a bye-election. But they had the benefit, as a new party, of a strong regional base."
The next question fell to May, who as recently as a year ago boasted that she would not relocate from her Nova Scotia home for the sake of political expediency.
"That process resulted in me coming to terms with the fact that as leader of the party I do have obligations beyond personal druthers," she explained.
"Also, I have that old empty nest syndrome happening," said May, whose daughter recently left home for university. "Last year I wouldn't have been able to imagine doing this. This year I'm in a very different position."
'Died and gone to heaven'
Once May decided she was willing to move, the Saanich-Gulf Islands riding quickly made its way to the top of her list.
"This is the riding where we hit our first 17 per cent result back in 2004. And this is the riding where both the Liberals and the NDP recruited Green Party people to be their candidates in 2008," May said.
"I didn't want to make a decision about my life based on polling results, though I don't have to tell you that the polling results were very favorable to Saanich-Gulf Islands," she added.
She spent much of last summer touring the region.
"I had this died-and-gone-to-heaven feeling at the Salt Spring Island Saturday farmers' market, where there are, you know, three or four different local cheese makers, and a local winery and all this amazing organic local food. It is quite extraordinary, as a place to live."
She said that as a newcomer, she felt welcomed to the fast-growing coastal region that's become home to a mix of affluent hippies and mainstream retirees.
"That's one of the traits of the area that attracts me so much. A lot of people have moved here from somewhere else," May said. "Coming from Nova Scotia, where the initials CFA are well known, and if you are a 'Come From Away' it's a big deal, I don't think Saanich-Gulf Islands thinks it's as big a deal."
May would not say whether she will remain a British Columbian in the event she fails to win a seat in Parliament.
"I'm quite confident that I can and will win."
But her Green party opponent for the nomination told Tyee reporter Andrew MacLeod that it would take a miracle for May to win the seat after losing in her Nova Scotia hometown last year. "If she lived here she'd know she only has an outside chance of being elected here," said Stuart Hertzog, who claims May's move undermines the grassroots nature of the Green Party. "She's turned this into an Elizabeth May Party and not a Green Party," Hertzog said in a Hook article written by MacLeod.
May to court crossover voters
In addition to her status as an outsider, May faces the same problem that has vexed every Liberal, NDP and Green candidate in the Saanich-Gulf Islands since 1993: Like Groundhog Day, the riding repeatedly pits a field of center-left candidates against one right-wing candidate.
MP Gary Lunn was elected as a Reform Party candidate in 1997, under the Canadian Alliance flag in 2000, and as a Conservative in 2004, 2006 and 2008. In three of his five victories, he won 43 per cent of the vote -- a sufficient margin to carry almost any riding.
Presented with these facts, May was undeterred.
"I think that analysis would be quire correct if I were running as a Green Party candidate, without also being leader," she said.
"But the impact of my participation in the debates last year is just amazing. There's a sense that people would like to see me in the House of Commons. This extends well beyond the Green vote." She sited a recent poll finding that 40 per cent of voters wanted a Green MP.
"Now you could say there's an auxiliary thing that says that 40 per cent want me in the House of Commons -- just not in their riding," she quipped. "But I think Saanich-Gulf Islands is the place where people will say, yeah, we're going to be the ones to make history."
May said she would run a less partisan campaign, looking for crossover votes.
"I'm not going to be asking voters to abandon their traditional political affiliations. I'm not going to ask anyone to burn their NDP membership card or to cut up their Liberal card," May said.
"I'll be asking progressive voters voter to think about doing something different -- not necessarily voting Green for the rest of their lives -- but giving me a chance as leader of the Greens to be their voice in the House of Commons. I think on that basis we are very competitive and Mr. Lunn will lose."
'A substantial operation'
May expects to win the Saanich-Gulf Islands nomination on Sept. 19, and plans to begin pouring Green Party resources into the riding immediately.
"We'll be building as quickly as we can as soon as the nomination caucus on the 19th is over," she said.
"We expect to bring in a lot of volunteers... We'll be looking at happening at least a couple hundred volunteers on the ground, many from here of course, from local universities."
May said she employed "about six" staffers on her 2008 campaign, and expects "at least" than many this year. She said she spent about $55,000 on her Central Nova contest, and expects to spend much more in Saanich-Gulf Islands.
"This is the first time the Greens decided it's a priority that the leader be elected. We'll have a fully funded campaign." In addition to the full $80,000 spending limit, she also anticipates some pre-writ spending, "to make sure we're ready... We'll have a substantial operation."