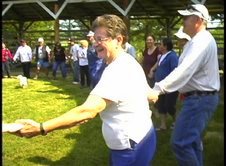 "We are only as sick as our secrets." If the people of Alkali Lake needed a slogan (and they don't), this would serve. I found it on a piece of paper pinned to the wall of the Pow-Wow Arbor, a wooden open-air structure where, every year for the past 33 years, the natives of Alkali Lake, B.C. have hosted an Alcoholics Anonymous Roundup.
Here, along with alcoholics from around the world, from as far away as Australia and Mexico and even China, the townspeople of Alkali Lake (or Esketemc, as they call it) gather to share 'secrets' of how alcohol almost destroyed them a half-century ago, and how they saved themselves. Both the secrets they relate in their stories -- brutally honest, confessional -- and the telling of them are parts of the healing, in a sobriety program that has caught the attention of problem drinkers everywhere.
Health director Irene Johnson, a small, squat woman who has her own history with booze, says this openness is key. "We've been in so much pain," she says, "that it's easier now to be honest about it rather than keep shoving it down, you know, getting sick and committing suicide."
'That's how easy it was to get alcohol'
The stories are pathetic, horrific and unnerving. Binge-drinking by children as young as eight, sexual abuse and physical assault, the despair of people dispossessed by residential schools and other agents of colonization. But this is not time or place for excuses or finger-pointing. Says Chief Charlene Belleau: "It's time to quit blaming the government, quit blaming the churches, quit blaming anybody for where we were at as people, if we're going to recover from 150 years of residential school policy and the pain that's been there for all of us."
The AA philosophy is to take responsibility. Still, it's hard not to apportion blame. One native woman tells of how as an eight-year-old girl, she and other children in Alkali Lake would steal money from their parents, mail it in an envelope to Williams Lake with instructions, and then wait for the white man's taxis to deliver bottles of wine promptly "at four-thirty on Tuesdays and Fridays, right to our door."
It was a modern variant of supplying firewater to the Indians, except this was wine, and these were adolescents, learning how to lose themselves in addiction even before their teens. "If you ever wonder why we because alcoholics in Esketemc, that's how easy it was to get alcohol," the woman said. "I was on Skid Row in my own home." Today, she is sober, has been for more than 20 years, but she still calls herself "an alcoholic." Dry or not, you're an alcoholic for life. It's a burden that follows you to the grave.
At the AA Roundup
You don't get invited to the Alkali Lake Roundup unless you're an addict, or in the family of one, but two weeks ago I rented a car and went anyway, uninvited. I violated another rule by bringing recording equipment -- the tenets of AA, after all, emphasize anonymity. But I wanted to see (and record) the phenomenon of the Alkali Lake first-hand. Was it myth, or hard reality, or a little of both?
It's not hard to find the 'Powwow Arbor,' as they call the site of the annual AA Roundup. Just outside Williams Lake, you leave Highway 97 and exit on Dog Creek Road, and then you just follow the signs. You arrive at an open field, filled with teepees and RV's and small knots of people drinking coffee and soda. The focus of attention is the Arbor, a kind of open-air wooden corral with turf in the centre and elevated benches all around. Nearby is a sweat lodge, and a hill where alcoholics can fast and meditate.
I was an unexpected stranger, but I was not turned away. I told organizer Ken Johnson that I wanted to shoot video and record some audio tape, and he said okay. He pointed me to the coffee urn. What struck me immediately was how easily and effortlessly the natives and non-natives mixed, and how they shared the common candid language of addiction.
Mid-way through the afternoon, a pretty 16-year-old blonde girl from southern California takes the microphone and introduces herself. "I'm Helen and I'm an alcoholic/addict," she begins. The people sitting in the corral respond as one: "Hi Helen."
"I'm really really grateful to be here sober," Helen continues, with a confidence that belies her age. "I have 107 days today (APPLAUSE). It's the longest I've have been ever sober and it feels amazing... I should be dead right now. I always say I'm on borrowed time. I should be dead considering all the things I did. I'm so glad I'm alive, which is a huge change."
Procession of teen recovering alcoholics
One by one, a procession of native teens then take the microphone. Trevor, in training with the Armed Forces and leaving soon for Afghanistan, says he will miss his parents. Irvin, in his teens and sober for six years (more applause), says "it's an awesome experience to see what life is really about instead of waking up in a ditch, or in somebody's car." Another young woman, her four-year-daughter standing next to her, can't stop crying as she talks about her frequent alcohol relapses. But with the help of the people around her, she says, better days are coming.
Listening to the stories is Patrick Haggerson, a therapist with the Betty Ford Institute in California, famous as the addiction treatment centre-of-choice for Hollywood celebrities. Haggerson comes to Alkali Lake once a month, both to teach and to learn. He's intrigued by how the community has integrated the 12-step program of Alcoholics Anonymous with a number of native practices.
"Alkali Lake is an example of how they kind of blended the two paths, and that's of great interest to us... Even though it's a small community they have regular AA meetings every week, they have support services and social services, and they've eliminated a great many of their social problems or at least reduced them. They are able to get funding and bring in outside support like me. I mean, that to me is huge success."
Alkali Lake first came to the world's attention in the mid-1980s, with the release of a documentary called The Honour of All. In the natives' own voices, and with re-enactments of their own experiences, the film tells how the Reserve went from a nearly 100 per cent alcoholic rate to nearly 100 per cent sobriety, in a decade. They did it with hard-core social action, and relentless social pressure. Bootleggers were tracked down and their operations closed, alcoholics were given food vouchers instead of their social assistance cheques, and problem drinkers were told to go into treatment, or go to jail.
It was rough social engineering, and the two pioneers of the program, Andy and Phyllis Chelsea, met a lot of local resistance from their neighbors. But they prevailed and, bolstered by the international publicity generated by The Honour of All, the Chelseas toured the world and told the Alkali Lake story. They, and the town, became the poster children of the sobriety movement.
"It's never gonna go away"
Today, Andy Chelsea has given up his leading role in the program, and he's dismayed at the number of teenaged addicts on the Reserve. He believes that as the sobriety program became professionalized, it focused too much on individual addicts, instead of families. In short, he says, they forgot about the kids. When I ask if addiction is still a problem on the Reserve, it provokes a sardonic laugh. "Oh yeah, every kind of addiction... and it always will be. It's never gonna go away. If you want miracles I think Jesus better come down from up there and tell everybody you're not gonna drink ever again in your life. That's the only way it's gonna happen. But He's not gonna do that."
Chelsea guesses that the addiction rate in Alkali Lake today is "around 40 percent" but then quickly adds that this number includes drugs, and that the reserve's population has doubled in the last 30 years to about 700 people. He doesn't want to be seen as a nay-sayer. "No, it's not a magic formula. But it works. If it's going to save the lives of 10 people... it's worth it."
Patrick Haggerson says it's a mistake to play the percentages game where native addiction is concerned. "It's ridiculous. Go to Williams Lake and ask what is your percentage of alcoholism. They'd laugh at you... I don't think that is a realistic model to use for (measuring) success. It's better to look at the resources that are active in a community that supports sobriety."
What Alkali Lake offers is not only resources, but also continuity. Keith, a 62-year-old non-native man from Fraser Lake, says he has been coming here for the last ten years "to recharge my batteries and get my life in perspective." His friend Marty, from Kamloops, has been coming since 1978, and he talks with the vivid imagery used by many recovering alcoholics. "The door of heaven didn't open and bring me in; the door of hell opened and let me out... I hear on the inside now, and I'm very busy listening to myself."
The program is also inclusive. Recovering alcoholics are encouraged to bring their kids, even very young ones. It's important, say community leaders, that children not be shielded from the realities of addiction. "We always invite families," says Health Director Irene Johnson. "When I was growing up I felt there was no hope, nothing would ever get better, so the option was either suicide or stay drunk, because sooner or later i would die from it anyway. I don't want my granddaughter to have that hopeless feeling. So we invited whoever and they come here and they're part of us. We need to bring hope to our children."
Secrets and healing
It's important not to over-idealize Alkali Lake, however. The Reserve, like the rest of Canada's native population, has issues that are as serious as alcohol. Irene Johnson summarized the dilemma this way: "Okay, I'm sober. Now what?" There's still abuse, child abandonment, violence, poverty, alienation. Those problems are still there when the hangover passes and, if left unresolved, they can undermine the most rigorous sobriety programs.
Healing is hard. The next challenge for the natives of Alkali Lake, as with other native Canadians, is to reveal the deeply-held "secrets" of their residential school experience, as the Truth and Reconciliation Commission begins its work of truth-telling. There is more there to recover from than sexual abuse by white priests and nuns -- the toxic legacy of the schools is permeating through the generations, and the stories are not easy to tell. Native leaders warn that communities need to be ready to deal with the consequences of disclosures of native-on-native abuse.
But Alkali Lake has taken the first important steps -- driving home the message that addiction, and the despair that comes with it, is a shared communal experience, as is the healing. Mildred, a native woman in her 40s, carried her own secret belief while she was drinking. "For a long time," she says, "I thought it (alcoholism) was only happening to me." Now she knows better.