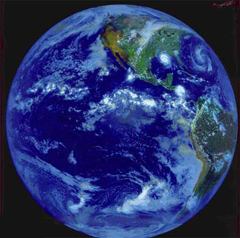 Last week 70 international academies of science predicted dire consequences for global food production and "dramatic changes in the makeup of ocean biodiversity" unless carbon dioxide emissions -- the cause of ocean acidification -- are cut in half within the next four decades.
But acidification is just one of the problems plaguing the world's oceans. Melting glaciers. Overfishing. Pollution. A fast-growing gyre of plastic debris twice the size of Texas.
And here in British Columbia, we've got our own troubles. In honour of World Oceans Day today, June 8, The Tyee asked several environmental groups to highlight the threats to our coastal ecosystems, and what they are doing to address them.
Voyage to the bottom of the sea
It takes a lot of work to organize a voyage to the bottom of the sea, and Jennifer Lash is awash in last-minute preparations.
The executive director of the Living Oceans Society has been "crazy busy" lately, she says, but any fatigue she might be feeling doesn't dampen her enthusiasm.
On Monday, a team of experts will embark on the first of up to six dives over the next three weeks to find and document deep sea coral off British Columbia's coast. The expedition is funded and organized by Living Oceans.
It's also part of a larger project that Living Oceans and other organizations have been working on for the last three years, known as PNCIMA (pen-SEE-ma) or the Pacific North Coast integrated management area. The area, which stretches from Campbell River to Prince Rupert, is one of the most biodiverse on the planet, and the goal of PNCIMA is to create a conservation plan for the region.
"To me, the plan does two things," says Lash. "It looks at the region and says what activities are appropriate for what areas. We have done this, to some degree on land. We need to take a similar approach on the oceans. We can't allow fishing, tourism, wind farms just anywhere. At the same time, we need to find out where those things might be okay to take place."
The key, says Lash, is getting commitment from all the stakeholders (like the fishing and tourism industries, First Nations) and securing funding from the federal government that will make the planning process worthwhile.
"That process isn't clear yet," she says. "They [the Department of Fisheries and Oceans] committed to doing it, but it's still a bit of an empty shell.
"For the past three years, the Living Oceans Society with partners in the conservation sector has been working hard to get the government to live up to its promise."
Coastal region threatened by oil pipeline, tankers
Even if the process does continue, its objectives could be thwarted by oil and gas development. Charles Campbell, communications director for the Dogwood Initiative, says his organization is focused on stopping the Northern Gateway pipeline project.
The project would transport oil from the Alberta tar sands to Kitimat, on B.C.'s northern coast. It's one piece of a larger system -- including a tanker port in Kitimat -- to move Alberta oil to Asian markets, right through PNCIMA waters. Previous reports on the possibility of a tanker port in Kitimat have suggested that oil spills would be inevitable.
"For the environmental movement in general, a victory against big oil in the tar sands is really what we need right now to show that we can make a difference," said Campbell.
"We feel... the Enbridge project is probably the most winnable, from an environmental point of view, of all the projects currently proposed with the tar sands."
Campell said that Dogwood's strategy for securing a win on this project was "a bit of a secret."
He did assert that "the pipeline can be blocked by a lot of First Nations' opposition. They are coming more and more onside to voice their opposition."
Some First Nations in the region have already taken a stand against the project, and because these groups have legal rights and title, their opposition is risky for investors.
"That notified the oil community, both in Alberta and the purchasers in Asia that this possibly isn't where they want to be putting their money," Campbell says.
The future of salmon
Globally, ocean biodiversity is threatened by overfishing, and here it's no different.
Lash March, Pacific Salmon Forum -- which was commissioned by the provincial government to research ways to enhance sustainability of aquaculture, and to protect and enhance viability of wild salmon stocks -- released its final report and recommendations.
"We're solidly in favour of those recommendations being implemented, and our objective is to try and make sure that government will do that," says John Werring, a marine and freshwater conservation specialist with the David Suzuki Foundation.
The foundation's approach is two-way conversations with government and industry.
"We're trying to talk to the industry, to convince them it's in their best environmental interest to change their practices, and trying to convince government that it's in their best interest to change the way fish farming is done in B.C.," says Werring.
But the provincial government has not yet moved on two of the Pacific Salmon Forum's key recommendations: limiting production and moving towards inland fish farms.
"What the government and industry are doing instead is proposing, or at least industry is requesting, to increase [fish farm] production. And government is seriously considering it... either to double or triple current levels," said Werring.
The desire to expand is "extremely problematic" because it means the possibility of replacing open-net fish farms with closed containment systems is more and more unlikely.
"Industry is saying we can't move to closed containment because there are no known technologies that would produce fish at the current levels," he says. "In the meantime, they want to expand production... That loop will never be closed."
Protests might ramp up
When asked if the two-way dialogue approach could be effective, given the fact that fish farms can't agree on this key issue, Werring says it's possible that more direct action in the form of protests or civil disobedience might be needed.
"We will have to wait and see and cross the bridge when we get to it," he says. "We're trying to take a reasoned, middle-ground approach, recognizing that the industry is here and it creates jobs and stimulates the economy."
"If they do expand by two or three times," adds Werring, "You can basically kiss every wild salmon on this coast goodbye."
Related Tyee stories: