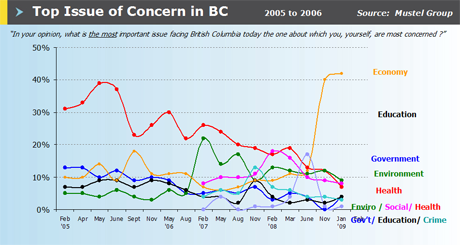 Pollster Evi Mustel had never seen anything like it.
It was November of last year and Mustel had a new poll out. The number of people naming the economy as B.C.'s number-one issue had leapt to 40 per cent, from 12 per cent in June. The line on the graph shot up like the handle on a hockey stick.
"I've never seen tracking like that before," she told The Tyee at the time. "We've been tracking this question since the '80s and never has there been such a spike in a single issue."
Global economic cataclysms will do that -- even though B.C. hadn't experienced the worst of the recession at that point.
The line on Mustel's graph would keep rising in subsequent polls, hitting 50 per cent in February.
Then something else unprecedented happened. Members of Metro Vancouver's gangster community began killing each other in the streets at a furious pace. Crime became an issue.
This time it was pollster Angus Reid's turn to be amazed.
"It went all the way to 19 per cent in the last poll we did," Mario Canseco, who works for Reid, told The Tyee this week. "Which is something we had never seen before. Angus hadn't seen that in 30 years."
All in the question
The Mustel Group poll that came out this week showed a less dramatic rise, but still suggested that crime is one of the top issues.
All of this fits B.C.'s reputation as a volatile political environment. But these swings need to be looked at in context.
"The one thing to keep in mind is, what we ask here is the top issue concerns," Mustel said in an interview this week. If the poll asked about respondents' top three issues, "you probably wouldn't see as much volatility in the numbers," she said.
For example, from late 2006 until last fall, the environment was a hot issue with voters. Politicians fell all over themselves to look green, while pundits predicted that future election campaigns would turn on who had the best programs to combat climate change.
Then the stock markets were scuppered and the economy replaced the environment as a topic of concern. We pundits proclaimed that no one cared about the environment any more.
Maybe not, said Mustel.
If respondents were asked to rate different issues as high, medium, or low importance, the environment would probably still be a fairly high priority for most people, Mustel said.
"We're in the field right now doing a fairly large survey on exactly that topic," she said. "We're all interested to see whether that concern about the environment has actually dropped off or if it's just that now people are just talking more about the economy.
"Are people still taking initiatives to be green and fuel efficient and things like that?"
Economy versus environment?
The environment and the economy are often presented as an either/or thing: to get economic growth, you have to trash the environment; to protect the environment you have to tank the economy. But some argue that Canadians don't see the balance as a zero-sum game. Instead, we tend to expect both a healthy economy and a healthy planet.
After all, as Mustel said, people don't go into the polling booth with just one issue in their heads.
It's also worth remembering that strange things can happen in election campaigns.
"It just takes one issue that can really galvanize voters to say, 'That's it, I'm switching my vote now,'" Mustel said.
Although that issue hasn't come along yet, "that could change in 30 days," she said. "It can just be one comment, one issue that no one had anticipated that can turn things around."
The face at the top
With all those caveats in place, however, concerns about the economy and crime favour the Liberals over the NDP, which isn't well-trusted on either issue.
Traditionally, the theme of "jobs, jobs, jobs" resonates well with Canadian voters, notes Mario Canseco, the pollster with Angus Reid Strategies.
The NDP carries baggage from its past terms in government when it gained a reputation as bad economic managers. That's hurt NDP leader Carole James's credibility as a potential premier, Canseco said.
Even last summer, when Reid's polls had the NDP leading the Liberals, "Carole James wasn't ahead when you asked people who they'd like to be the next head of government," Canseco said.
Because of the NDP's baggage, James' "actual numbers with the issues that people care about haven't been that great," Canseco said.
At some point, the issues intertwine with leaders' images in voters' minds. For example, in the 2006 federal election, "things began to change" for Stephen Harper and the Conservatives when Harper passed Liberal Paul Martin as the voters' top choice for prime minister, Canseco said.
"There's got to be a moment in all campaigns when you start looking at the leader of the opposition as someone who can actually take over," he said. "That happened to Harper in 2006, that happened to Jean Chretien in 1993.
"It's the moment when you say, 'OK, this is the man or the woman that I want running the show.'"
Appealing beyond the base
Canseco said the NDP's campaign so far, with its emphasis on antipathy to Premier Gordon Campbell, reminds him of the 2004 U.S. presidential campaign. Democrat John Kerry pitched his campaign to his base, telling them that George Bush was bad. This energized Kerry's base, but didn't gain him any ground overall, Canseco said.
"If you keep appealing to the base and telling them things that they already know, you're not expanding. And that is the main issue for the NDP right now. Talking about Gordon Campbell is evil and so on is not going to help them expand."
Related Tyee stories: