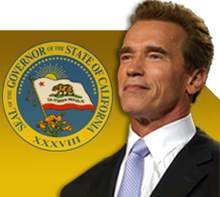 Environmentalists are hoping that Premier Gordon Campbell can measure up to a certain former action hero when it comes to fighting climate change.
Climate change campaigners say they've been hearing rumours out of Victoria that the Campbell government intends to announce action on greenhouse gas emissions soon.
Their hopes were raised by a year-end interview with Jeff Rud of the Times-Colonist in which Campbell said B.C. needs to be a leader on climate change. A forthcoming update of the government's energy plan will "deal directly" with the issue, Campbell said.
"I think there's probably a lot of people who are hoping it's going to [contain] some greenhouse gas targets," says Lisa Matthaus, campaigns director for the Sierra Club of B.C. "As good as, if not better than, California has."
Environmental groups see the California standards, signed into law by Gov. Arnold Schwarzenegger last fall, as the standard for other jurisdictions to meet. The California Global Warming Solutions Act aims to reduce greenhouse gas emissions by 25 per cent by 2020 through market-based mechanisms.
Big shift in public opinion
Late last year, the Environmental Law Clinic at the University of Victoria drafted model legislation for B.C. based on the Schwarzenegger standards.
Like an increasing number of Canadian politicians, The Governator has sensed the public mood for action on climate change. Whether it's our recent weird weather or news stories about threatened polar bears, the environment in general and climate change in particular are suddenly a hot political issue.
A poll released last week suggests that four out of five British Columbians want provincial legislation with mandatory targets for reducing greenhouse gases. The poll, conducted for the Sierra Legal Defence Fund, also found a distinct appetite for renewable energy and energy conservation.
It's not only polling funded by partisan groups that suggests voters are developing increasingly green attitudes. A recent Decima poll suggests that the environment is on a par with, if not ahead of, the economy as a national issue.
Parties vie for green cred
Liberal leader Stéphane Dion made the environment one of the "three pillars" supporting his leadership campaign platform and has been stressing his record as environment minister in the former Liberal government.
Meanwhile, Prime Minister Stephen Harper shuffled the underperforming Rona Ambrose out of the environment portfolio last week and talked up his own environmental concerns. Green politicians are suddenly the big story.
For the time being at least, politicians want voters to believe they're doing something on the environment.
"I think there was a big shock," says Matt Price, co-ordinator of the Conservation Voters of B.C. "I think that Harper along with everyone else completely missed the fact that a tipping point was underway."
Harper's Conservatives thought they could get away with a "smoke and mirrors" climate change plan, but the voters wouldn't buy it, Price said.
The public's "sustained backlash" against the Conservative Clean Air Act suggests that Canadians have passed the tipping point when it comes to climate change, said Price.
Plan drafted in secret
"I think it's just the steady drumbeat of news from places like the Arctic's melting ice caps, combined with wacky weather that people can see, feel and touch," he said. "And then, I don't think you can discount the Al Gore effect.
"All these things came together in 2006 and totally changed the landscape of global warming...Maybe 2006 was the time when it finally began to hit home."
Which brings us to B.C.'s energy plan update.
B.C.'s current energy plan dates back to late 2002, when the Campbell Liberal government committed B.C. Hydro to buying new power from private sources.
The update process, which began in 2005, wasn't originally expected to include any dramatic announcements. But as voters approached the tipping point on climate change last year, rumours began to circulate that the energy plan update might include caps on greenhouse gas emissions.
Beyond Campbell's comments, however, the government is keeping mum on the update.
It's been drafted in secret, with no public hearings and almost no publicity concerning its possible contents.
No date has been set for its release. An energy ministry spokesman interviewed last week would say only that the update is coming "soon." It was originally scheduled to be released last year, then postponed to mid-January. Now it appears it will be released some time after that.
Nor is the government saying in any detail what's going to be in it.
Enviros optimistic about plan
But environmental groups, which have been talking in a general way about the update with government officials, are hopeful.
"I think there's probably going to be some things we'll like," says Karen Campbell, staff counsel for the Pembina Institute. "Whether we'll like them more than the things we don't like..."
However, Campbell said she is optimistic that the delay in the release of the update means that the government is responding to rising public concern over climate change.
Like Campbell, Matt Price of the Conservation Voters said that California has set the standard for B.C. to meet.
"California has set the bar now and anything other than what they've done is a missed opportunity," he said.
Ian Bruce, climate change specialist with the David Suzuki Foundation, said B.C. emissions limits similar to those in California would be "ideal."
The Suzuki Foundation is looking for targets and timelines to reduce greenhouse gas emissions, Bruce said.
"British Columbia is one of the provinces that has felt the full effects of climate change over the past few years with the mountain pine beetle as well as increases in flooding events and other impacts."
Coal fired plants 'wrong direction'
Given this province's experiences with climate change, the Campbell government should be a leader in addressing the problem, Bruce said.
Instead, "since 1990, greenhouse gas emissions in the province have increased -- skyrocketed -- 30 per cent with a five-point increase in that gain in the last year alone," he said.
"We're headed in completely the wrong direction and we need some significant policies to go in place."
Lisa Matthaus, of the Sierra Club, agreed that B.C. has had a poor record on this issue in recent years.
Last year, Hydro approved two coal-fired generation projects, one in Princeton and one in Tumbler Ridge. Several others may be on the horizon.
The coal-fired plants were "a step in the wrong direction," Matthaus said, adding that she's hoping the energy plan update acknowledges this.
"Not just, 'OK, we made a mistake. No more coal-fired power plants.' But actually cancelling those first two."
Cancelled. As in terminated.
Related Tyee stories: