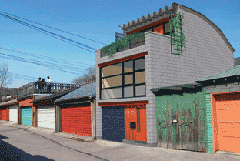 In Vancouver's EcoDensity lexicon, they go by the name of coach houses, granny flats or laneway housing.
Carol Berg prefers to call them "little gems."
In 2002, the city where she serves as housing and community development manager -- Santa Cruz, California -- put its faith in converted garages and backyard cottages to help the municipality deal with an affordable housing crisis.
"It was really important to Santa Cruz to protect the single family neighbourhoods," she told The Tyee. "To not have big housing projects go into our single-family neighbourhoods. So this was a way to add density without destroying the neighbourhoods."
A pioneering combination of rezoning, technical assistance and financial incentives helped produce a fourfold increase -- averaging 40-50 annually -- in new accessory dwelling units (ADUs).
"We're a small city," Berg said by phone from Santa Cruz whose population is just shy of 60,000. "If you do that over five years, you've got the equivalent of a really substantial development without overly impacting any one neighbourhood. It's an amazing tool for cities to have and to use."
Climbing aboard?
The draft EcoDensity Initial Actions, the subject of ongoing public consultation, count among the 21 targets for 2008-2009 "new options for backyard laneway infill housing" including rental options, smaller lots and green requirements and a last minute addition -- opposed by the Vision/COPE councillors -- to "seek neighbourhood sub-areas around the city to pilot this housing form."
City of Vancouver director of planning Brent Toderian believes laneway housing holds promise as "hidden" and therefore, much more acceptable, density even if it cannot provide the sheer number of units that larger-scale densification offers. He also sees a strategic value because such rental units tend to be affordable and can help homeowners pay off their mortgage.
"It changes the affordability profile of the entire single-family unit," Toderian said in a phone interview, adding that city staff have encountered public interest in all neighbourhoods.
Walking the walk
This enthusiasm spills over from EcoDensityLand and across Burrard Inlet into North Vancouver where Mayor Darrell Mussatto is voting with his feet.
Up until five years ago, he lived in one half of the duplex he co-owned with his brother. But when his parents opted to downsize from their house, he decided to free up his half for them and build himself a coach house in the backyard. At 800 square feet, it's a bit bigger than most laneway houses but it's a step in the direction he wants his community to take.
"It feels right," Mussatto said. "I just feel I've got a smaller footprint than I did before."
He says he can count the number of North Vancouver laneway housing units on the fingers of two hands and in each case, the owners had to go through an arduous rezoning process. A committee is currently looking at changing those rules.
Given North Vancouver's geographical constraints, Mussatto says any further population growth will require infill building. And laneway housing could also help address increasing problems in recruiting hospital staff and police officers who are scared off by sky-high housing prices. So he would like to see regulations eased to the point where building a coach house would require a simple permit like the kind needed for a garage.
"Instead of keeping a car warm in the night, you keep people warm at night," he said, suggesting carports and laneway parallel parking as alternatives to garages. "Cars tend to do a lot better outside in wintertime."
Cruz control
A more relaxed zoning structure is exactly what got the ball rolling in Santa Cruz where any homeowner living on a lot bigger than 5,000 square feet and zoned for single-family dwellings can build an ADU.
But that was only the starting point.
The city also produced an ADU manual and a garage conversion manual to help homeowners through the process. It provided seven approved prototypes as possible templates. And realizing this type of housing had faced serious opposition elsewhere, Santa Cruz also launched an education campaign to convince the community that ADUs were part of the solution to the housing crunch of the time.
"The technical assistance we provided really helped homeowners to be able to build the ADUs," Berg said. "That's a really helpful tool -- especially the ADU manual because it walks you through the whole process -- but if you have a community that's in opposition to having ADUs built, it just is too overwhelming for most homeowners to deal with."
In order to promote affordability, the program also offers partial or total fee waivers for homeowners committing to rent their unit to low- or very low-income tenants respectively as well as loans of up to $100,000 at 4.5 per cent interest rates.
The program initially worked at the construction level with the Women Ventures Project to provide training in non-traditional fields for low-income women but Berg admits the initiative fizzled.
Municipal law also stipulates the homeowner must live in either the primary or accessory dwelling, a requirement Berg believes was central to gaining public support for the program.
"If you think about it in that way, you're not bringing in a whole bunch of noisy rowdy people," she said. "You're bringing in a community member."
And finally, one approach Santa Cruz did not use but Berg thinks could be useful for other municipalities just getting started involves tax breaks.
"If somebody builds an ADU, rather than have their taxes go up immediately, you give them two or three years or five years or whatever to get the ADU up and running as a rental unit before they start having a higher tax burden. That's something that I think is a great concept."
While increased ADU construction has helped promote both stability and diversity in an expensive market where the young and old were finding it increasingly difficult to live and schools were closing down as families moved out, Berg sees little evidence of a development bonanza.
"It's like the community providing for its own rental housing as opposed to developers coming in from the outside," according to Berg.
Thinking small
Jake Fry, co-founder of Vancouver-based Smallworks, which specializes in building small and green -- their show home is perched on the banks of the North Arm Fraser River is a whopping 220 square feet and made of wood from the 2006 storm and vegetable-based foam -- doesn't see laneway housing as a big developer's game in Vancouver either.
"The profit margin just isn't there for developers," says the man who charges $150,000-$175,000 for a 550 square-foot model and for an extra $20,000 will upgrade the lot's main house. "This is something that helps the homeowner."
Although EcoDensity could mean a lot more business for Smallworks, Fry tries to distance himself from the mayor's pet project.
"I don't really look at what I'm doing as an EcoDensity thing," he said. "[Laneway housing] is a really good idea but it's gotten wrapped up in something that's become really contentious because people worry it's developer friendly."
Mel Lehan, a spokesperson for a community-group coalition named Neighbourhoods for a Sustainable Vancouver, agrees laneway housing and EcoDensity should be subjects of two totally different debates.
"[Laneway housing] is being used as sort of a Trojan Horse," according to Lehan. "They say, if you want this, you must want EcoDensity. But it's not true."
He argues the city didn't need any grand schemes to change the rules on secondary suites and he doesn't see why EcoDensity is necessary to allow laneway housing now.
Always a catch
Mind you, Lehan isn't necessarily a big fan of this form of infill either. It's all a question of execution for him.
"I'm not taking a position for or against it but don't assume it's good for the environment," he said. "If you have cement going from the house to the coach house, you've likely harmed the environment."
But while Lehan believes laneway housing can be done right, others are outright hostile to the notion.
"Insidious, insidious. The very opposite is needed," reads one of the comments gathered during public consultation and posted on the City's EcoDensity website. "More yards, more open space, more trees, more "green," more birds, more vegetables, more skunks, more sun, more ponds. . . (need I continue?)"
"Absolutely not," reads another. "It will drive up land prices. Where will we park cars? Crazy idea."
Even supporters recognize that laneway housing presents challenges. In pricey markets like Santa Cruz, financial incentives for homeowners to take in low-income tenants aren't necessarily enough to keep rents down.
"We have a number of income-restricted ADUs but not that many. You know, not as many as we had hoped for," Berg said. "But we debated this, whether we should include the requirement of affordability for ADUs and we realized what would happen is you'd just have a lot of illegal ADUs built."
As North Vancouver's Mussatto points out, affordable housing is very expensive to build and there are limits to what municipalities can do regarding incentives. He believes a city can be a partner who provides "creative zoning" but subsidies must come from more senior levels of government.
Vancouver's Toderian sees pros and cons to the two main kinds of laneway housing. Single-storey cottages don't create privacy or shade problems with neighbours but they raise parking issues. Above-garage units -- or "Fonzie suites" as Toderian likes to call them -- simply reverse the situation.
And of course, there is the small matter of supplying increased transit and amenities to areas with a growing population.
But Gordon Price, director of the City Program at Simon Fraser University, thinks laneway housing should be a fairly easy sell. He expects something similar to the process involving secondary suites: the "hypocrisy stage" where illegal units are ignored, followed by targeted building in neighbourhoods showing the least resistance and finally, a blanket rezoning.
As with secondary suites, he says, laneway infill doesn't alter the footprint or character substantially while adding housing where other options are scarce.
"Sounds like a win-win to me," he said. "But it has to be handled with finesse."
Related Tyee stories: