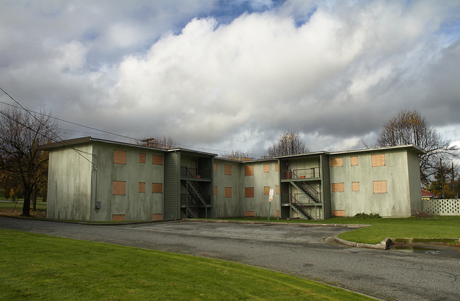 Very close to the geographical centre of Vancouver, on the eastern edge of an extinct volcano that long ago mutated into a quarry, which then blossomed into a dazzling public garden, is a ghost world.
Tiny flower boxes and little garden patches lie overgrown or fallow.
Rusted garden tools, toys and household detritus are left abandoned on back porches. Pill bottles, calendars, TV cables, origami figures and a lot of dust remain in now-vacant suites that had been occupied by low- income renters for more than a half-century. A flock of Canada geese waddles through an abandoned playground and basketball court. An emptied parking lot is flooded by autumn rains. While some signs of human life remain -- laundry drying on a balcony railing -- the only recurring sounds these days are of nail-guns stapling plywood sheets to window frames.
Little Mountain Housing Project (B.C.'s first publicly subsidized residential community when it was created in 1954) sits upon a six- hectare, 224-unit property bounded by Main Street on the east, Ontario St. on the west, and 33rd and 37th streets at the north and south.
While outcries greeted its '50s inception ("Socialist!" railed the naysayers) and protests are still ringing against recent evictions and relocations, a pall of inevitability has descended over the grounds, along with another spectre -- an aura of failed utopianism.
The once-ambitious government social project now is in the first stages of demolition and replacement. But when and with what is not yet clear. The aged complex -- both altruistic and yet anachronistically blessed in space and location -- does not encourage a convenient political position for either the left or right.
As some of these photos were being taken, retired warehouse worker and 30-year Little Mountain resident Sam Chang, 72, was still holding his ground along with a handful of other tenants. But the proverbial writing -- as conspicuous as the graffiti scrawled in dank, barren basements of the complex -- is on the wall. Development, density, history, "progress" is on the move.
Always straddling a twilight zone of contradictions: a tenement feel with Bauhausian modernist touches (architiects: Thompson, Berwick & Pratt); decaying structures resting among some of the most vast and beautiful lawns and tree-lined spaces in the city. It remains a neighborhood in limbo in more ways than one.
Bulldozers will move in sometime in the new year, with BC Housing promising a redevelopment of mixed market and subsidized rental units as a replacement. Born into controversy (many early Vancouverites grated at the notion of subsidized low-income housing), the complex seems destined to remain (as the postmodernists proclaim) a "contested space."
New construction -- with BC Housing's plans with a private developer still not exactly clear -- will not begin until after the 2010 Olympics. And in the lead-up to the municipal election, mayor-elect Gregor Robertson suggested using the vacated site as temporary housing for the homeless.
Stay tuned...
Related Tyee stories: