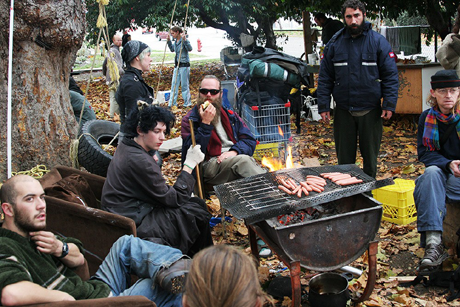 Much has changed for Natalie Adams since the Victoria police dismantled a short-lived tent city a few blocks from the provincial legislature in 2005. She's off drugs, she has a place to live and a job helping other people get off the streets.
She also has an 18-month-old son, whose very existence she attributes to the city shutting down the tent city that flouished briefly in a city park two and a half years ago.
"When they broke up tent city I was camping out [alone] in Beacon Hill Park," said Adams, who was known as Karma when she lived on Victoria's streets. "I ended up having a sexual assault and got pregnant. It wouldn't have happened if they left the tent city alone."
On June 16, she brought her son to the opening day of a B.C. Supreme Court trial that will test the constitutionality of Victoria's anti-camping bylaws and the injunction the city used to remove the tent city.
The trial ended on June 19*, a day earlier than scheduled, but Justice Carol Ross did not make a ruling from the bench. She had said at the outset that given the volume of material, it would take some time to arrive at a decision. A win for the campers could affect anti-camping bylaws and the rights of homeless people across Canada.
Adams's son is a beautiful boy and she's thrilled to be raising him, she said, but it shows the dangers people face when they lack secure shelter. For a brief time, she'd found some security in the tent city, she said.
"It was nice having a brother and sisterhood, feeling like you were a part of and not a social pariah," she said. "It was really nice. We had unity, we had safety, we had the comfort of each other. We could go to sleep and knew we were safe. Once they broke that up, all hell broke loose for a lot of people."
Shelter a fundamental right
In October 2005, the city got an injunction that allowed police officers to close the tent city and move the campers out of Cridge Park, where they had been for a couple weeks. Lawyers Catherine Boies Parker and Irene Faulkner picked up the case pro bono and have fought the injunction and the bylaws upon which it rests, pushing ahead as both the city and the province tried to drop the case.
There are some 1,500 people homeless in Victoria, according to the city's estimate, but only 331 shelter beds in the winter and 171 in the summer. With that kind of imbalance, Boies Parker argued, it is unconstitutional to prevent people from sleeping in city parks. If people have to sleep outside, she said, they have to be allowed to use a tarp or a tent to protect themselves from the elements.
"The ability to provide yourself with shelter is a fundamental right," Boies Parker said in court. The city should not interfere with that right. "You have a means of protecting yourself and the City of Victoria says, 'You can't do that.'"
While the bylaws against camping in parks might appear fair to someone who has a home, she said, they have an unfair impact on people who are homeless. "It is very hard for many of us who've never been homeless to appreciate the severity of the bylaws," she said. "We have to consider the impact of the bylaws on the people they really do affect."
The city's lawyers argue that whatever benefit the tent city had for the people who lived there, they shouldn't be allowed to make a "defacto expropriation" of a public park. The submission they made to the court acknowledges that homelessness is a problem and says people can cover themselves to stay warm and dry while sleeping outdoors, but creating tent cities should not be allowed.
The submission said, "The City says that the limits it places on the erection of a temporary abode and the creation of tent cities in public spaces are reasonable and demonstrably justified in a free and democratic society."
The attorney general of B.C.'s office is intervening in the case since it involves a constitutional question that would affect municipalities throughout the province. The courts should not be setting social policy, its submission said.
"The solutions to the difficult and challenging circumstances faced by the homeless lie in the hands of the democratically elected legislative and executive arms of government," the submission argued. "The courts are not equipped with the resources or the expertise to address the many challenging issues raised by the phenomenon of homelessness."
The provincial government has overseen a tremendous increase in homelessness since 2001, at least some of which is attributable to cuts to housing, welfare and other social supports.
BCCLA intervening
Vancouver lawyer Ron Skolrood gained intervener status for the B.C. Civil Liberties Association. "This is really the first case of its type in Canada where the whole question of adequate shelter has been addressed by the courts," he said in an interview. "Access to adequate shelter is a pretty fundamental basic necessity of life."
Victoria's anti-camping bylaws leave people little choice, he said. "You're putting homeless people in a position of having to either choose to break the law by erecting a shelter or choose to put themselves in harm's way by complying with the bylaw and sleeping without adequate shelter, and what kind of choice is that? That's not a choice at all."
David Arthur Johnston, whose own fight to sleep in public places including the grounds of St. Ann's Academy predates the case by at least a couple years, said waiting for the trial has been "A university level lesson in patience." He added, "This is the battle for the commons."
When there's a disaster overseas, said Simon Ralph, who stayed in the park at the time of the tent city but has a home now, the Canadian government sends sleeping bags. But when there are people here who are homeless, "They're denied that basic right."
Ralph is now housed and has been to university for a diploma program in the humanities. He stopped using drugs during his time in Cridge Park, he said. "My life changed enormously when I went to tent city," he said. "I didn't have hope in society. Through living with people who cared, I learned to love myself."
Many of the faces on the street have changed in the last couple years, he said, but it's obvious the city still has a real housing problem. "There's a lack of hope on the streets," he said. That's true of people who are homeless, but the situation also creates problems for business owners who complain about people sleeping in front of their stores, he said. "If you gave these guys a tent city somewhere, or access to a beach or farmland, you'd stop seeing people in the doorways."
Few precedents
Speaking outside court, Boies Parker said that compared to tax and property law, there are few precedents related to the camping case. "The problems homeless people face aren't the subject of very much case law because it's hard to get these problems before the courts," she said.
When people living in poverty make it into court, it is usually as defendants for things like aggressively panhandling or taking food from dumpsters, as has happened in a couple of recent Victoria cases. The arguments they get to make in those situations are limited, she said.
"Being able to go and hear and give the judge the whole factual context is very, very unusual," she said. "There might be a lot of court time taken up with the consequences of poverty and homelessness, but there aren't cases dealing with the actual underlying problems that are leading to that."
After Adams became pregnant, she spent six months in Vancouver before returning to Victoria. She got off drugs, got help, and her life is stable now, she said. "I came across lucky breaks. I came through a lot of crap to get there before people realized I really did want help."
Her son spent some time in foster care, but now she has him back and is committed to providing him with a stable home. She is working with the Blanshard Community Network to open a centre for women with "complex issues and drug addictions," she said.
"It's really hard to get your stuff together so you can focus on the bigger things," she said. For her it was very hard, she said. "I want to make sure that's not going to happen again. Not for me, but for another woman."
She's watching the camping case, in which she is named as a defendant, to see if the city will be allowed to continue to make lives like hers even more difficult. "What's so harmful about people taking care of themselves? I don't see the logic in that."
*The paragraph noted above with an asterisk was modified at 10 p.m. on June 19, 2008.
Related Tyee stories: