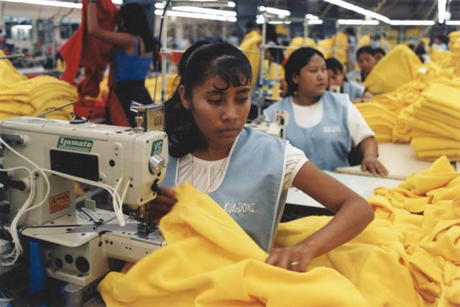 As the clock ticks down to the Beijing Olympics, workers producing for the international sportswear companies that spend millions on Olympic and athletic sponsorship deals are still working excessive hours and paid poverty wages.
This according to a damning new report, "Clearing the Hurdles, Steps to Improving Working Conditions in the Global Sportswear Industry," from Play Fair 2008, an umbrella group representing over a hundred union and social justice organizations around the world.
The report challenges the organizers of Vancouver's upcoming Olympics and the International Olympics Committee to make sweeping and specific reforms in sports wear procurement policies before 2010.
On June 12, a Vancouver forum, "Igniting the Flame for a Sweat Free Olympics," sponsored by the B.C. Federation of Labour, the Canadian Labour Congress, the Ethical Trading Group, local labour councils and Simon Fraser University's continuing education department, will explore the implications of the Playfair report for the future of the Olympics movement, for ethical production of sports wear in China, for attempts to win fair treatment for garment workers world wide and for the Vancouver 2010 Olympics.
The forum will feature a representative from sports apparel industry giant Nike and Ann Duffy, corporate sustainability officer for the Vancouver Olympics Organizing Committee, as well labour leaders and spokespeople for non-profits.
Painful reading
The report gives a whole new meaning to the phrase "athletic injuries."
According to Playfair 2008, in Thailand, at a plant that makes soccer balls, a trade union formed by workers was crushed in 2006 and 2007 when most members and leaders were fired or pressured to resign from the union. The union president was forced to work in complete isolation from other workers for two years. In some Chinese sport shoe factories producing for big international brands like Nike and Adidas, people work 10-12 hours a day under intense speed up pressure for 53 cents an hour.
In other Chinese footwear plants, workers can clock shifts of up to 13 hours a day and still not make the legal minimum wage. Home-based workers sewing soccer balls in India can work all day and make only $1.40. Garment workers in Cambodia earn an average of $70.00 to $80.00 a month including overtime and bonuses, nowhere near enough to provide a worker and family with a decent standard of living. In Turkey, the prevailing industry wage in the garment sector is estimated to be less than half the living wage. Physical and sexual abuse of vulnerable workers continues rampant in many third world factories producing sporting goods and apparel.
Close watch on Beijing, Vancouver
The Beijing Olympics have already been buffeted by activism in recent months, as its international torch relay was beset by demonstrations from Paris to San Francisco protesting China's military and economic occupation of Tibet. Now the Games face another potentially serious PR problem in the light of the release of the Playfair 2008 report. It highlights ways that Olympic gold is supported by labour practices that can condemn sports shoe and apparel workers to crushing burdens of overtime, unsafe and precarious working conditions and wages well below the poverty line.
Concerns about fair play for workers who produce garments for Olympic events extend beyond Beijing to Vancouver's 2010 event as well, and the report has strong recommendations for all involved in Canada's next Olympics.
The report, issued April 21 by Play Fair 2008, says that the athletic apparel and shoe industries have been slow to respond to criticisms of their involvement in sweat shop labour abuses so far, and calls upon the leading firms in the highly profitable sector (which was worth over $74 billion in 2005) and the world Olympic movement to make far more strenuous efforts to support freedom of association and living wage levels for the workers who make running shoes, athletic shorts and soccer balls, often under horrendous conditions and for literally starvation level wages.
Asian sweatshops
The report draws on field research done in China, India, Indonesia and Thailand during 2007. It reflects interviews with workers about their wages, working conditions and experiences. The first-person accounts reproduced in this report paint a hellish picture of an industry (and, by implication, an Olympics movement) that generates big profits and glittering elite events while the workers at the bottom of the sports pyramid continue to suffer.
In its conclusions, the international rights campaign calls for specific improvements in four critical areas for workers' rights -- freedom to associate into independent unions, precarious employment practices, factory closures as the industry punishes work forces that unionize and seeks ever cheaper labour, and the need to bring wage levels up to minimum survival levels. Many of these vital reforms, the report argues, can be achieved by joint action by the giant firms that dominate much of the sector, joint action that has been lamentably slow to nonexistent so far.
Steps urged by report
The activist researchers say that the International Olympics Committee and Vancouver's 2010 organizers have work to do as well. The Play Fair 2008 report calls on the organizations behind the upcoming 2010 sports fest to move aggressively to place the fiscal and prestige power of the next Olympics behind reforms that will address some of the labour abuses revealed by its research.
The report demands, in part, that VANOC and the Canadian Olympics Committee take the following steps:
"Work through the IOC to put in place mechanisms for ending abusive and exploitative practices as described above.
"Use their influence on companies operating in their country and national team sponsors to push for the campaign demands.
"Require that the NOC and OCOG publicly disclose companies with which it has licensing, sponsorship and marketing agreements.
"Require that, as a contractual condition in its licensing, sponsorship and marketing agreements with companies, they publicly disclose their production locations and ensure that labour practices and working conditions involved in the production of National Olympics Committee and Organizing Committee branded products comply with internationally recognized labour standards."
Heavy hitters will speak
The presence of Vanoc's Duffy and a Nike representative in the June 12 forum's list of speakers poses the possibility that attendees may hear substantive responses to the Olympic action demands of the Playfair 2008 report and its critique of the global garment industry. Unlike many forums on labour and social justice issues that include only voices from one side of the debate, this event promises a challenging dialogue and exchange across different sectors and interest groups.
Related Tyee stories: