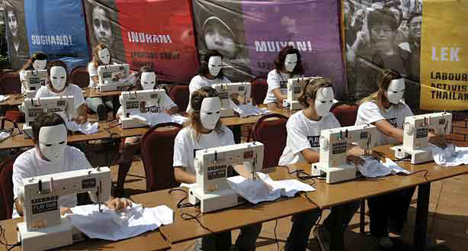 Imagine being a 13-year-old girl in a factory. You're forced to work 12 or more hours a day, sometimes seven days a week in a clamorous space full of dangerous equipment and dirty air. You could lose three days' pay for too much time in the bathroom, you are paid less than half the legal minimum wage in your country. The work can leave your hands bleeding, your throat and lungs full of fibre, filth and lint. You must find a way to buy your own gloves and mask from the pittance you earn. Try and quit without management's permission, and you'll be deprived of a month's pay.
Now you have some idea what it's like to work in a Chinese factory producing goods for the upcoming Beijing Olympics, according to a report issued June 10.
No Medal for the Olympics on Labour Rights, a research document produced for Playfair 2008, an international umbrella group of unions and NGOs, takes a close look at four suppliers to the upcoming Olympics in China, and finds that they are guilty of serious labour abuses, including child labour, excessive and forced overtime, unreasonable fines, harsh disciplinary measures and wage rates well below the legal minimum.
In addition, researchers found evidence factory brass were forcing workers to lie to inspectors sent to investigate. In one case, a researcher posed as a newly hired worker, while other findings are based on confidential, off-site interviews with workers.
Could production for Vancouver's 2010 Olympics be similarly tainted? There's a strong chance, say critics, unless the local organizers develop more comprehensive, transparent and effective countermeasures than are currently in place.
Without improvements in 2010's ethical purchasing policy, labour watchdogs say, Vancouver's Olympics could end up implicated in child labour and other human rights offenses.
'Warning bell'
"This report is a warning bell for VANOC and the Olympics movement," said Bob Jeffcott, a spokesman for Toronto's Maquila Solidarity Network (MSN), one of the Canadian groups involved in the Llanfair 2008 report. (Full disclosure: this reporter has done volunteer work over the years for the MSN.)
Kevin Thomas, another MSN staff member, said worker abuse is endemic in the sports apparel industry in China and around the world.
Jeffcott and Thomas pointed out that many of the commemorative uniforms, hats, and souvenir items for the upcoming 2010 Games in Vancouver were likely to be sourced in China, and called for swift action to guarantee that Olympic products not be bought from sweatshops.
Jeffcott and Thomas both said 2010 organizers had made some promising first steps to prevent complicity in worker rights abuses, but more needs to be done.
"To give credit where it's due," said Jeffcott, "VANOC is doing more than the International Olympics Committee on this front. We commend the Vancouver organizers for their initial policy and process moves. We have been in conversation with VANOC and some of the elements of their code for licensees are good.
"But the code only covers licensees," Jeffcott said, "and not the thousands of suppliers who will be part of the Games supply chain. We hope that they develop something with real force to control sourcing both from licensees and from suppliers, something that doesn't have the current code loophole on hours of work and that addresses freedom of association, which is a huge issue in China. The code needs language on requiring a living wage as well, and we'll only really be able to make a judgment when we see how it is all implemented."
Licensees are companies that are permitted to use the Olympic logo on their products. Suppliers produce non-logoed goods for Olympic use.
Assurances from VANOC
Ann Duffy, VANOC's sustainability program director, responded to Tyee questions about what steps her organization was taking to prevent involvement in sourcing goods made under sweatshop conditions with the following e-mail.
"As described in VANOC's 2005-2006 Sustainability Report, VANOC has established guidelines and requirements (standard of care) for licensees through the Code of Conduct and for suppliers through our Sustainability Procurement policy -- together these make up the core BuySmart Program. For suppliers, VANOC has established and is currently implementing its procurement policy and will later this year finalize the audit process for suppliers. VANOC has already defined sustainability attributes and criteria for selected bids for products and services. The sustainability attributes and requirements in contracts are substantiated with on-going reporting."
VANOC's 2005-2006 Sustainability Report is available here online.
Duffy declined -- "out of respect for our 3d party partner" -- to identify the for-profit auditing firm that will be responsible for inspecting factories supplying the 2010 Olympics, although she did say that information would be available at some time in the future.
'Learning to fool auditors'
The Playfair 2008 report alleges that some of the Chinese factories investigated had procedures in place to thwart auditing of their labour practices, including punishments for workers who tell auditors the truth about low pay, harsh disciplinary regimes and under age workers, and cash rewards for those who lie to off shore inspectors.
"Clearly, factory management is learning how to fool auditors by falsifying records and coaching workers to lie," said Jeffcott. "Checklist audits and interviews inside the factory are not enough to get at the truth."
Jeffcott emphasized that public disclosure of factory locations by all licensees and suppliers would be an important step toward transparency in Olympic sourcing, and expressed his hope that VANOC would be willing to provide that information to the public. Factory site disclosure is an important tool, he said, to help prevent and correct the abuse of workers by suppliers to events like the Olympics.
VANOC's Duffy told the Hamilton Spectator on June 19 that her organization has no plans to demand that 2010 licensees reveal their factory locations,
"Some companies are very comfortable [with revealing the information], others have competitive advantage issues. This is very new for an organizing committee," she said.
David Hurford, communications director for Vancouver Mayor Sam Sullivan, was confident the issue of worker rights was high on VANOC's radar. He said Vancouver had an opportunity in 2010 to set a new standard in these matters.
Raymond Louie, Vision party Vancouver city councillor, said his party pushed for a resolution committing the city to transparency and accountability in Olympic matters, but the NPA majority, led by the mayor, voted against it.
Louie and COPE city councillor David Cadman noted the city has an ethical and sustainable purchasing policy.
"We can only hope ... VANOC will adhere to the policies of the host city," said Cadman. "But I'm not naïve. I suspect that there will not be procedures in place that can guarantee we'll block all sweat shop products. All we can do is be vigilant and make it known to VANOC and the sponsors that we hope and expect that the 2010 Games will be truly ethical and sustainable.
"If not, then let the buyer and distributor beware. Unethical purchases will eventually come to light and will have consequences for the organizations responsible."
'Hot money' for sweatshops
Bill Saunders, president of the Vancouver and District Labour Council, had an opportunity to talk with Chinese trade unionists in Beijing last year about some of these issues, when his group sent a delegation to China.
"What the officers of the Beijing Municipal Federation of Trade Unions told us," he said, "was that the worst abuses were found in factories owned by foreign capital. They said that most breaches of labour rights came when foreign 'hot money' came into the Chinese economy.
"We need to criticize abuses where they occur," said Saunders, "but we also need to be sure our criticisms have pinpoint accuracy. I am wary about China bashing, which is common these days."
The world sports footwear and apparel industry was valued at US $74 billion in 2005.
Related Tyee stories: