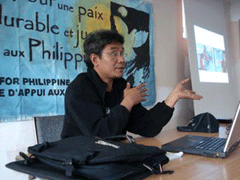 The Philippines provide a steady stream of hard working immigrants seeking a better life in British Columbia. For most of these newcomers, the pay may not stretch far, given the high cost of living here and, often, a chunk of the paycheque sent to help family back home.
But at least in B.C., standing up for your rights on the job won't get you killed.
Under the Arroyo government in the Philippines there has been a higher incidence of murders and assaults against union activists than during the notorious Marcos regime, according to a Philippine labour leader who recently toured Canada.
And an international study that reported a 25 per cent increase in murders of trade unionists around the world in 2006 says that the Philippines is the second most lethal environment for union activists globally, only topped for murder of union leaders by the blood stained record of Colombia.
Joint action urged
"Human rights violations under the Arroyo regime have surpassed the record under the Marcos dictatorship," said Arnel Salvador, the deputy executive director of the Workers' Assistance Center in Cavite province.
More than 60 union leaders, members, organizers and supporters have been killed by the Arroyo government since it came to power on Jan. 20, 2001, Salvador told union-sponsored gatherings across Canada during a month-long tour in the fall.
He called for a joint action campaign by Canadian and Philippine unions to realize an end to extra-judicial killings and attacks against the trade union movement in the Philippines.
"I was in the Philippines this summer to attend an international women's conference, and met with women who had been shot down by private soldiers hired by the landowners when they tried to protect their husbands in a labour struggle in the sugar industry," said Janet Routledge, a regional co-coordinator for the Public Service Alliance of Canada.
Routledge, whose labour group sponsored Salvador's tour, told The Tyee that the situation for workers in the Philippines is "pretty horrendous. They live in abject poverty, surrounded by rivers choked with toxic waste and at risk from employer and government violence if they stand up for their rights.
"Canadians should be concerned about this," Routledge said. "We need to make the connections. When Stephen Harper talks about making Canada internationally competitive, he means for us to face the kind of conditions faced by these workers in the Philippines."
Clear pattern alleged
Monica Urrutia, a PSAC staff member who attended the women's conference in the Philippines with Routledge told The Tyee that there is a clear pattern to anti-union violence there.
"The killings target unionists and members of opposition organizations," she said. "Often, the shootings are done by masked men on motorcycles with .45s. There is always a possibility of violence against union picket lines."
Uruttia told the story of the murder, two years ago, of Diosdado Fortuna, the president of the union striking against Nestles in the Philippines. "I met Fortuna and joined him and other Nestle workers on that picket line five years ago," she said. "We want the Canadian government to hold a parliamentary hearing into the situation in the Philippines. Canada has a lot of investment there, and we need to look at what our money is doing."
According to the Center for Trade Union and Human Rights, an independent research institute in the Philippines, the island country has seen 982 cases of trade union and human rights violations, victimizing 77,028 workers, from 2001 to 2006. From January through August 2007, the research group has documented 59 more cases of human rights violations that affected more than 800 workers.
More than half of all these violations occurred in the free-trade-friendly "export processing zones" in the five provinces surrounding the Philippine National Capital Region, zones set up by the Philippine government to encourage foreign investment.
Wal-Mart suppliers struck
Critics and anti-sweatshop activists have frequently portrayed such export processing zones as hotbeds of worker exploitation and human rights abuse.
Salvador's Workers' Assistance Centre is based in Cavite, near the largest export-processing zone in the Philippines, which contains 267 foreign-owned factories employing 65,000 workers. Two unions there have gone on strike against a pair of Wal-Mart suppliers, the Korean-owned Chong Won Fashions and Phils Jeon Garments, which together employ over 800 workers.
Despite a Philippine court ruling that the unions are the legitimate bargaining agents for their workers, Chong Won and Phils Jeon have refused to negotiate a collective agreement. Unionized workers have suffered harassment, threats, assaults and violent dispersals over a year-long struggle.
Concern rising
Even some international apparel companies, including Wal-Mart, are now expressing concern about the pattern of worker abuse in Cavite.
"The labour movement in Canada has to add its voice to the international clamour already denouncing these human rights violations," said Salvador.
Jim Sinclair, president of the B.C. Federation of Labour, agrees. "The repression of trade unionists around the world should concern all of us," he told The Tyee. "Unions and democracy go together. If unions aren't free to operate, no one is free."
Related Tyee stories: