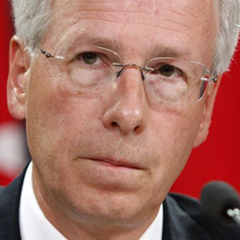 A carbon tax could be part of a "breakout strategy" that could revive the federal Liberal party -- if it's presented properly, national pollster Bruce Anderson says.
However, he says, making a carbon tax the "leading edge" of a political campaign is not such a great idea.
Anderson, president of Harris/Decima, told The Tyee that Canadians will accept a carbon tax if they can be persuaded that it will work and that it's fair. To be successful, the tax needs to be presented as part of a broad package of environmental policies, Anderson said.
Federal Liberal leader Stéphane Dion has recently been talking about the need for a federal tax like the carbon tax that will go into effect in B.C. in July.
Dissident Liberals and mainstream media pundits have lined up to tell Dion that building an election platform around a new tax is dumb, dumb, dumb.
A hard sell, but sellable
Anderson, who was in Vancouver Tuesday, said that the carbon tax is a "more complicated political idea than its advocates might like."
Based on Harris/Decima's extensive polling on the environment, Anderson said Canadian public opinion does support some of the ideas behind a carbon tax.
"People believe that governments need to bring policies to bear that will change behaviour over time," he said. "They believe also that incentives alone aren't going to be enough, that there needs to be some sort of penalty on egregious environmental behaviour, if you like, or that behaviour may not change."
But the phrase "carbon tax" is a hard sell.
"Carbon is a technical term that is associated directly with a symptom of the broader environmental problem and that limits its effectiveness from a communications standpoint.
"Tax is a term that everybody knows and understands and not too many people feel all that good about."
There are a couple of "practical tests" that Canadians will apply to a proposed carbon tax, Anderson said.
The first is: will it work?
People may look at today's gas prices and conclude they're high enough already -- that a carbon tax isn't needed to lower greenhouse gas emissions. Or they might decide that the current high prices aren't changing people's behaviour, so what good would a carbon tax do?
The second issue is fairness, something that's been a big part of the debate over B.C.'s carbon tax. People tend to worry that a carbon tax will hurt those who can't change their behaviour to avoid the tax.
Political garbage
Canadians are in favour of policies that will help the environment -- and are even willing to pay more for them -- but they want to see a broad range of environmental policies that take on more than just carbon emissions, Anderson said.
"The more they see that broad range of ideas, probably the better they'll like it," Anderson said. "The more it is focused on one particular area -- carbon -- and using one particular tool -- tax -- the more challenging I think it'll be for the Liberals."
The environmental issue that really upsets people is garbage, Anderson said. And not because they see a link between household waste, landfills, methane emissions and global warming.
"Every week or so people put garbage bags out by their house only to have them trucked away and buried in a hole in the ground not too far from where they live. That doesn't strike most people as being an environmentally sound thing to do."
Fueling 'the new environmentalism'
Anderson's company has done focus groups for the B.C. government on ways to sell Premier Gordon Campbell's green policies, but he declined to discuss the results of that work.
He did talk in general terms about what Canadians think about the environment -- and why.
In the last three years, Anderson said, "we've started to see the emergence of a new and different type of environmentalism."
This "new environmentalism" is different from the green wave of the 1980s, when Canadians were upset about air and water pollution. As voters became convinced that governments were cracking down on corporate polluters, the environment faded significantly as an issue, he said.
Three forces are driving the new environmentalism, Anderson said.
The first is extreme weather patterns, which are seen as a possible symptom of the damage we've done to the planet.
The second is the aging of the baby boom, and an accompanying concern with what boomers will leave behind.
"As the baby boom ages, we start to see a phenomena where people are starting to think about their legacy. They're thinking about it in financial terms, in relationship terms, in work accomplishment terms [and] the idea of environmental legacy."
Many people feel they're leaving a poor environmental legacy for the next generation and they want to fix that, he said.
The third factor is rising fossil fuel prices, Anderson said.
The soaring prices have people increasingly concluding that we can't afford not to shift to renewable energy, he said.
"Each of those three look to me like factors that are likely to be around for the medium to long term anyway," Anderson said. "That's why I think that, notwithstanding the occasional fluctuations in the economy that make people feel more or less anxious about their personal circumstances, the new environmentalism is likely here to stay."
Economy won't trump green feeling
People see the environment as a moral issue, rather than an economic one, which is why the new environmentalism is likely to withstand an economic downturn, he said.
Even if polls start to show an increasing belief that the economy is the most important issue facing the country, the concern over our environmental legacy isn't going to go away, Anderson said.
"Sometimes when people in my business ask what's the most important issue facing the country or the province or where you live, it's sort of a blunt instrument," he said.
The question implies that there can be only one important issue at any one time, he said.
"People like to imagine that governments can grapple with more than one issue at one time."
And the polling suggests that, in order to preserve the long-term health of the planet, "people are willing to live with some degree of adjustment, inconvenience and even some degree of cost in their life."
Related Tyee stories: