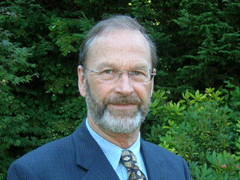 There are plenty of things society could do to avert a full-blown ecological crisis but we don't do them and what we do do doesn't work. It seems that the ecologically necessary is politically unfeasible but the politically feasible is ecologically irrelevant.
Nobody doubts what got us into this mess: in the 20th century alone the human population quadrupled to over six billion, energy use (mostly fossil fuel) increased by a factor of 16, fish catches (but not fish) increased 35-fold, industrial production expanded 40-fold, agricultural output exploded, etc., and all corresponding waste streams ballooned by equivalent multiples. Result? Soils erode 10 to hundreds of times faster than they develop, the oceans are emptying and acidifying, biodiversity is imploding, natural gas and petroleum are being depleted, atmospheric carbon dioxide levels are a third higher than in pre-industrial times and the climate is going into convulsions.
We also know at least the crude dimensions of the solution: for example, our best science tells us that to avoid a potentially catastrophic 2 C increase in mean global temperature, the world community needs to reduce carbon dioxide emissions 80 to 90 per cent by mid-century. Our ecological footprint studies similarly show that for sustainability we should be taking steps to reduce the North American per capita eco-footprint by 80 per cent, from 9 global average hectares to 1.8 hectares (the amount of biocapacity presently available per capita on Earth).
All of which brings us to contemplating British Columbia's newly announced carbon tax.
Reason to cheer?
First, let's acknowledge what Sightline Institute's Alan Durning has already emphasized: B.C.'s Campbell government has introduced what is "by far the most aggressive carbon pricing regime in North America. In fact, it's one of the more aggressive regimes in the world." Strong praise, indeed. But the whole purpose of this "most aggressive of carbon pricing regimes" is to reduce the province's carbon-dioxide emissions, so the test of its effectiveness is its likely effect compared to the required 90 per cent reduction. Here we find many reasons to hold the applause.
Carbon taxes work by raising prices -- higher prices on fossil fuels should induce conservation, stimulate more efficient technologies, reduce emissions and make alternative forms of energy more economically attractive. But B.C.'s carbon tax will add only 2.4 cents per liter to the cost of gasoline on July 1, 2008, rising to 7.2 cents by 2012. Certainly this is the right direction but it's not nearly enough.
We have seen a "natural" increase in gasoline prices in the past few years several times greater than the final value of the carbon tax and this has hardly kept a lid on consumption. The new tax sends a weak signal to consumers, at least at the outset, one that will be neutralized for many by anticipated increases in income.
The tax may actually be surpassed in amount and effect by continuing price increases induced by tightening world petroleum supplies -- many analysts agree that "peak oil" has arrived or is at least coming up the walkway. Even if all this does serve to stimulate greater technical and economic efficiency, we may still have a problem -- historically, efficiency gains have stimulated even greater consumption.
Green light for consuming more
A second concern derives from the government's commitment to "revenue neutrality," more specifically, Finance Minister Taylor's avowal that all money collected through the new tax will be returned to the people through a package of tax cuts and credits. In effect, neither business nor the average consumer will feel much financial bite from the tax and is free to spend his/her tax savings and credits on alternative forms of consumption. This amounts to "impact neutrality." (No wonder the Vancouver Board of Trade called it a "smart carbon tax" and gave the budget an 'A' grade.)
The problem is, that redirected consumption may have negative ecological impacts equivalent to those of any carbon emissions avoided. Keep in mind that climate change, while important, is only one of many symptoms of what has become rampant human ecological dysfunction.
Vacation time!
There's an even bigger potential problem. If I am sufficiently excited by current federal and B.C. policies to abandon my gas-guzzling junker for a fuel-sipper, I get a generous eco-car rebate from the feds, reduce my carbon tax payout, and save a few hundred bucks in fuel costs each year. This is enough to buy a return ticket to France -- annually. (Actually, next year I might trade the trip for a nice big and very polluting flat-screen TV.) My holiday travel would cancel my personal carbon savings and the jet fuel consumed would not itself be subject to the carbon tax. Meanwhile, I've otherwise added to my personal eco-footprint by purchasing a new car and to the waste stream by dumping my junker.
In this light, the most positive thing about B.C.'s carbon tax may be the fact that it is on the table for all to see. The B.C. budget has started a serious conversation. At the least, this will make it easier for future governments to implement tax-shifting policies that may actually help to reduce our ecological footprints by significant amounts. Also, B.C.'s action has already had the effect of forcing the Harper government in Ottawa to stop resisting independent activity in this domain by the provinces.
But let's be clear. To achieve the necessary deep cuts in consumption and waste production will require major restructuring of the economy that should have begun years ago.
As matters stand, B.C.'s seemingly "aggressive" move is politically designed to have minimal impacts. The province is still dedicated to outmoded notions of economic growth at any cost -- and if the costs exceed the benefits (as many suspect is the case at the global level) we are actually encouraging uneconomic growth that will ultimately impoverish us all.
Related Tyee stories: