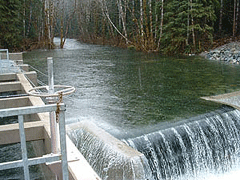 Environment Minister Barry Penner decided not to go against a very vocal majority when he nixed a plan to run a power line through Pinecone Burke Provincial Park last month.
Groups opposed to the project, which had been rallying for months in advance of the decision and packed rowdy public hearings in Mission and Pitt Meadows, breathed a collective sigh of relief.
Underlying the controversy around this high-profile project is a greater concern about the private sector's role in power production.
Although some see independent power producers (IPPs) as part of an unwelcome shift away from the centralized publicly owned model British Columbia has known, others view public-private partnerships as essential to foster fledgling renewable energy technologies.
Increasingly, First Nations and municipalities are the IPPs, working with the private sector but retaining full or partial ownership of their utilities and the revenue stream they provide.
Renewable energy is uncharted territory here in B.C. and the rest of Canada -- and it's not as simple as public good, private bad.
Power pioneers
Taking on the responsibilities of an energy utility has been a learning process for some trailblazing communities.
When Hupacasath Chief Judith Sayers and her council decided to take power into their own hands six years ago, the result was a best practices model of how to build a small hydro project from the ground up.
Widespread opposition to the Duke Point natural gas facility in the late '90s was the impetus for council to explore other options for resource development in the Hupacasath territory near Port Alberni, says Sayers.
With help from the Pembina Institute in 2002, the Hupacasath council identified China Creek as having run-of-river hydro potential.
Financing was difficult at first, says Sayers, but with a loan from Vancity, a grant from EcoTrust and the pooling of resources with the Ucluelet First Nation, the council was able to partner with Synex Energy to build a two-turbine, 6.5 megawatt project that has been in operation since December 2005.
The council's corporate arm that manages the project, Upnit Corporation, owns 72.5 per cent of the project, the neighbouring Ucluelet First Nation owns 10 per cent, Synex owns 12.5 per cent and the City of Port Alberni owns five per cent, an "in kind gift," says Sayers, for the city's cooperation and use of its water data.
More to come
"Now we're working on our second project, and we actually had banks knocking on the door," says Sayers. Another 6.5 MW run-of-river operation on nearby Corrigan Creek is scheduled to go online next year.
"These run-of-river projects are, I think, a really good thing," says Sayers.
"As a First Nations, this is how we've been able to use the resources in our territory and actually manage the resources in our territory."
Sayers says she and her council have learned a lot through the process of applying for various licences, commissioning studies on impacts on fish and the environment and negotiating with the city and local logging companies.
"I would encourage any First Nation to really get involved as an IPP," she says. "Some are just taking royalties, but what do you learn?"
Matt Horne of the Pembina Institute says this situation is fairly rare in B.C. because typically it's the IPP that tries to "sell" projects to a community and not the other way around.
"If you're looking at both the technical side of developing a project and the administrative side of management, you're looking at a whole new skill set for most communities," he says.
"It's not simple processes to have to work through . . . but I don't think they're barriers that can't be overcome."
Taking ownership
As chief of Douglas First Nation, located on the north end of Harrison Lake, Darryl Peters spent nearly nine years in negotiations with Cloudworks Energy Corporation on what began as a one-creek project and now includes eight.
Cloudworks initially approached Peters and his council to approve a run-of-river project on Big Silver Creek, about a two-hour drive east of Vancouver.
"We found there was an even better opportunity if we set aside the Big Silver project," says Peters. "We started realizing there was a larger process for our involvement."
In order to offset the cost of a substation required so the community could connect to the B.C. Hydro transmission grid, Peters said more projects needed to come on board.
Now, Cloudworks is developing on eight tributaries of the Upper Harrison River, three of which the Douglas First Nation is directly involved with.
"We're going to be having ownership of two of the projects, on Douglas and Tipella [creeks]" says Peters. "We also have the opportunity to buy into the other projects."
Until these projects are complete and supplying the grid, probably by late 2009, the Douglas First Nation will continue to use diesel generators for electricity.
The fact that his people have had to rely on these generators for so long frustrates Peters.
"We wanted to get out of that concept of being in a Third World state," he says.
"If we're Indians on an Indian reserve struggling away we can never become equal."
Private beats government
Peters won't go into details about the deal between Cloudworks and Douglas, but says the First Nation will also be receiving payments on an annual basis and as part of the agreement Cloudworks will provide the community with energy.
There is also opportunity for an educational endowment fund, he says, and where possible local companies get first dibs on construction contracts.
"Look at what we're able to accomplish now with the private sector rather than with a government agent," says Peters, who says his elders remember promises of B.C. Hydro grid access made thirty years ago.
"No one went to school to learn how to build a power project . . . but we're motivated to do business."
Wind farmers
On the other side of the province, the city of Dawson Creek is developing a totally different resource using a different type of ownership model.
The city has partnered with Peace Energy Cooperative
and Aeolis Wind Power Corporation to build a 120 MW wind farm on Bear Mountain Ridge consisting of up to 57 turbines.
Peace Energy is the only co-op of its kind in the province, with more than 300 members. A $200 membership pays dividends based on annual profits and members can also choose to purchase shares that are expected to appreciate in value as the co-op grows.
"Power production is the biggest drain in local economies because all that money simply goes out," says Emanuel Machado, director of corporate planning for the city.
"The co-op provides a community ownership opportunity around renewable energy that has never existed before."
The wind project is the co-op's first, and it has yet to develop any others. Machado says the city is also exploring other renewable energy options, such as bioenergy, but says it's taking its time.
"There are a lot of questions. This is outside of most municipalities' areas of expertise," he says.
"But I think the writing's on the wall that there's tremendous opportunity there."
Community economic development, while important, isn't solely enough to justify building a power plant, says Gwen Barlee of the Wilderness Committee.
Her group says renewable energy development should be regionally planned, environmentally appropriate and publicly owned.
One of the biggest concerns, she says, is the cumulative impacts of "one-off" projects that aren't part of a larger land and resource use plan.
"From a citizen's perspective, we should be asking, 'Is this the type of power we need?' " says Barlee.
"Let's slow down, take a deep breath and make sure these projects are in the public good."
Related Tyee stories: