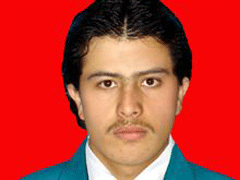 As an Afghan reporter sits in prison hoping for his death sentence to be overturned, the young man's brother -- also a journalist -- warns that fundamentalists are taking over the country.
Last week, Afghanistan's Senate released a statement backing a primary court's ruling that 23-year-old Sayed Perwiz Kaambashk should be put to death under charges of insulting Islam.
Kaambashk is accused of distributing anti-Islamic literature in the northern city of Mazar-e-Sharif, where he studies journalism and writes for a local paper.
The Senate retracted the statement after an international outcry and a demonstration in support of Kaambashk by about 200 people in Kabul.
But Sayed Yakub Ibrahimi says his brother's sentence -- and the Senate's endorsement -- show the increasing power of fundamentalist warlords ushered into government by the parliamentary elections in late 2005.
If the international community and Afghan President Hamid Karzai's administration do not act quickly, they will lose the country to extremists, he warned.
"Afghanistan will become a country like Iran -- a country in the hands of fundamentalists," said Ibrahimi, who is a well-known journalist with the Institute for War and Peace Reporting.
'Law is in their hands'
Ibrahimi began practicing journalism soon after the fall of the Taliban in 2001 when Afghanistan experienced a period of unprecedented media freedom. But that all started to change after the parliamentary elections handed positions in government to men who control private militias and are accused of war crimes.
"Now they have so much power. The law is in their hands, the government is in their hands," he said.
As an example of their increasing influence, he pointed to legislation passed last year that prevents the state from prosecuting individuals for war crimes.
Ibrahimi has been documenting the rising power of warlords in northern Afghanistan and he has made enemies in the process. Over the years he's received threatening phone calls and e-mails warning him to stop writing about powerful figures. In fact, he believes the charges against his brother are an indirect attack on him.
After his brother's arrest, security officers showed up at Ibrahimi's office, searched his computer files and notebooks and questioned him about sources. They were particularly interested in a story about allegations of drug smuggling that were being traded between Balkh province's governor and police chief, he said.
International scrutiny
Kaambashk's case has gained international notoriety since he was arrested Oct. 27, with organizations like the Reporters Without Borders and the International Federation of Journalists (IFJ) lobbying for his release. State Department spokesman Tom Casey told reporters that the U.S. is concerned about the sentence, and the UN has expressed concern that Kaambashk did not have legal representation during the trial.
In Tuesday's statement, the Afghan Senate fired back saying it "strongly criticizes those domestic and international organizations which are pressurizing Afghanistan's government and legal authorities when pursuing such people."
Afghan authorities have also pointed out that Kaambashk confessed to the crime.
But Ibrahimi said his brother was coerced into confessing after eight days of threats and interrogation.
The brothers deny that Kaambashk distributed an article printed from the Internet, which questions why Islam allows men to have four wives, but forbids women to take multiple husbands.
"This is a plot," said Ibrahimi.
Assaults on press freedom
Rahimullah Samandar, director of the Independent Association of Journalists in Afghanistan, said press freedom is increasingly coming under attack by the authorities.
Last year was the worst for journalists since the fall of the Taliban, he said. The association registered more than 60 attacks on Afghan journalists in 2007, including threats, assaults and arrests.
Samandar also accused warlords in government of trying to prevent journalists from reporting on corruption and human rights violations. It's a dangerous trend, he said, which could undermine Afghanistan's tenuous steps toward democracy if it is not halted.
"Afghanistan will become another big centre for extremism," he warned.
Hopes for release
Samandar questioned why the Senate issued a public statement about Kaambashk's case while it is still going through the legal system.
The sentence can only be carried out if it is upheld by two higher courts and then signed by President Karzai.
The Committee to Protect Journalists wrote a letter of protest to Karzai in response to the Senate's statement, and the IFJ accused parliamentarians of being "out of touch with democracy."
"This statement by Afghan lawmakers is a shocking confirmation of intolerance and a lack of respect for free speech," IFJ general secretary Aidan White said in a release.
In light of all the attention brought to the case, Ibrahimi said he is cautiously optimistic that the death sentence will be overturned and his brother will be released.
Related Tyee stories: