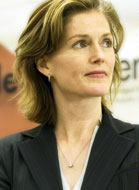 [Editor's note: This is the final article in a three-part series looking at detours and advances in gene-based medicine.]
When biotech crashed in 2000, the industry sobered up. One lesson hit home: Finding and mapping genes is relatively easy. Figuring out how to apply genetic knowledge to make medical therapies is a lot harder.
Businesses that got caught up in the dream of the "genetic revolution" lost billions, and the industry is still feeling the effects. Investors are less bold now, but the cost of creating new gene-based treatments hasn't lessened. These days the entire process of developing a new drug can run from $500 million to $2 billion dollars and take over 20 years.
And while a handful of mega pharmaceutical companies enjoy billion dollar profit margins, most new drugs come from smaller biotech companies, which barely scrape by. A recent analysis published in Nature Biotechnology calculated that the combined net loss of the biotech industry worldwide was 5.4 billion U.S. dollars in 2006.
If gene-based medicine is to reach its vaunted promise, those economics need to change. A centre at the University of British Columbia is trying to make things easier for university scientists and less risky for investors.
'The industry is still fragile'
"With the technology bust that we saw in 2000, and the decline of venture investment, investors are looking for later stage, more proven technology", says Natalie Dakers, the CEO of the Centre for Drug Research and Development (CDRD) at UBC. Dakers has been a part of the biotech industry, from both the academic and business end, since the early 1990s. She helped found the CDRD in 2005 to find ways to increase investment in drug development.
"The industry is still fragile and the growth of the industry is still dependant on technologies being spun out of universities," says Dakers. But it is difficult for university scientists to navigate through both business and academic worlds at the same time, which is one reason only a small percentage of university researchers get involved in drug development.
While the career-driven university scientist needs to publish research as well as teach students, private companies rarely share those goals. Indeed, a company wouldn't last long if its technology and methods were freely available for competitors to see. But the CDRD is working through those cultural barriers by bringing university scientists and public funding together to do the pre-clinical research that industry used to have to do in private labs. In essence, the CRDC is turning development work into academic work.
"The centre takes an initial observation and will 'mature' the drug technology by using resources already in the academic community," says Dr. Pieter Cullis, a drug development veteran and researcher at UBC. "People in the pharmaceutical sciences department routinely do toxicological examinations, while people at the Cancer Agency run all sorts of cancer models. Someone in chemistry that might have an interesting molecule doesn't know how to do these things, so you put them all together".
The collaborations result in research, publishing, and teaching opportunities that align themselves with the scientist's career goals, which works out great for scientists. Dr. Cullis is just one out of over 200 academic researchers already on board.
Public savings an aim
By getting many different researchers involved you can get more information about a potential drug, and problems with the drug are more likely to be found before it gets to human testing. This translates into less dollars lost to bad investments and more money put into good technology with real clinical potential. Dr. Janet Atkinson-Grosjean, a professor at UBC who studies the translation of science from lab bench to clinic, thinks that if the CDRD approach was adopted by more universities, it could lower the cost of new medicine.
"It should hopefully over time reduce costs across the board", says Dr. Atkinson-Grosjean. "If we could drop the cost of development, then we should be able to drop the cost of the therapy for the public."
Some critics worry that university research is becoming too enmeshed with profit-driven industry. But CDRD's approach does not wed universities to industry; it supports research that is focused on practical medical applications. Industry comes in only after the academics have thoroughly picked the technology apart and gotten it to a point were a new therapy is possible. "It only makes sense that you do something like this," says Dr. Atkinson-Grosjean "You build a platform together as a public resource . . . then let the private sector go at it to do what they should be doing, which is adding value."
Hoops and hurdles
Finding investment is only one obstacle to speeding up the potential medical fruits of gene research. There are many regulatory hurdles as well. Any therapy that alters the genetics of human cells needs to be reviewed by the Recombinant DNA Advisory Committee (RAC). Although the RAC was established by the National Institute of Health (NIH) in the United States and is not officially part of FDA approval, all institutions that get any sort of funding from the NIH need to have their gene therapy clinical trial proposals reviewed by the RAC. This essentially means every major research institution in both the United States and Canada is under RAC jurisdiction.
"Their ultimate mandate is to bring transparency to the whole process and allow the public to have access to the decision making and regulation process," says Michelle Jones, the manager of clinical and regulatory affairs for Protiva, a biotech company in British Columbia that focuses on developing RNA-based therapies. "Because the public is a little more wary of interacting with a human's genetic make up, and the ramifications that could have down the line, I think it's a source of comfort to have extra scrutiny on these types of products."
Although this extra step does increase the safety of potential gene therapies, it also adds to costs. The regulatory burden caused by the RAC has caused many biotech companies to focus on gene-based drugs that do not change genetic information, like RNA based drugs. The only two gene-based drugs approved for use in North America fall into this category, both are used to treat a type of progressive blindness.
Drugs aren't cheap
Out of the thousands of potential drugs that start development, only a handful ever gets approved. Failure can occur at any phase along the way, even after years of work and millions of dollars invested.
There is a large gap between scientific discovery and the development of new drugs. Public agencies fund academic research in order to build a knowledge base for discoveries that will lead to new drugs and therapies. But compared to drug development, discovery research is cheap.
"The amount of money that goes into the discovery stage, and the stage where you might be initially starting the company, is probably one hundredth of the amount you are actually going to spend to develop that drug," says Dr. Cullis.
Many people need medicine and many more are hoping for new gene-based drugs to treat genetic diseases like cystic fibrosis and cancer. But if investors don't put in the money, and the researchers aren't able to put in the time, then potential cures will never make it to the clinic.
"To do the scale of work that is required, the academic sources are just not adequate," says Dr. Cullis. "You're asking someone to make an investment of around $15 million to take something into the clinic."
Related Tyee stories: