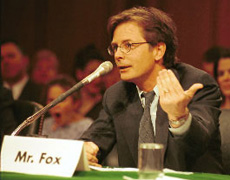 When Gina Reilly felt a tremor is her right hand, followed by a tennis-ball sized knot in her right leg, the last thing she expected to hear were the words "early onset Parkinson's".
But in April 2003, at the age of 47, Reilly was diagnosed with this progressive neurological disorder. A former U.S. adult ice dancing champion, she was shocked and unsure where to turn. However, mere hours after being diagnosed she found comfort on the young onset Parkinson's association (yopa) chat room.
Yopa, is an online community with approximately 600 members, all diagnosed with early onset Parkinson's. In Canada and the United States, over 600,000 people are believed to be suffering from Parkinson's. Most are well over the age of 50, and this has left people with early onset Parkinson's, symptoms of which can begin in their early twenties, feeling out of place in conventional community support groups. It's a gap yopa tries to fill with an online community.
"Thank god for that chat room," says Reilly, "I went in and the people were empathetic, helpful, and knew exactly what I was going through, since they had been there themselves."
Millions seek cyber-support
This story is becoming more and more common, as medicine is begins to move onto the Internet in the age of information. The Pew/Internet and American Life project, estimates that 93 million Americans are using the Internet to find health information. While, a third of Canadians have been suggested to be doing the same.
In many cases, the use of the Internet is going beyond mere information hunting, and becoming a support network for disease sufferers. You can type "online support group" and the name of virtually any disease today and get instantly find a community that is willing to talk, exchange information, and generally give direction to those in need. And, once again, the Pew/Internet and American Life project estimates that 63 million Americans are using such support groups. Many well-known medical establishments and foundations are also running such online communities to provide faces Internet users can trust. It's a trend that excites many disease sufferers in need of support, due to its accessibility and anonymous nature.
Sleepless on the net
In general, Parkinson's chat rooms have been a big success in the early onset Parkinson's community, with additional web sites such as the young onset Parkinson's network, and young Parkinson's, offering community support to hundreds of members through the Internet. Topics of discussion range from new medications, to scientific breakthroughs, to how to cope with being diagnosed. But, the discussions also never stray too far away from everyday life.
A large reason for the popularity of such web sites is that Parkinson's, and the medication often used to treat it, disrupts sleep patterns. So people with Parkinson's often suffer bouts of insomnia.
Pam Milton began having symptoms at the age of 22, and in 1999 was diagnosed with early onset Parkinson's. "I'm up all hours of the night," says Milton, an active online member of the young onset Parkinson's network (yopn), as well as many other online Parkinson's forums.
"At one to three in the morning, the Parkinson's chat rooms are jumping," she says, "with anywhere from two to 23 people on it at a time."
The individuals who join in are generally younger, averaging 30 to 50 years of age, and more comfortable with the technology, says Milton, who logs on for almost four hours every night.
Song, poetry, comfort
The yopn forum also offers voice chat, allowing members to talk, sing, and sometimes even read poetry to each other. And its members come from the United States, Canada, Australia, Germany, and many other countries.
"It fills a gap in meeting younger people that have a disease normally regarded as afflicting only the very old," says Marcie Gruenewald, an active online member on the YOPA site. "In the chat room, I meet people that have children and still work, it really is a community."
Milton agrees, adding "you feel like you've known everyone in the [community forum] for your whole life, its like they're family."
In B.C., Murray Charters has grabbed the idea of an online Parkinson's community – but one that includes both the young and old. In 2000, he created the web site Parkinson's Resources on the Web, to "do something more for the community." It contains masses of information, news, and also links to all the online Parkinson's forums.
Typing easier than talking
Parkinson's often affects neurological functions like blinking, swallowing, and talking. It is much easier to go online and type, says Charters, adding that he thinks a lot of sufferers would agree.
Parkinson Society British Columbia, a charitable organization that offers support to people with Parkinson's in B.C., is also noticing a growing trend to move community support online. "We know there is interest in the Parkinson community for online support, particularly with young onset," says Lori Francisco, communications manager at the society.
However, at this time Parkinson Society British Columbia does not have the support to create a site specifically for people in B.C., notes Francisco.
People are always welcome at our site, says Reilly. A thought echoed by Milton for the yopn forum, who adds "it a place were we can live with Parkinson's together, while finding out a lot about each other and ourselves."
David Secko is a student at the University of British Columbia School of Journalism with a focus on science reporting.