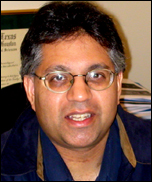 [Editor's note: This is the second in a three-part series looking at detours and advances in gene-based medicine.]
The key to curing some cancers may be microscopic balls of fat built in labs and sent, like tiny couriers, to deliver genetic drugs that kill tumours.
The fat balls are called liposomes. They are already used to deliver conventional drugs to cancer cells. So for scientists wanting to make good on the lagging promise of gene-based medicine, liposomes offer a tantalizing glimpse of success. Liposomes are a major focus of gene-based drug development today. If they can be built right, and loaded with bits of human RNA (ribonucleic acid), the tiny fat packets could be used to "turn off" cancer-causing genes.
That switching-off process is called RNA interference (RNAi). It's easy to do in the laboratory, but getting RNAi into anything more complicated than cells in a petri dish is a little tricky. However, that's not holding back research because the stakes are huge.
Any gene can be targeted and shut off with RNAi, whether it is a normal gene that gets out of control, a mutated gene, or even genetic material from a virus. It is also much more specialized than a conventional drug because RNAi molecules are tailored to block only one genetic target. Since most cancers are caused or maintained by over-active genes, RNAi could become the major cancer therapy of the future.
"[RNAi] is being embraced by absolutely everybody in either the drug development community or academia because it is an incredibly powerful tool," says Dr. Ian MacLachlan, an expert in RNAi and the chief scientific officer of Protiva Biotheraputics, a biotech company whose research division is based in Vancouver.
Using RNAi isn't as complicated as traditional gene therapy, which hasn't lived up to its hype of a decade ago. The traditional concept of gene therapy is where a new gene is integrated into a cell's DNA, or an existing gene is "fixed." RNAi doesn't need to integrate into cells to work, it just needs to get inside. It won't change the DNA either, it just prevents the gene it's targeted against from working.
And RNAi molecules are pretty easy to make. Designing them against a gene that you know the code for only takes a couple hours at a computer.
"It's dead simple, that's why it's so incredibly hot," states Dr. MacLachlan. "Within a week, we have molecules that are as potent as the products of high throughput screening programs that take years of effort." Which means that once RNAi based drugs are worked out, they will cost less time and money to develop than conventional drugs.
Delivery problems
There are hundreds of genes that could be good targets for RNAi drugs. The design and production of RNAi has been hammered out as well. So what's the hold up?
"What we still can't do is deliver it properly, although we're beginning to see some light on the horizon," says Dr. Theresa Allen, a prominent liposome researcher and professor in the department of pharmacology at the University of Alberta.
A good delivery system for RNAi could be used to treat many different diseases, since all our cells have similar physical properties. Only the target for the RNAi would change for each disease. Like compact disks, the physical mechanism of reading a CD doesn't change, but the information on the CD changes depending on the application.
That's where liposomes come in. They might be the ideal delivery vehicle, believes Dr. Marcel Bally, head of the advanced therapeutics department at the B.C. Cancer Research Centre. A liposome "has a shell and a core. That core can be used to carry materials in it." Materials like anticancer drugs, or genetic molecules, says Bally.
But Bally's work is focused on a tough angle. While liposomes have no problem getting to tumours, it's unclear how well they get their RNA cargo into cancer cells. The problem is that cells recognize RNA as genetic material, and so do their best to keep it out.
"Nature has evolved our cells so that extraneous genetic material can't enter into the cell. It's a difficult task to actually get genetic material into the cells where it has to do its job," explains Dr. Allen. We wouldn't last long if our cells accepted any old piece of genetic rubbish. That's why there are many mechanisms in place to keep out and destroy foreign genetic molecules.
Researchers are trying many different methods to solve the problem of delivery. Dr. Allen is focusing on adding molecules to the surface of liposomes that will cause them to bind to diseased cells and get swallowed up with the RNAi still inside.
Many other scientists are looking at using delivery systems developed from new technologies that don't use liposomes, all because the therapeutic potential of RNAi is huge. But liposomes offer some extra advantages.
Fat for better drugs
Both liposomes and cell membranes are built out of the same types of fat molecules, referred to in science circles as lipids.
"Many of the lipids we use are already found in the body," says Dr. Kishor Wasan, a distinguished lipid researcher and a university-industry research chair in drug development at the University of British Columbia. "If you use those lipids and form them into a delivery system like a liposome... the body will look at the lipid and be comfortable with it." The body is not as comfortable with delivery systems based on synthetic particles or viral proteins because these systems can trigger bad immune reactions.
Many drugs that treat cancer also have a lot of side effects. Liposomes can decrease the side effects of anticancer drugs by delivering them right to tumours. They don't even need a navigation system to find them -- tumours naturally filter liposomes out of the blood.
"It's a passive event. It just happens because of the nature of the blood vessels that are in the tumour, " says Dr. Bally.
Normal blood flow isn't enough for a tumour, so it builds its own blood system, but the tumour's system is leaky. Liposomes are constructed to fit through the leaks and get into the tumour.
Because of their natural safety and delivery features, and their already approved use in delivering non-genetic drugs to cancer tumours, liposomes would probably be fast-tracked for approval of RNAi delivery as soon as someone figures out how to efficiently move the RNA from inside the liposomes to inside cancer cells.
"I think that liposomes are the best developed technology," says Dr. Bally. "If it's new technology, it's going to be decades before it's actually moved into the clinic. Whereas lipids could move into the clinic pretty rapidly... if it solves the problem."
Tomorrow: The cost and regulatory hurdles for creating gene-based medicine.
Related Tyee stories: