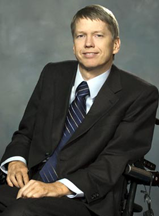 On the eve of his annual state of the city address, Vancouver Mayor Sam Sullivan admits "problems" achieving success on key fronts of his major initiative, the Civil City project.
In rolling out the project in December of 2006, Sullivan and his Non-Partisan Association party vowed to cut in half homelessness, street drug use and aggressive panhandling by 2010. Statistics show all three have risen since.
When The Tyee asked the mayor about the negative trend lines yesterday, he did not dispute them, but pointed a finger at other levels of government.
"We have problems. We want to address them. We're here to tell the provincial and federal governments that we need more support," Sullivan said.
The NPA-dominated city council allocated $300,000 to co-ordinate ongoing city and provincial efforts toward improving the civility of Vancouver's street life in advance of the 2010 Olympics. Former B.C. attorney general Geoff Plant assumed the role of Project Civil City commissioner in May 2007, and made his first report to council in October.
By mid-December 2007, Project Civil City had spent $156,776, according to accounting provided by the City of Vancouver in response to a freedom of information request filed by The Tyee. Most of that was spent on contract and consulting services, including fees paid to Plant's blue-chip law firm, Heenan Blaikie. That means more than half of Project Civil City's allotted budget was spent in its first year.
But so far, at least, there's no statistical progress to show for the money invested.
Homelessness up 54 to 78 per cent
Civil City pledged to "increase housing opportunities and eliminate homelessness, with at least a 50 per cent reduction by 2010."
The most recent homeless census was conducted in March of 2005, eight months before Sullivan became mayor. A team of social workers counted 1,291 homeless people in the city of Vancouver, representing more than half the 2,174 homeless people found in the region.
City staff agree that number has risen significantly, but differ on how much.
Vancouver homelessness has increased by 54 per cent since 2005 according to Commissioner Plant, who in October of 2007 benchmarked the number of Vancouver homeless at 2,000 individuals.
Or perhaps Vancouver homelessness has risen by 78 per cent since 2005, if a respected Housing Centre estimate of 2,300 street homeless is applied.
Either way, homelessness appears to be rapidly growing in Vancouver, as it is across the province. (The 2008 Metro Vancouver homeless count, scheduled for March 11, is soliciting volunteers.)
Drug offences have doubled
Sullivan also promised to "eliminate the open drug market on Vancouver's streets, with at least a 50 per cent reduction by 2010."
Drug-related offences rose 102 per cent between calendar 2006 and calendar 2007, according to statistics released recently by the Vancouver Police Board.
Police action is an imperfect measure of actual drug activity. "Police statistics... only measure drugs seized and arrests made. The police generally consider these numbers to be very conservative. Clearly, they only represent the tip of a large iceberg," wrote Plant in his October 2007 report to council.
But Plant acknowledged that, for the time being, police records remain the only annual barometer available for the Vancouver drug trade. "We have been working extensively with the VPD to discuss ways in which some of the data they already collect can, over time, become part of the accountability framework for Project Civil City."
In addition to a doubling of drug-related arrests, 2007 was also the year in which an ongoing turf war erupted into a series of gangland-style shootings. Culpable homicides rose 27 per cent, and attempted murders rose 31 per cent, according to police statistics. An August assault at the Fortune Happiness Restaurant in East Vancouver left two dead and six wounded in what police called the worst gangland style assault in the city's history.
Street disorder up 84 per cent
The third of Sullivan's specific Civil City promises is to "eliminate the incidence of aggressive panhandling, with at least a 50 per cent reduction by 2010."
No one tracks panhandling per se, but according to police board statistics, the incidence of overall street disorder was up 84 per cent in 2007.
And last August, a security camera at one of Vancouver's oldest Catholic churches recorded a vicious attack in which a regular panhandler threw a 79-year-old man to the floor, took money from his wallet and fled.
Images of the Holy Rosary Cathedral assault fuelled a nationwide debate about aggressive panhandling. And staff at the Richards Street church reported that similar incidents were occurring on a near-daily basis. One priest said women who go to the church are in the habit of holding onto their purses tightly during mass.
'Going to be difficulties'
Mayor Sullivan spent the day before his state of the city address at a Vancouver conference promoting the Federation of Canadian Municipalities call for Ottawa to commit $35 billion toward a national action plan on housing and homelessness.
Sullivan did not argue with the statistics detailed above.
After calling on federal and provincial governments to heed his plea for "more support," Sullivan added: "I do believe that a lot of the public order problems are generated by lack of suitable housing. We have some very decrepit, actually appalling housing in the city of Vancouver, and it's because there is no other option. If we had good, supportive housing that was brand new, we would be able to replace that housing."
"With the investments the provincial government has made -- 2,700 units committed in the last two years -- we're going to make a big difference. But it does take some time to get those up and running," Sullivan said.
He added, "There are going to be difficulties."
Sullivan's state of the city address Thursday at noon at the Pan Pacific Hotel will be his last before November's municipal elections.
Related Tyee stories: