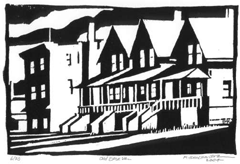 On Main Street in Vancouver is a tiny shop called Lucky's Comics, which my seven-year-old son considers the centre of his universe. On the shelves are manga from Japan, on the walls are odd little sketches by locals. The people at Lucky's know my son well. With friends he drew a comic book called Panda War and presented the bundle of pages neatly stapled. The good merchants of Lucky's put it in their window and it sold, confirming my son's belief that he will produce the great Canadian graphic novel (with movie spin-offs).
Lucky's is just around the corner from our house and shares Main Street with ethnic eateries, designers' boutiques, and re-sellers of antiques, books, clothes and records. Much of the "building stock" as a developer told me, is "poor to mediocre." True, but correlating rents have kept the place interesting. On Main, so far, you can still be Lucky.
This of course is not the face that Vancouver presents to the world. That would be sleek towers, raked beaches. Clean, tight and shiny -- a perfect planner's Powerpoint.
The official fastidiousness driving that vision is beginning to frighten. It threatens now to sterilize the last of what is lovably scruffy about Vancouver. It feeds on Olympics anxiety and the search for the next hot real estate play.
The big sweep-up
The ethos is enshrined in a pair of city hall initiatives rolled out recently by Mayor Sam Sullivan and his business-backed civic party, the NPA.
The first is "Civil City," a proposal to clean up the streets in time to welcome the global press crew in 2010. There is much to cheer in the document, including vows to cut in half homelessness and open drug use.
Dig a bit deeper, though, and you find a blueprint for the "hyper-regulation of public space." That is the phrase of Micheal Vonn, policy director of the British Columbia Civil Liberties Association.
Vonn points to the document's enthusiasm for video monitoring of sidewalks. And for more private security by so-called "downtown ambassadors." And for new "no sit, no lie" bylaws preventing people from getting too comfortable. And for police cracking down on nuisance offences, like spitting in public. "Will we fine marathoners?" Vonn asks with a wink.
Police would also get the power to officially charge people with crimes, bypassing the crown counsel.
Add it up, says Vonn, and you have "a raft of tools that can be used to displace the public poor" as well as protesters or anyone else deemed in need of scrubbing. This is just pandering to people who wrongly believe they "have a right not to encounter diversity on the street."
Yuppie romantic?
The second big City Hall initiative goes by the name of "EcoDensity." Again, sounds good on first take. By building up low rise areas of town, you create more housing, shorter commutes, a smaller "ecological footprint" for residents, all of it excellent in the abstract.
But then you take a walk through what's been built in the last decade in Vancouver, and sense what is to come. Beneath the glass curtains along False Creek and Coal Harbour, the streetscapes are too crisply premeditated to sustain the organic funk of a Main Street. EcoDensity may be a remedy for global warming, but it is cold comfort for the soul.
Perhaps you're rolling your eyes as I fret about gentrification. I am, admittedly, part of the problem. We bought our old house eight years ago, fixed it up, and now ride the updraft of Vancouver's soaring house prices.
The paradox is that as more space is hyper-regulated and eco-densified in Vancouver, the authentic appeal of Main Street will grow -- which will drive up its prices even further, changing it.
So it is easy to dismiss me as one more post-yuppie who wants it both ways.
But look at Main Street through my son's eyes as we go on our rounds, seeking new distributors for another batch of his Panda War comic books. He hobnobs with Lucky's artistes, chats up the rock singer who owns Red Cat records, introduces himself to a fellow with a book store over a sushi café. All of them hail the boy's arrival, speak in serious tones about his work, agree to distribute his wares for a 20 per cent cut of the action.
To my son -- and a lot of grown-ups drawn to the area -- Main Street is a model of what I'd call "permeable capitalism." Its nooks and crannies hold people who will happily explain how they gather, sift or hand make what they sell. My son, at seven, learns from his visits, and is able to imagine himself a creative entrepreneur.
Contrast this with how Vancouver and many other places are smoothing themselves over, ratcheting up rents, preparing the ground for global franchises. Slick. Efficient. Impermeable. Perhaps now you understand the fear.
Related Tyee stories: