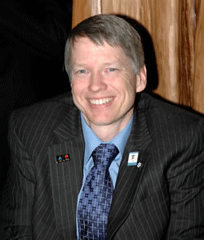 As Vancouver City Council prepares to debate a proposed ban on union and corporate campaign contributions this Thursday afternoon, a Tyee review of the most recent campaign disclosure statements from each major party suggests that routing donations through non-profit societies can also mask their original sources.
Both the ruling Non Partisan Association and the minority Vision Vancouver party have taken donations from registered societies. Particularly mysterious among these gifts is a donation to the NPA of $5,136 from the Nanitch Policy Society, a shadowy non-profit directed by Mayor Sam Sullivan.
Sullivan declined repeated requests to be interviewed for this story. Five of his fellow Nanitch directors told The Tyee they were unaware their society had donated money to Sullivan's political party. Upon learning of the gift, one former director said simply: "Well, I'll be damned."
Patrick Smith, a Simon Fraser University political scientist who studies public accountability, said that the Nanitch case illustrates the weakness of B.C.'s municipal campaign finance laws.
"This is a loophole that allows donors to evade the single thing that would make for an informed electorate: disclosure," Smith said. "Whatever the intent may have been, the result of this action was to deny the public the right to know who contributed to this campaign."
A former director of Nanitch says the society also helped fund the successful Sullivan-led campaign against shifting Vancouver to a wards system for electing city councillors.
'Where did you get this number?'
The Nanitch donation to the Non-Partisan Association is disclosed in the NPA's most recent campaign finance statement, filed in the spring of 2006.
On page nine of the schedule of donors who purchased tickets to a December 2004 fundraising dinner, "Nanitch Policy Society/Knowards" is listed as contributing $5,136 to the NPA.
The address and phone number provided for Nanitch corresponds with what then served as the offices of six other societies founded by Sullivan. Those groups -- which include well-known organizations such as the Disabled Sailing Association of BC, the Vancouver Adapted Music Society and the Tetra Society of North America -- have since been rolled into an umbrella group called the Disability Foundation.
(And those groups are well-heeled: four of those societies posted combined revenue of $1.25 million in 2004, according to a report by veteran city hall reporter Frances Bula, published in the September 2006 issue of BC Business magazine. Provincial taxpayers provided $500,000 of that revenue, according to Bula.)
But when The Tyee left a message at the number provided on the Non-Partisan Association's disclosure statement, the woman who returned the call asked, "Where did you get this number?"
She subsequently identified herself as Betty Cheung of the Disability Foundation. Cheung told The Tyee that Nanitch was not a part of the foundation, and not reachable via the phone number provided by the NPA.
"There is no information I can provide," Cheung said. When asked for another number, she curtly suggested The Tyee consult the corporate registry in Victoria.
So we did.
'Was I a director at the time?'
The Nanitch Policy Society is a corporation in good standing, having filed its last annual report on Oct. 27, 2006, according to public records obtained via BC Online.
It's registered at the same mailing address used (until a recent relocation) by Sullivan's disability societies, and lists three registered directors: Gary Lenett, Terry Leblanc and Sam Sullivan.
Lenett is president of Dish Jeans.
"I was a director. I resigned," Lenett told The Tyee. "I sure hope I resigned. Am I still listed on there?"
Lenett, who said he's "known Sam forever," described Nanitch this way: "It all revolved around disability issues and marginalization issues . . . . I think we raised a little bit of money. I remember having a couple of interesting conversations. And it just never went anywhere."
Lenett said Nanitch donated money to the Knowards campaign -- Sullivan's successful effort to defeat an electoral reform plan that would have returned Vancouver to a ward-based voting system -- in order to help disabled people. "There was an argument made that basically the wards systems would make it very difficult for disabled people to get social housing," he said.
When the plebiscite was held in October of 2004, Sullivan was an NPA city councillor, facing civic elections a year away. Sullivan and his Knowards team have never disclosed who paid for their fight against a ward system, nor how much was raised and spent. The city charter doesn't require it, because a plebiscite is deemed different from an election.
Nanitch was funded by "private donations," according to Lenett. He said he could not recall how much money Nanitch raised, or who donated it.
Likewise, Lenett had no recollection of any donations to the NPA.
"I don't recall it, no," Lenett told The Tyee. "It concerns me a bit."
When asked what concerned him, Lenett replied with a question of his own: "Was I a director at the time?"
The other director named in Nanitch's 2006 annual report was Terry Leblanc. Like Sullivan, Leblanc is a quadriplegic as a result of a spinal cord injury. Like Lenett, he seemed surprised to learn that he was a director of Nanitch. Leblanc said he was unable to recall any details about the society, and professed no knowledge of its donation to the NPA.
"There was one other person on the board, but it was mainly Sam," Leblanc said. "Sam was the person who set it up, who managed things."
'I'll be damned'
The Tyee also obtained a copy of Nanitch's constitution and bylaws from B.C.'s corporate registry in Victoria.
Nanitch Policy Society was incorporated on Feb. 15, 2002. Its two-sentence constitution states that the purposes of the society include: "To identify, research, and promote changes in public policy for the purpose of improving the economic, environmental and social well-being of all members of the community, in particular those members of the community who are marginalized or disabled . . ."
Five individuals signed as applicants for incorporation: Wayne Hartrick, Richard Jaffray, Harold Kalke, Gary Lennet and Sam Sullivan.
Hartrick is president and "chief reputations officer" of Reputations, which "builds, manages and protects the reputations of some of Canada's top organizations."
The Reputations website states that Hartrick was Mayor Sullivan's communications director, and until Tuesday of this week, it stated: "Wayne currently sits on the Board of Directors of the Nanitch Policy Society, a society dedicated to improving the economic and social wellbeing of individuals faced with disability."
When contacted by The Tyee, however, Hartrick quickly distanced himself from both Sullivan and Nanitch. He told The Tyee that he never actually worked for Sullivan, but served only as a volunteer. And he thanked The Tyee for pointing out "an error" on Reputations' website, which now correctly describes Hartrick as a former director of Nanitch.
"I was not involved in creating Nanitch," Hartrick said.
When The Tyee pointed to his signature atop the incorporation document, Hartrick said, "Oh, I'd forgotten that."
Hartrick said that Sullivan ran the Nanitch society "by himself."
"As I recall, there were some private donors. Sam arranged that himself," Hartrick said. "I don't know who gave the money. And I don't know anything about any money being given to the NPA . . . . I have no knowledge of any of that."
Richard Jaffray is founder of the Cactus Club Café chain of restaurants. A spokeswoman for the Cactus Club said that he was out of the country on vacation.
Harold Kalke is an award-winning developer who also happens to manage an estate that has donated to the Vancouver Adapted Music Society. When told of Nanitch's donation to the NPA, Kalke was taken aback.
"I'll be damned," he said.
"I remember signing that piece of paper, and I haven't had anything to do with Nanitch since," Kalke said.
"I have never gone to a meeting. I have no idea what it does. I thought it was part of Sullivan's Disability Foundation," he added.
Kalke was equally clear when asked whether he was informed about the NPA donation: "No. Never."
He said that he is fundamentally opposed to partisan politics at the local level.
"I would never support the NPA or Vision or anybody else," Kalke said. "If I were asked, I would have said I don't want any part of it."
'Questions within disability community'
There is no evidence that the Nanitch transaction is illegal, though it may represent a conflict of interest for Sullivan.
Ken Burnett is a senior partner at Miller Thomson Pouliot. He is an expert in not-for-profit law, and serves on a B.C. Law Institute committee recommending changes to the Society Act.
Burnett offered no opinion on the Nanitch donation, but did describe the act generally. He raised two possible legal concerns. First, there could be a question of whether or not the donation was in keeping with the stated purposes of the society. Second, there could be a question of whether Sullivan properly disclosed a possible conflict of interest to his fellow directors.
"There's a general obligation to disclose where a director may have an interest in any proposed contract," Burnett said. "It's got to be fully disclosed, and there must be an accounting made."
When told that Sullivan's fellow directors professed no knowledge of the donation, Burnett replied: "If that was the case, then there was no disclosure."
A spokesperson for the B.C. Coalition of People with Disabilities said the Nanitch donation raises ethical questions as well.
"It's not something I've heard of happening before," replied Jane Dyson, when asked whether other disability societies donated to political parties. "I think this sort of donation would raise some questions within the disability community."
SFU professor Smith said the Nanitch donation illustrates the weakness of B.C.'s municipal campaign laws.
"There is nothing inherently wrong with individuals creating entities to promote their political aims," Smith said. "The difficulty arises in that the only provision in B.C.'s municipal election finance law is disclosure. And if funnelling money through a society becomes a way to avoid disclosure, then the directors of that society have effectively evaded the only democratic safeguard that exists.
"This is yet another example that shows the current law is inadequate for the purpose," Smith said. "I just think this is a story that gets worse the more you look at it."
Smith issued a challenge to the Nanitch directors. "Given the spirit of the law," he said, "I would hope the principals would disclose who paid for the tickets."
Sullivan spokesman: 'Nothing improper'
Mayor Sullivan refused repeated requests to provide information for this article.
"Societies are free to contribute to political parties," said David Hurford, who is Sullivan's director of communications. "There's nothing improper about a society making a donation. You've got Vision and others receiving money from societies quite regularly."
Vision Vancouver co-chair Mike Magee provided The Tyee with an itemized list that he said represented all donations Vision had received from non-profits. The list totalled $8,795 from 12 societies. Four are Chinese family associations. The largest donors are the Alliance of Beverage Licensees, the Vancouver Hotel Association and the Vancouver Taxi Association. After checking with his elected officials, Magee sent a subsequent e-mail stating, "No Vision elected representatives are on the boards of any of these groups."
(COPE was unable to provide a similar accounting by the time this story was posted.)
After a phone call on Monday afternoon, Hurford agreed to take one question to Sullivan.
The Tyee asked: Is the mayor concerned about the apparent conflict of interest posed by the Nanitch donation?
Almost 24 hours later, Hurford responded in a terse e-mail: "Further to your question yesterday, I can confirm that the answer is No."
Related Tyee stories: