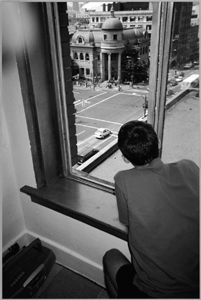 Street homelessness could be nearly eliminated by a plan that will go before Vancouver city council tonight.
The proposed Supportive Housing Strategy would establish 2,200 units of supportive housing. Most would be created through rent supplements, and the balance by constructing up to 15 new apartment buildings throughout Vancouver.
There is but one crippling flaw in the plan. Its authors, the city's Housing Centre and Vancouver Coastal Health, propose that it be implemented over a 10-year period. At that pace, the city's ongoing SRO loss is likely to overwhelm the gains achieved through this strategy.
Thus tonight's council meeting promises to become a defining moment of the Vancouver 2010 Winter Games. At stake is whether there are more homeless people than athletes in the city during the Olympics.
Rent supplements help residents blend in
Supportive housing is a win-win proposition. Homeless people moved directly into supportive housing rebuild productive lives more quickly and in greater numbers than do those ensnared in the soup-kitchen shuffle. At the same time, studies show that each additional unit of supportive housing saves taxpayers up to $16,282 per year in reduced expenditure for homeless shelters, psychiatric hospitals, medical services, prisons and jails.
The best supportive housing takes the form of small fully self-contained apartments located in buildings with on-site staff who "support" residents' efforts to recover from addiction, mental illness, and trauma inflicted by life on the street. It is these professional services that distinguish supportive housing from traditional social housing, in which living conditions can deteriorate rapidly under the stress of an unsupervised population fresh from the street.
"Supportive housing has been part of Vancouver's housing continuum for more than 20 years," said Jill Davidson, a senior housing planner and coauthor of the strategy. Vancouver Coastal Health is the largest provider of supportive housing in Vancouver, presently providing more than 1,800 units in Vancouver, plus an additional 600 in Richmond and the North Shore. Values-based supportive housing is also provided by charities such as The Salvation Army and Union Gospel Mission.
Roughly a third (572 units) of Vancouver Coastal Health's existing supportive housing is provided via rent supplements that enable individuals to live in ordinary apartment buildings. These residents are served by support workers who make house calls.
"The use of rent supplements provides a relatively quick housing solution compared to the lengthy timelines associated with new construction," Davidson said. "It also allows individuals to blend in with the broader community."
The remaining two thirds (1,240 units) are spread among 37 facilities where some or all of the residents have access to on-site support staff. "These buildings allow for more support and offer a sense of community," Davidson said. "This can be especially important for those who wish to recover from addiction in an alcohol and drug free environment."
Downtown buildings for toughest cases
Vancouver Coastal Health (VCH) has estimated that 2,200 more units of supportive housing will be needed to house people with addictions, mental illness, or both through the coming decade.
The health authority figures that 1,540 of those units could be provided through rent supplements. That's 70 per cent of the additional units, which would represent a dramatic acceleration of the rent subsidy portion of VCH's supportive housing. That shift toward market housing is consistent with BC Housing's goal of expanding its Rental Assistance Program to 15,000 families at risk of homelessness.
In addition to enabling residents to blend in, renting distributes social housing more evenly throughout the community, and can be implemented more quickly than new construction.
Davidson acknowledged that Vancouver's one per cent rental vacancy rate will challenge the 70 per cent goal. "We're behind in social housing, and we're behind in affordable housing," she said.
New construction would provide the remaining 30 per cent of 2,200 units. VCH counts 212 supportive housing units already under construction. (Because that number only includes new construction for which support services are funded, it does not correlate to BC Housing's generous accounting.)
The health authority seeks to build the remaining 450 units on city sites, with provincial funding.
About half of those new units would be low-barrier housing. Also known as the "housing first" strategy, low-barrier housing is for people who are homeless or at high risk of homelessness, but are not yet willing to participate in treatment. Low-barrier housing offers more supervision and access to support services than a typical SRO, but not as much as abstinence-based supportive housing.
Allyson Muir manages the VCH's Mental Health Housing Service, and co-authored the strategy.
"The philosophy is that if we provide 'housing first,' then tenants are more likely to sort out their lives," Muir said. "People get a roof over their head, and the safety of having some staff around. The staff work to help residents connect to treatment and other health services, but residents don't lose their housing if they fail to make those connections."
Low-barrier housing accounts for almost two thirds of VCH's existing supportive housing, and would likewise comprise the largest portion of new units built under the proposed strategy: an estimated 290 apartments in three large buildings.
"The low-barrier buildings would be located in the downtown core," Davidson said. The city currently owns or controls at least six downtown properties on which such high-density supportive housing might be built. "This is where most prospective tenants now live."
Low-risk housing in neighbourhoods
The remaining 160 units would be scattered across the city. These would house stabilized residents recovering from mild mental illness and/or addictions, populations that recover more rapidly in neighbourhood settings.
Vancouver city policy has advocated the geographic distribution of social housing since 1989. But such distribution has not yet been achieved: 16 of Vancouver Coastal Health's existing 37 supportive housing facilities are in the Downtown Eastside. A few more are clustered in downtown south and along Commercial Drive.
"We know that people who have mental illness and addiction issues come from all neighbourhoods," Muir said. "We know they try to seek treatment in all areas of the city. And we think they need to be able to access supportive housing in all areas of the city."
The strategy would house stable mental health clients and addicts with several months of abstinence in fully staffed buildings averaging 30 units or less. This strategy calls for 10 such buildings: six for mental health residents and four for abstinent addicts.
"We need to buy more sites," Davidson said, noting that only three of the city's 19 existing sites are located outside the downtown core. "And we'll need to continue to buy such sites over time."
Westside worries online
The notion of redistributing supportive housing has already provoked West Side fears of finding the Downtown Eastsider in their midst.
Some 500 Westsiders turned out for a November meeting of the Dunbar Residents Association in response to rumours speculating that supportive housing would be built on a city owned site on Dunbar at 16th.
The crowd jeered City Councillor Suzanne Anton -- who also happens to live in the neighbourhood -- after she told the group they would not be granted an opportunity to vote supportive housing out of their neighbourhood.
"I have to be quite frank about it," she said, "These are facilities we need to build around the city."
Over the winter, an anonymous entity calling itself NIABY -- for Not In Anyone's Back Yard -- expanded its campaign against supportive housing into a citywide crusade, urging residents to oppose "the proposed drug addict supportive housing projects for 16th and Dunbar, 7th and Fir, 41st and Fraser, or any other potential supportive housing project for drug addicts."
NIABY's organizers are not open about their identities. Their web site is registered via an Arizona company that promises to "protect your 'moonlighting' identity." But the site stokes public fears by warning of "80-unit" apartment buildings in which "the clientele will begin to use drugs within a few weeks or months," and predicts that "crime will increase 30 per cent each year."
Davidson and Muir respond with facts: Large buildings are only allowed downtown. Addicts must complete treatment and commit to abstinence. And the Vancouver Police Department reports no increase in crime around existing supportive housing.
"The experience and the evidence we have about supportive housing is that those fears don't actually come to fruition," Davidson said. "People living in supportive housing are supported so that they are not misbehaving."
"Neighbourhood supportive housing is going to happen," stressed Kim Capri, who handles housing for the Non-Partisan Association. "How it happens is where communities may have a role in the process."
'City is opportunistic'
VCH and the Housing Centre held more than a dozen public meetings this spring, at which 425 Vancouver residents responded to the Supportive Housing Strategy. The majority of their comments supported the plan. A handful opposed housing addicts in their neighbourhoods; others invited the proposed facilities.
More than a few suggested that the plan was too little, too late. That concern is shared by housing activists, who remain disappointed that the strategy does not provide the 3,200 called for by both the Homeless Action Plan and the Inner City Inclusivity Housing Table. They warn that at an average of only 220 new "units" a year, the strategy would not likely keep pace with the loss of SRO units.
But even critics agree that if significantly accelerated, the Supportive Housing Strategy, coupled with what is already being built by BC Housing and a few large charities, might be enough to end street homelessness within a few years.
Davidson did not disagree.
"In reality, the city is opportunistic and takes advantage of funds that become available from the senior governments and other funding partners," the plan itself notes. "In recent years, the province tends to fund projects that are ready to proceed."
Related Tyee stories: