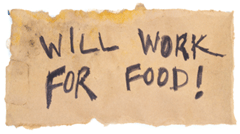 "I want my girls back in my life," Brian Felstead said. "They live with their mom here in North Van. They keep asking me, 'Dad, where do you live?'"
Felstead looked at his feet.
"It's tough. I can't tell them I'm homeless. I'd like to, but I just don't know how."
Felstead is one of thousands of homeless Canadians living in British Columbia's small cities and towns. They are less likely to be addicted or mentally ill than the typical Downtown Eastsider. In affluent municipalities like North Vancouver, many hold jobs but cannot afford homes.
The parks and forests surrounding the province's sprawling southern suburbs are likely home to the fastest-growing segment of B.C.'s homeless population. The official census of Metro Vancouver suburban homeless grew by 55 per cent between regional homelessness counts in 2002 and 2005, to 766 individuals. Experts estimate that number is now closer to 2,000.
Shelter workers figure there are already 300 to 400 homeless people living on the North Shore alone. Assuming similar growth across the region, the population of suburban homeless may have already surpassed that of the troubled Downtown Eastside.
'Just give me a job'
"It's getting worse," Felstead said.
He became homeless about five years ago. He'd been through a rough divorce, his mother and brother died, he sank into depression, quit his job, and wound up on the streets.
"When I first became homeless, I got to know a lot of the guys," he said. "They had issues -- some were alcoholics, some were drug addicts -- but all were locals, and most were pretty good people."
Not anymore. Felstead now figures that half of the North Shore homeless are refugees from the Downtown Eastside. "They come over to bottle, or to do whatever crimes they do. And they stay."
North Shore apartments start at about $700 a month, and average closer to $900 a month. Felstead said he wasted too much time trying to find somewhere to rent for the frugal $375 a month provided by the province.
"I finally found a room here in North Van for $375. It was in a basement of an old, old house." But Felstead, who is not an addict, soon realized his fellow tenants were crack dealers. "After I had my life threatened, I figured I was safer on the street."
He's slept outside ever since. "I have my own place I go. It's outside, but it's dry and warm. A couple of guys who clean the place, they keep my bedding dry during the day."
Felstead is now focused on finding permanent work instead of housing. He's a certified auto mechanic with 30 years experience.
"There are so many roadblocks," he sighed. "If you are homeless and you want to go look for work, where do you get the clothes? How do you work when you have no place to stay? How do you get up in the morning? How do you wash?"
He's looking for an employer "willing to take a chance" on him. "I don't want social services. Just give me a job. Give me back my damned dignity."
'Homelessness is seductive'
"Roadblocks are in place every step of the way," agreed Dawn Currie. "The system is designed for people to fail, and get sucked further and further into the system."
Currie became homeless in February, after a long illness left her without work. So she started living on the streets at age 59. She's spent most of the past nine months shuffling between area shelters, each of which toss clients out after two weeks.
"The shelter system sends mixed messages," she said. "Income assistance tells you to get a job, and then you will have money to find housing. But the shelter staff says, first find housing, then you will have stability and a home base from which to look for work. Income assistance will withhold funds if you do not look for a job. And the shelter will evict you if you don't look for housing."
Like Felstead, she ruled out the Downtown Eastside as too dangerous.
"Income Assistance allows $375 for rent. It's impossible to find accommodation for that amount on the North Shore. So they callously tell you to go downtown," Currie said. "But the accommodation available for the amount you are allowed would gag a yak."
Currie, who looks and speaks like any other North Shore matron, defies most stereotypes about homelessness.
"You may be walking by homeless people every day, and not recognize them for what they are," Currie said. "Not all homeless people are addicts... Not all homeless people are young... We are sons and daughters, moms and dads of the North Shore."
Against the advice of shelter staff, Currie spent much of the summer in school to update her computer skills.
"Homelessness is seductive," Currie said. "In the shelter system you are systematically stripped of responsibility, and it becomes all too easy to abrogate any and all responsibility for yourself."
Sheltering the working poor
"The North Shore homeless are different," said Richard Turton, who manages the North Shore Shelter. "There are more working poor. And the folks here are higher functioning. It's not like the Downtown Eastside."
Turton said about half of North Shore shelter clients go to work each day. "They have jobs. But the minimal rent on the North Shore is probably $900 bucks a month. If they're making $9 or $10 bucks an hour, it's going to take two months to save for your damage deposit and rent. And we have to limit their stays to two weeks. It's frustrating."
The 45-bed North Shore Shelter is run by Lookout Emergency Aid Society. It's fully occupied, and turns away "about 70" people each month. Turton figures there are between 300 and 400 homeless people living on the North Shore.
As is the case across rural B.C., most of them live in the woods, where they remain hidden from public view.
"We've got a lot of seasonal folks who come to the shelter in the winter, and in the summer they sleep outside." When the temperature dips below thresholds set by BC Housing, Turton can bed another two dozen people on the floor.
"There is no supportive housing on the North Shore. There is no detox. There is no soup kitchen. There is no medical clinic, no free showers, no laundry," Turton said.
"We have to say to people, 'I'm sorry but your stay here has come to an end. And there's very little we can do except refer you to another shelter -- guess where? -- the Downtown Eastside.'"
'We all suffer from depression'
"People in the shelters are often subjected to verbal abuse, or, at the very least, disrespect. Not by other residents; by the staff," Currie said.
"I myself was told that I was silly, stupid and ridiculous for trying to find a job at my age. I was belittled because I was attending classes," Currie said. "They said with a sneer, 'you'd rather go to school than look for a place to live.'"
But Currie stuck with her plan: "I knew I needed upgrading. When you work with computers, and you are out of the game for four years, you might just as well be a dinosaur."
She found a job in August, and is readying to move into her own apartment on Nov. 1.
"The homeless all have some things in common," she said. "We all suffer from depression, displacement anxiety, low self-esteem, stress, and stress-related diseases... If you tell people they are worthless long enough and often enough, they begin to believe it."
Related Tyee stories: