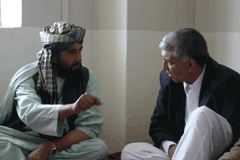 Tribal elders filed into the cool basement of a government office in Kandahar. They sat cross-legged and sipped tea as each in turn presented a petition to Ehsan Zia.
It was mid-March and Zia, Afghanistan's minister of rural reconstruction and development (MRRD), had travelled that day from the capital, Kabul, to Kandahar City, in the south. He was there to add 38 new development projects to the 190 already announced by his government since Jan. 8.
Southern Afghanistan is plagued by desperate poverty and a rising Taliban insurgency. The central government is now under huge pressure to improve living conditions and prove its own relevance. But it's not a simple task.
The violence and poverty in Kandahar are chicken and egg problems; each is, paradoxically, both cause and symptom of the other. And the government's efforts to solve both have, despite the aid of thousands of NATO troops (including 2400 Canadians) and millions of dollars in reconstruction assistance, so far proved largely futile. That failure has critics, both in Afghanistan and here in Canada, clamouring for change.
Money for peace?
At the meeting in Kandahar, Zia asked one of the elders, Abdul Nabi, about the instability in his district. "The reason for the insecurity is poverty," Nabi said. "If the people had money and job opportunities, I am sure that peace would come and the fighting would stop."
It is, as yet, an untested hypothesis. Development has been slow to arrive in the violence-wracked province. And for Zia, the slow pace of reconstruction is at least partly to blame for the poor security situation.
"Development and security are complimentary," he said in an interview that morning. "Terrorism is actually benefiting from the chronic poverty that prevails in Afghanistan."
In response, Zia's ministry has launched what he calls a "development surge." The ministry plans to spend at least $21 million in the province this year building irrigation and drinking water systems, as well as roads, clinics and schools.
Canada's 'significant interest'
That surge relies heavily on Canadian help. "Canada has significant interest, obviously, in Kandahar province," said Lt. Col. Bob Chamberlain, commander of Canada's Provincial Reconstruction Team (PRT), which is responsible for co-ordinating the military's contribution to development efforts. The vast majority of the development projects are Canadian-funded.
But the role Canadian military personnel and development workers are playing in Afghanistan remains controversial. Opinion polls show that about half of Canadians want their troops withdrawn. And the slow place of reconstruction has some questioning whether the $1 billion the government has committed to development over ten years is being spent wisely.
Experts too have been critical of the job Canada has done so far. In December, the Senlis Council, an international think tank headed by Vancouver lawyer Norine MacDonald, publicly warned that Kandahar faced a famine if emergency aid was not quickly forthcoming. Its Feb. 14 report also described the province's hospitals as "dilapidated, barren and filthy" and noted that Afghans are "increasingly alienated from and hostile to the international community."
Amir Attaran, a University of Ottawa human rights and development expert, shares those concerns. "We've not got a country we are spending more money in than Afghanistan," he said. "How come it is not apparent ... what the results of that expenditure have been?" he asked.
'Starting from scratch'
Canada's development workers, however, defend their tactics.
CIDA's Helene Kadi, development director at Canada's PRT, said that part of the reason for the slow rate of progress is that it takes time to strengthen the Afghan government's capacity to deliver results. But in the long term, she said, a strong Afghan government is the key to development.
At the moment, Canada is directly funding only two non-governmental development organizations. Most Canadian aid goes into a fund that the Afghan government can access. It's a different strategy than that of the U.S. Agency for International Development, which favours using private American contractors to carry out projects.
That approach can show quicker results, but it can also be seen as self-serving.
"The main reason it happens is because of U.S. procurement rules, which are quite restrictive and result in a lot of money going back to the U.S.," according to Hamish Nixon, a former Vancouver resident now working with the Kabul-based Afghanistan Research and Evaluation Unit.
With CIDA's strategy, according to Kadi, the hope is to create partnerships between communities and the government that will remain once the Canadians leave.
"Building the school is as important as the process behind it," she said. "We're supporting rebuilding a country from scratch and this takes time. It doesn't take one meeting to sit down and solve all the problems."
But development is happening, Kadi insisted, pointing to the wave of new projects announced by Minister Zia.
In the short term, 350,000 children in Kandahar have been vaccinated against polio, she pointed out. And Canada is the largest contributor to the World Food Program in Kandahar, which is providing emergency food relief.
Canadian soldiers too have contributed to the reconstruction effort. As the Taliban regrouped and the insurgency gained steam after the 2001 invasion, many humanitarian agencies stopped working in Kandahar. In response, last September, the Canadian Forces led a military campaign dubbed Operation Medusa, to drive the Taliban from the Panjwai district where they had emerged in strength.
The wider strategy was to create an environment for development to take place, according to Minister Zia.
The relative calm in the operation's aftermath has allowed the Afghan government to launch their Canadian-funded development surge, he said. As residents see their lives improve, he went on, they will be unlikely to support the Taliban.
Too little, too late?
Not all are convinced by the theory.
"It's a beautiful, rosy picture," said Rangina Hamidi, an Afghan-American who runs the Kandahar-based organization Afghans for Civil Society. "On paper, yes, it sounds good."
Hamidi says she supports increased development. But she wonders whether the south has been neglected for too long. "The common person today really doubts any kind of initiative this government takes," she said. "The people have lost faith in these failed promises over the past five years."
Kandahar also faces competition from other districts keen for reconstruction dollars. Nestled in the Hindu Kush Mountains is the relatively peaceful province of Bamyan. The site of two towering sixth century Buddhas, which were carved into a cliff-side before the Taliban blew them up, Bamyan is home to most of Afghanistan's Hazara population.
Governor Habiba Sorabi says Bamyan is the most peaceful province in the country, but it remains poor. Sorabi is lobbying for more development to ease her people's plight.
Paving the road from Kabul, for example, would considerably shorten the eight-hour drive from the Bamyan City. That would allow farmers to get their crops to market as well as attract visitors to the province, which is famed for its stunning natural beauty and numerous historical sights.
If Bamyan can be transformed, Sorabi argued, it could serve as a model to people in less secure parts of Afghanistan. But even so, there are only so many dollars to go around.
Development over dinner
Back in Kandahar City, Minister Zia wrapped up his meeting with the elders and stopped in at the Karzai family home for a dinner with members of Afghanistan's political elite.
As the politicians presided over a table overflowing with rich traditional dishes, conversation turned to Canada. Zia mentioned that the Canadians are interested in rehabilitating an important dam, which is clogged with 20 metres of silt. The dam once irrigated seven districts in the agricultural heartland of the province.
"If they fix the dam they will save Kandahar," said Azizula Karzai, a long time diplomat and uncle of President Hamid Karzai who now serves as ambassador to the United Arab Emirates.
The dam can be seen, in a way, as a metaphor for the entire reconstruction project in Afghanistan: It's a huge undertaking that requires co-operation between local communities, provincial and national governments, international donors and agencies, as well as domestic and international troops to maintain security while the work takes place.
Neither the dam nor the country can be rebuilt overnight. But time is running out; people are losing faith in the Afghan government and the international community. Once hope is gone, the fear is that old divisions will emerge between tribes and ethnic groups. Then the country could slide back into civil war, creating a power vacuum to be filled, once again, by the Taliban.
Much depends on the ability of the Afghan government to crack down on corrupt officials who prey on civilians and hamper reconstruction efforts.
"I believe it's not too late for Karzai," said Rangina Hamidi, adding that the Afghan president must act fast to restore his people's confidence.
It's a monumental challenge, she said, but the consequences of failure would be devastating: "I seriously think that history will repeat itself in a decade or two."
Related Tyee stories: