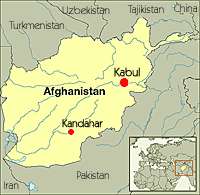 Norine MacDonald is the founder and president of the Senlis Council, a think-tank on international issues with offices in Europe and Afghanistan, including one in Kandahar, where MacDonald works.
Senlis has been documenting the rising Taliban insurgency in Southern Afghanistan and recently sounded the alarm about Afghan civilians on the verge of starvation just kilometres away from the Canadian military base in Kandahar.
Formerly a lawyer in Vancouver, MacDonald was in Ottawa last week to share her group's research and to try and convince the government to change its approach in Southern Afghanistan.
She spoke to The Tyee by phone about starving civilians, poppy eradication and why Canada shouldn't pull out the troops. Here is what she had to say...
On the conditions in Kandahar province:
This is a situation that's really deteriorated. It's put the Canadian military at risk. We're not winning the hearts and minds campaign -- the Taliban are.
The Taliban have psychological control in Kandahar now. So, what that looks like is all the men are growing beards. No one goes out without a beard. No one goes out at night. There are roadblocks and fighting inside Kandahar city. People are making their decisions about how to live their lives on their understanding of the Taliban's rules.
When we say it's urgent, I mean urgent. Things have got to change this month or next month.
I don't think it helps us to deny what's going on there, because we're going to wake up one morning and the Taliban are going to be on the outskirts of Kabul.
On why so little development has taken place during Canada's tenure in Kandahar:
The military says, "It's not our business to deliver aid." And the Canadian International Development Agency says, "We can't deliver aid because there's not enough security."
They are either not motivated, or unable to sort out this chicken and egg problem. That's just not acceptable.
They keep on pointing fingers at each other, and meanwhile, Kandahar is turning into a tinderbox.
On dealing with Afghanistan's opium industry, which supplies an estimated 90 per cent of the world's heroin:
The U.S. is choosing the policy; the U.K. is administering it at the Afghan level. So what you see is classic U.S. "war on drugs" policy being applied in Afghanistan. We've said that stuff doesn't work elsewhere and it surely doesn't work in Afghanistan when you've got the Taliban and al-Qaida waiting for you to make a mistake. We made a mistake with eradication; the Taliban took advantage of that.
On Canada's role:
Canada has said they're not going to be involved in counternarcotics. But they have stood idly by while the U.S. has led this massive crop eradication campaign in Kandahar.
The Canadian troops are paying the price for that because it fuels the insurgency. And the Afghan people are paying the price for that because there was no alternative livelihood program in place. So we just let the Americans run a counternarcotics strategy throughout southern Afghanistan, but we've got to pick up the pieces; the Canadian military has to pick up the pieces.
On what Canada needs to do:
They've got to -- this week, this month -- send emergency food relief to Kandahar.
The second thing is, this next planting season, which is coming up very soon, they should run a pilot project allowing farmers to grow opium for medication. That will send a very positive signal that we are trying to figure out how to help them with the opium problem.
Canada has to adopt Kandahar. We really need to sit down and go, "OK, so we took responsibility for Kandahar, we better sort it out. We better figure out how to get aid in there. We better figure out what kind of crops they can grow, how they're going to feed their families, how we're going to make friends with them so that we can win the war there, and so that our military is operating in a positive environment."
On whether Canada should pull its troops out:
I've actually talked to some people who have that position and I can understand their sentiment. I can understand that they see the fighting and they think we shouldn't be involved in that and it's too risky for our military.
But if the international community, NATO, leaves Afghanistan, if the Taliban and al-Qaida have Southern Afghanistan, we know what will happen because we've already seen it. That basically makes us complicit in what will be a crime against humanity in Southern Afghanistan. It's like giving Germany back to the Nazis.
I don't think we can say it's OK if we lose this war. We went there for good reasons, reasons that I think Canada can support. We're not warmongers, we don't like to fight. But in certain circumstances, the right thing to do is to fight and that's what our military is for. They've got to stay. We made that commitment. It would be a complete betrayal of the Afghans [to leave].
On Stephen Harper's trip to Kandahar:
He went to Kandahar military base and he was in there talking to the troops and he never actually went and spoke to any of the Afghans. They noticed it and they said, "Either the man is very rude or he is a coward."
They told me, "Your leader came and he never came and said hello to us, he never had tea with us. He never came and asked us about what we thought. He just went to the military base."
It's not acceptable to them to say that it's a security issue. If you take that job, then you take the risk. If he's the prime minister and we're responsible for Kandahar, and he goes to Kandahar, he'd better be polite or don't go, because the end result is the military were happy, but the Afghans thought less of him and thought less of us.
On her reception in Ottawa:
To talk about the government's response -- so far it's been disappointing.
We testified to Parliament's Standing Committee on Defence. The opposition parties all seemed interested in the information we had to share and the viewpoint we had to share. They all asked for more detailed briefings.
The questions that we got from the Conservative members of the committee were more around either denying that there was extreme poverty in Kandahar, or what you would call a kill-the-messenger type of attack on our organization. That concerns me because even if they don't agree with our policies or our recommendations, we think they should be interested in any information from any source about what's really going on in Kandahar.
Related Tyee stories: