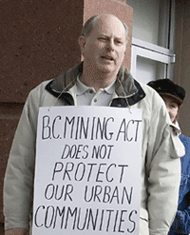 John Templeton says he's tired of seeing his little corner of paradise turned into "a crater on the moon."
Templeton, 58, retired from the provincial corrections branch five years ago. Three years ago, he moved to the town of Oyama, between Vernon and Kelowna.
He and his neighbours live in the Kal Pine Estates, a retirement community that some might call a trailer park, although its residents prefer the term "manufactured home." ("These homes are a quarter of a million dollars each," Templeton said. "A long way from a trailer.")
In front of them is Kalamalka Lake, once named by National Geographic as one of the ten most beautiful lakes in the world.
Behind them sits a gravel pit.
There's another one down the road a piece. And another one, and another one, and another one.
All in all, Templeton said, there are five gravel pits within a two kilometre radius of Kal Pine Estates. A sixth is on the way.
For the people living near the pits, that's meant living with a series of plagues that include dust, noise, speeding dump trucks, the fear of radiation poisoning and even rattlesnakes.
Mining 'just going crazy'
The snakes, Templeton said, were driven out of their burrows on the hill above Kal Pine by the vibrations caused by the mining.
B.C.'s construction boom has meant a boom in demand for aggregate, a combination of sand, crushed rock and gravel used to make concrete. That demand has in turn meant a boom in the digging of gravel pits in the Okanagan.
The area is "just going crazy" with mining applications, Templeton said.
"Farmers have found out that they can't make an honest living out of selling apples any longer, so they've decided to turn their farms into gravel pits."
When Templeton and his neighbours complained to the provincial ministry of mines, they were told that the odds were stacked against them, he said.
Under changes to legislation covering mining in B.C. passed in 2002, bureaucrats have little choice but to approve mining applications, Templeton said.
"This province is wide open for mining companies and operators to do any damn thing they want right now," Templeton said. "Absolutely anything. And there's no way whatsoever to stop them."
Regulations trimmed
A year after winning a landslide victory in the 2001 election, the Liberal government introduced legislation designed to "streamline processes and encourage mineral exploration by clarifying rights and cutting red tape."
The changes attracted little attention at the time.
One of the few organizations to raise concerns was West Coast Environmental Law, which warned that the legislation would:
exempt some mining operations from permit requirements and pollution laws
increase the mining industry's access rights to private land
repeal an existing protection against interference with private land
give mining approvals precedence over most other land use designations
A growing number of B.C. Interior residents are complaining that these changes have stripped away their rights as property owners. A series or articles beginning with this one in The Tyee in the past year has looked at the brewing dispute between landowners and the government over mineral prospectors who cheaply buy the mineral rights to other people's land and then prospect without permission.
Mines minister: 'Most are satisfied'
Last month, 70 people from across the province gathered in Vernon to vent their anger at the government and the mining industry.
New Democratic Party MLA Corky Evans was at the meeting. A few days later, he spoke about it in the legislature.
Evans described Templeton's neighbours' problems with the gravel pits:
"They go to the municipality and say, 'Can you guys stop this? We're turning into a gravel pit. That's not what we bought.'
"The municipality says, 'We're sorry. We municipalities no longer have any power here.'"
Kevin Krueger, the minister of state for mining, replied that the local Liberal MLA had dealt with the complaints.
"I believe that most of the constituents are satisfied by the explanations," he told the house.
Krueger added that Kal Pine Estates is itself built on a reclaimed gravel pit.
"So, yes, we have people who live in a reclaimed gravel pit and don't like to see other gravel pits," Krueger said.
Furthermore, the minister said, B.C. needs the aggregate.
"It's an important industry and one that we should be very happy that we have," he said.
Gravel in demand
Krueger provided the house with a series of aggregate facts:
"It's the least expensive building material that we have."
"Per capita, British Columbians use between nine and 15 tonnes of aggregate every year, on average."
"Seventy per cent of what we produce in British Columbia is used just for the rehabilitation and maintenance of existing infrastructure."

Said Krueger: "Every school, hospital, road and home in British Columbia is dependent upon that industry, and I think the members opposite are ill-advised to speak negatively of the aggregate industry or of the mining industry.

"They're tremendously important."

Radiation concerns

In addition to the dust, vibrations and snakes that Templeton and his neighbours blame on the gravel pit, they are now worried about high levels of radiation.

Late last month, some local residents took a Geiger counter to the area and found what Templeton describes as five times the federal safety standard for radiation.

The residents complained to the mines ministry but have received no action so far. Last week, the Lake Country District Municipality, which takes in Oyama, passed a resolution asking the provincial government to send some experts to investigate.

A spokesperson for the ministry of energy, mines and petroleum resources said the ministry takes such situations seriously and that staff was looking into the complaint.

However, the expert that the Kal Pine residents want to investigate the radiation levels said in an interview that residents probably have little to worry about.

Dave Morley, the head of the radiation assessment program for the B.C. Centre for Disease Control, said there is a lot of uranium in the Okanagan and background radiation levels are "elevated."

However, Morley said, "it's not like the material that comes from uranium deposits. It's hundreds of times lower in concentration."

'Enough is enough'

The biggest worry in such situations, Morley said, is radon gas leaking into homes through basements. While radon gas causes lung cancer, "trailers are the one type of building that doesn't have a radon problem" because they sit above the ground, he said.

Still, Templeton's not convinced things are safe. And he just doesn't see why there should be so many gravel pits in his corner of paradise.

"Six gravel pits in a two-kilometre radius, that's just unchecked greed....

"Enough is enough. Six gravel pits? You can't be serious."

Related Tyee stories: