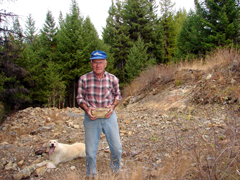 What do you do if you are a rancher told by a company -- and then the courts -- that there is nothing you can do to stop your rangeland from being dug up and further strewn with radiation?
If you are Joe Falkoski, you refuse to take no for an answer.
The Kettle Valley rancher fears mining for barite in radioactive soil on his property is a threat to his land, his livestock and the health of people in his community. He lost his latest court battle in September, but vows not to give up a fight that concerns many citizens across B.C.'s southern interior.
Falkoski believes the court ruling and provincial mining laws essentially require him to go into partnership with a venture-capital mining company that has already damaged his property and failed to repair it.
The dispute is just one of many to arise since the provincial government relaxed policies and regulations to promote the development of subsurface mineral, oil and gas claims on otherwise private land.
Zena Capital Corp. believes it is entitled to enter the land, since the Mines Ministry's Mediation and Arbitration Board gave it the go-ahead in February of this year.
Falkoski rejected the arbitration board's ruling, insisting that he was given no opportunity to air his concerns in either mediation or arbitration hearings.
He wanted no responsibility for any of the mining activities taking place on his property, so he rejected settlement money awarded following the hearing. "They can do what they want, but I won't have any part of it. I won't accept their money -- I refuse to be held complicit in their liability and responsibility."
Falkoski, 80, is fuming about the way the provincial government has dealt with his dilemma. Drawn out discussions and tribunal hearings through the mines ministry have failed to protect his now radioactive and barren rangeland.
Falkoski believes his experience with government officials reflects a Ministry of Energy, Mines and Petroleum that is unable to effectively manage the industry it governs.
What's more, he believes the regulations fail to fairly protect the rights of private landowners and the public's health.
It's a complex story that now involves citizens throughout the Kettle, Similkameen and Okanagan valleys who dread the growing exploration and mining in an area rich with radioactive minerals.
Falkoski once helped miner
Falkoski's problems began with a single miner named Byard MacLean, who arrived on Falkoski's land in the spring of 2003. Falkoski did not own rights to minerals beneath his land; MacLean had purchased an option from a third party allowing him to prospect there.
"Byard never got a local number, hotel, anything," Falkoski recalls. "Never talked about his past, never talked about landowner compensation or any kind of agreement. But I assumed that when he decided he was going to go through with this, we'd get to that stage," said Falkoski.
In the meantime, Falkoski says, MacLean slept in his car, worked alone, took core samples from his claim, and accepted Falkoski's water, advice, company and the use of his storage shed.
Barite is a mineral popularly used as an ingredient to lubricate oil and gas drills. It's not radioactive, but is often found in radioactive soils, as was the case on Falkoski's property.
MacLean was the first miner in nearly a decade to actively pursue the barite claims on Falkoski's property, and Falkoski at first had few qualms. MacLean took core samples, which required a lot of water, and Falkoski trucked water to MacLean all summer. MacLean removed topsoil by washing it down the mountain with hoses. Though he destroyed the potential for plant life to grow in the area, Falkoski did not complain. When the weather turned cold in the fall, MacLean packed up and left Rock Creek.
He left the property peppered with holes, and dotted with dozens of core boxes. In the November snow, Falkoski lugged the 60-pound boxes into his shed away from his animals. The law doesn't require miners to remove core boxes from rangeland, even though they often contain dangerous minerals.
Falkoski was irritated, but the spring of 2004 brought new problems. Rock Creek was facing a drought, and MacLean's drilling method could not be supported by the nearby pond. Falkoski stopped trucking in water, and MacLean switched to a new method of drilling that carved holes just six inches in diameter but nearly 60 feet deep. Rather than refill them, MacLean plugged most with branches, stones or logs. Some just gaped. Debris from the exploration -- both drilling and backhoe scraping -- was left in heaps. Falkoski suspected it might be radioactive, given the geology of the area.
A 10,000-tonne plan
Then MacLean announced that he would remove 10,000 tonnes of barite. He commissioned a backhoe operator to clear a path for a large drill. Rather than log the timber, a backhoe simply tore away at the trees, making ready for a 60-foot pit. Falkoski says he insisted the planned pit be refilled with clean gravel and good topsoil, but MacLean responded that he couldn't afford to do that. The Mines Ministry just required the hole to be sloped.
Falkoski also worried that MacLean intended to pull far more rock and ore out of the ground than his permit application indicated.
The ministry allows miners to extract up to 10,000 tonnes of bulk ore to test for its quality and assess the processes required to separate the minerals from the rest of the rock. MacLean specified in his permit application that he would be extracting up to 10,000 tonnes of "direct-ship barite."
As Falkoski explains it, 10,000 tonnes of barite of "direct-ship" quality would require closer to 30,000 to 50,000 tonnes of bulk ore excavation. Falkoski considered MacLean's plan an abuse of the exploration system. No red flags were raised in the Mines Ministry, as direct ship is a fairly common specification on permit applications. It usually indicates that the mineral is of such good quality that no processing is necessary. Falkoski is certain this is not the case, and Zena spokespeople have said they do not yet know the ore's quality.
What's more, extracting and milling 10,000 tonnes of barite -- an amount that would fill about 700 pickup trucks -- promised to be a messy and complex process. MacLean intended to grind the ore right on Falkoski's ranch and then truck it into Rock Creek for milling.
The proposed mill site was less than one kilometre from the local elementary school, stirring much concern in the community (see sidebar).
Falkoski had not yet learned what he would discover later -- that MacLean had been president of a B.C. gold mining enterprise that ended in bankruptcy in 2000, just when big reclamation expenses were due to be paid.
Nevertheless, he worried about the effects of the mining project, and whether MacLean would do the job right.
Radiation present
At that point MacLean had done no radiation testing at all, even though the Kettle River area is known for its high presence of radon, a radioactive gas linked to lung cancer, emphysema and other respiratory diseases. The dirt is laced with uranium and thorium, which release radon at elevated rates compared to most places, about five times the exposure recommended by Health Canada. Falkoski suspected that debris from the work had even higher radiation levels than the surrounding ground. He asked MacLean to test -- a request that MacLean denies fulfilling.
When MacLean started shaving off the tops of knolls without asking, Falkoski says, he lost patience and turned to the Mines Ministry for help.
Meanwhile, the hazardous minerals piled higher and the six-inch-wide, 60-foot-deep holes throughout Falkoski's cattle range remained unreclaimed. Spring rains filled sumps that MacLean left unfilled and cattle drank from them.
Then, Falkoski says, three cattle fell ill. They all died the next winter. "I've never had an animal get sick and die on my land, except after these drill cuttings were left out over the winter," he said. The cuttings that MacLean had left on the property contained silica sediment and uranium -- both dangerous when they contaminate drinking water. Two more cattle were crippled when they fell into uncovered drill holes. When they failed to recover, they were both shot.
Stop-work order circumvented
That June, the day before MacLean was set to begin extracting his 10,000 tonnes of barite, Falkoski called in provincial mines inspector Steven Wuschke. Falkoski showed him the damaged trees and land and asked him to take radiation readings.
Testing performed by both Wuschke and, later, MacLean's mining company, confirmed that levels of uranium and thorium were elevated in certain excavated areas. But the B.C. Centre for Disease Control deemed the levels too low to pose a threat to the public. The Mines Ministry considered the case closed, but Falkoski claims the readings aren't accurate or representative. There is a spot on his property about a mile from the barite deposit that he says shows Geiger counter readings of 800 counts per minute -- eight times what the government's readings indicated. The government knows nothing of these readings, though, and Falkoski has not presented them to the Mines Ministry.
Regardless of the dispute over radiation levels, Wuschke wasn't satisfied with the condition of the property left by MacLean. In July, the inspector issued a stop-work notice to MacLean and demanded full and satisfactory reclamation of all the exploration damage before mining could recommence.
In a letter to MacLean, Wuschke wrote, "the landowner is very dissatisfied with the current state of affairs," remarking that he would be "directing the regional permitting staff to forgo the issuance of any further permits or authorization under the existing permit."
Zena in the picture
However, there was another player in the mining claim that Falkoski had not yet encountered. Zena Capital Corp. had invested in MacLean's mining venture in the summer of 2003, according U.S. and Canadian records.
When Wuschke's stop-work notice was issued, MacLean left the project.
Three months later, Zena, which began publicly trading on the TSX Venture Exchange in April of 2004, filed a permit application almost identical to MacLean's -- handwriting and all -- attempting to override Wuschke's order. The new application, signed in September 2004, was the first indication to Falkoski that MacLean's backing company intended to mine, even though it didn't have a miner.
Accountants Terry Amisano and Kevin Hanson had created Zena Capital Corp., first as a tech venture, which fell through, and then as a mining company to develop MacLean's barite claims.
Though no mining has occurred since MacLean's 2004 departure, Zena's stock has increased in value seven-fold. Yet in reports to the Securities and Exchange Commission filed in April of 2005 and 2006, Zena's auditors, Morgan & Co., expressed "substantial doubt" about Zena's ability to continue existing. The report stated the company "has incurred substantial losses from operations, has yet to achieve profitable operations and is in the process of exploring its mineral properties and has not yet determined whether these properties contain ore reserves that are economically recoverable."
Hanson failed to return over a half dozen Tyee phone calls and e-mails, and Amisano, reached by phone, refused to answer any questions.
Money returned
Falkoski had seen MacLean fail to reclaim damage done to his land by exploration work. Then Zena began pressing forward, filing a complaint against Falkoski with the Mines Ministry.
At a hearing on June 28, 2005 in Fort St. John, mediation board chair Ib Petersen could not promise Falkoski that his land and watershed would be safe, he couldn't address community health issues, and he couldn't compensate Falkoski for lost cattle. Zena, he ruled, would only pay for the land, the timber and the time they spent on the property.
In a follow-up hearing five months later, arbitrator Paul Love refused to accept any testimony regarding or complaints against the validity of the permit issued to Zena or the evidence of environmental risk.
In much the same fashion that Petersen did, Love ordered Zena to pay Falkoski a $5,000 advance, to be augmented annually with a $1,700 per acre land fee, and $1 per foot of timber logged or destroyed. Additionally, Zena was ordered to pay the ministry a $10,000 security deposit for future reclamation work. Falkoski didn't think $10,000 would cover the damage if Rock Creek suffered silicosis or radiation poisoning.
The board also ordered reclamation to be completed "immediately."
Regardless, Falkoski wouldn't take the money, because the board wouldn't address the community's concerns about watersheds, schools, silica dust and radiation.
Zena mailed Falkoski a cheque several times, and each time Falkoski returned the envelope, unopened.
Eventually, Zena sent a local bailiff to deliver the cheque. Zena Chief Financial Officer Roy Brown says Falkoski "attacked" the bailiff. Falkoski's version is that the bailiff wouldn't get off his property, and in the ensuing confrontation, the bailiff's shirt was torn and Falkoski suffered a fat lip.
"You ain't seen nothin' 'til you've been cranked through the wringer by the mediator and then the arbitrator from the [Mines Ministry] board at Fort St. John," Falkoski says.
Ministry: 'We are satisfied'
Mines Ministry media relations officer Tamara Little told The Tyee: "We are satisfied that the mediation and arbitration process functioned as designed in this case, and would anticipate their terms and conditions are being followed." As such, she says: "The company is continuing with their exploration under permit and terms and conditions set by the Mediation and Arbitration Board."
When asked how the government will ensure that reclamation is done, Little said the ministry was "finished corresponding with The Tyee" and refused to comment. She also refused to explain who oversees the permitting process, resolves permitting conflicts and ensures that problem miners are not issued permits.
These days in British Columbia, the government's ability to ensure reclamation is no sure thing, according to John Errington, who until last year was responsible for reclamation oversight for the ministry.
Errington spent 28 years in the Mines Ministry, writing guidelines for reclamation plans and researching reclamation. At a conference in 2001, he noted that B.C. still had a great deal of work to do before reclamation work fit the public's standard. He also acknowledged that "frequently" mine owners cannot be held accountable for the damage they cause. They challenge liability, lack the cash to pay for the damage, or just fail and resurface in new companies.
Errington told The Tyee that in some instances "there's nothing there to fine."
Company in debt
Zena's latest quarterly report claims the firm, in debt over $500,000, is set to begin mining. They have little reclamation left to do, as Falkoski and friends did much of that in the past two years, but Falkoski says Zena has plans to dig up his land.
In September, Zena successfully applied for a court-ordered injunction against Falkoski, allowing its workers to enter his property. Then the company applied for a new permit -- this one for just 50 tonnes of ore -- and hired a local contractor to excavate the three truckloads of rock.
In recent weeks, Zena staff failed to return a final round of e-mails and phone calls from The Tyee inquiring into the company's plans for Falkoski's property.
Falkoski finds a somewhat tarnished silver lining to the fact that the courts have ordered him to allow Zena on his property. If the mining churns dust and radioactivity into the environment, "It's taken all of the responsibility off me," he says. He cannot be held accountable for any damage they do to the property. "And that's fine. That's great."
'I will not stand by'
In the course of his 80-year life, Joe Falkoski lived in Saskatchewan and various parts of British Columbia and worked as a welder, logger, computer operator and, yes, even a miner before settling 25 years ago in the sage dappled hills near Kettle Valley.
The idea, he says, was, "to get back to my roots and heal awhile."
Instead, he says, he's taking a beating. "I'm not a youngster. But I will not stand by and see injustices."
The dispute he has with MacLean and now Zena, says Falkoski, "are resolvable in a genuine and honest one-day sit down. I have always operated on a handshake and if I could trust these bastards, I would have."
He adds: "I retired to this farm to enjoy the forest and land, not have to fight for it. As I said to my lawyer not long ago, 'I've had 25 years of paradise here, the farm is up for sale, now we fight!'"
As for Byard MacLean, for months in the preparation of this story, he was off in Africa. Finally, as the story was going to press, he was reached and asked for comment on the situation. His response: "If you're casting around for a story, then you've got the wrong cowboy, so goodbye."
Related Tyee stories: