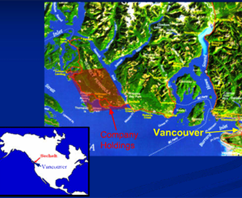 Gordon Campbell staked his tenure as Premier on streamlining the regulatory environment for miners and other resource-based industries. Now a Vancouver start-up has taken advantage of Campbell's loosened mining regulations to stake a claim to the rocks and minerals that lie beneath his Sunshine Coast summer home.
Pan Pacific Aggregates PLC holds a mining claim that, if developed, could grant the right to mine beneath Campbell's low-slung Halfmoon Bay estate. Pan Pacific's 19,320-hectare claim envelops nearly all of the southern half of the Sechelt peninsula, from which the company hopes to extract billions of tons of limestone, dolomite and industrial minerals.
While it's unlikely this speculative venture will ever tear into the premier's manicured lawn, the development of a large-scale mine on the peninsula could ultimately transform Halfmoon Bay from a sleepy seaside town to a dusty industrial district.
The story of how this small company turned a few hours of online mining into a claim on billions of dollars worth of resources illustrates the degree to which Gordon Campbell and his team have sped up the process of shifting BC's resources into private hands.
Free entry via internet
Pan Pacific's audacious claim was facilitated by BC's mining laws, which trace their roots to both feudal Britain and frontier BC. From British law came the assumption that the Crown owns everything. The Crown retained subsurface rights when it first sold property, and those rights remained intact as title passed from one property owner to the next. As a result, very few BC landowners own the rights to what lies beneath.
From the Gold Rush era came the notion that mines lured settlers, railroads and investment to the frontier. Prospectors lured mines. So in order to induce prospectors to scour the colony, the Crown granted "free miners" the right to dig wherever they chose –– regardless of who held the surface rights –– and promised to convey subsurface rights to whoever staked a legal claim. BC's "free entry system," enacted in 1859, became a nationwide model.
Lawmakers in other provinces have since recognized that Canada is no longer a frontier. In Ontario, for example, clashes between miners and cottage owners are leading to a rethinking of the free entry system.
But Gordon Campbell chose the opposite path when he and his 76 fellow Liberal MLAs took command of the Legislature. Instead of reexamining the role of free entry in the 21st century, Campbell dynamited the barriers to free entry that had been erected during the last 146 years.
"Our resource industries were the critical foundation of our past, and they are the foundation of our future," Campbell said in 2004 at a news conference announcing new regulations. The Ministry of Energy and Mines boasts that since taking office, the Campbell team has "eliminated more than 300 regulatory requirements, resulting in a more streamlined regulatory environment."
A few examples:
— In 2002, the Campbell government repealed a section of the Mineral Tenure Act that had prohibited mining companies from interfering with private landowner activities. The amendment also prevents the Mediation and Arbitration Board from denying access to mineral claims –– even in instances where the mining activity would affect private business operations.
— In 2003, Campbell's team rewrote the Mineral Exploration Code. Restrictions on radioactive pollution were loosened. Rules about building environmentally friendly access roads were eliminated. And the distance a mining operation must be set back from a wetland or stream was reduced from 50 to as little as 10 meters. — In 2004, Campbell created a new cabinet position, the Minister of State for Mining, and appointed Prince George North MLA Pat Bell to the job. (Bell had no mining experience, but does own two Wendy's restaurants.) As a result, the mining and forestry industries each have two voices in Campbell's cabinet, while the abolished environment ministry has none.
— And on January 12 of this year, BC replaced its traditional claim staking method with an Internet system. No longer do free miners need to drive actual stakes into the ground to mark their claims. Nor do they have to walk into one of the two provincial Mineral Titles offices to register. Since January, all a registered free miner needs to do is to log in at Mineral Titles Online and stake a claim with the click of a mouse.
"By lowering taxes, reducing regulations and continuing to be on the leading edge of technological and service delivery innovation, we are setting the stage to more fully develop the tremendous mineral wealth of our province," Minister Bell wrote in his recently released BC Mining Plan. "As a result, mining exploration activity in British Columbia has more than tripled since 2001."
Half of Sechelt peninsula claimed
Pan Pacific Aggregates was ready. The fledgling company staked 51 claims on the day the Mineral Titles Online system opened for business. By the time darkness fell that January evening, the Vancouver-based firm had staked the subsurface rights to a swath of the Sunshine Coast that reaches from West Sechelt to Pender harbour.
There are no records that show Pan Pacific has ever operated a mine –– or anything else, for that matter. There is no record that indicates whether Pan Pacific ever visited the property it staked. But records on the Mineral Titles Online website do indicate that Pan Pacific is a registered client (no. 200075), and that the firm has a legal claim to the rock and minerals that lie beneath nearly every piece of property on the southern half of the Sechelt peninsula.
By no means was Pan Pacific the only "miner" to stake a piece of British Columbia during what amounted to an online gold rush. During its first week of operation, Mineral Titles Online received 2.56 million hits, and a total of 3,110 claims were acquired. By March 31, some 2.2 million hectares of land had been staked online. By comparison, only 1.1 million hectares were staked in all of 2004 formerly regarded as a boom year.
Pan Pacific estimates it will find three billion tons of marketable rock and minerals within its claim, according to a presentation on the firm's web site. That estimate includes 200 million tones of limestone (used to make cement), 200 million tons of dolomite (a paper filler and coal additive), 20 million tons of garnet (an industrial abrasive) and 5 million tons of wollastonite (paint filler), among other aggregates and industrial minerals.
The Pan Pacific presentation boasts that its major deposits are among "the only known tidewater resource on the West Coast of the Americas," and its development strategy calls for sales to the western U.S. as well as the Pacific Rim countries. The 12-page presentation, which appears aimed at potential investors, describes "the company's 52,000-acre property" and includes an aerial map on which the entire southern half of the Sechelt Peninsula is identified as "Company Holdings."
While that claim might come as a surprise to the thousands of British Columbians who own property there, Pan Pacific's mining claim is nonetheless legal. Under BC's mining laws, neither Pan Pacific nor the province is required to notify surface-rights owners when a claim is staked beneath their property.
Pan Pacific President Alan J. Whitehead did not return six messages left at his Vancouver office between Friday morning and Monday afternoon. (Though when this reporter explained that the call involved the staking of the Premier's cottage, the receptionist exclaimed, "Oh my God! Oh my God!")
Company's options
What might be Pan Pacific's next moves?
— Pan Pacific has the right to explore its claim, and test its resource estimates. In many cases, such exploration evades environmental review. So, fore example, if work performed further inland were to send mud or toxic debris flooding down the small creek that flows just north of Campbell's property, the Premier would have little recourse –– except to discourage any youthful visitors from playing in the water.
— The next likely step for Pan Pacific would be to apply for a mineral lease. Under BC law, the government had no discretion to refuse such a lease. And as was the case when the claim was filed, neither Pan Pacific nor the province need bother to notify Campbell or his neighbors that the minerals beneath their property had been sold.
— Once Pan Pacific has its lease, the company can apply for a permit to begin mining. This is the only point in the process at which Pan Pacific's plans would be subject to provincial review. However, recent changes to the law now give the province power to exempt some mines from permit requirement s.
— If Pan Pacific wants to dig an open-pit mine, the company will need to secure surface rights. Once again, BC law provides private landowners no legal means of denying Pan Pacific access to their property. (The "I'll never sell" option only works in movies.) All the BC government will do is arbitrate how much money Pan Pacific must compensate property owners for the use of their land.
Dollars and sense
Ultimately, it is the cost of compensation that will likely protect Campbell's waterfront home from Pan Pacific's bulldozers. There probably isn't a million dollars worth of minerals under the Campbell cottage, which slouches atop a massive rock jutting into Halfmoon Bay.
But Campbell's less well-heeled neighbours might want to consider what happened to Warren and Carolyn Bepple. The couple was forced off their Kamloops ranch to make way for a kitty litter mine. After losing a ten-year-long courtroom battle, the Bepples were ordered to accept $60,000 in compensation for the loss of their grazing land, woodlot, sawmill and cabin. Western Industrial Clay Products http://www.wicp.com/ has already begun strip-mining their 20-hectare property for "diatomaceous earth," which the company will use to make Wunder Cat, Kozy Kitty and Cattitudes brand kitty litter.
Bepple's cabin was a secondary residence; they lived in another house about 15 kilometers away. As such it was apparently not protected by a rule prohibiting mining within 75 meters of a dwelling. That regulation is one of the few that Campbell preserved.
Monte Paulsen is managing editor of The Tyee's Election Central.