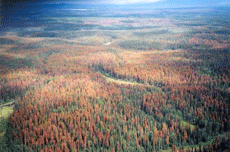 As mountain pine beetles continue to munch their way through B.C.'s forests, logging companies are ramping up operations in order to harvest the millions of hectares of dead trees left in their wake.
The epidemic has been a boon for the logging industry in B.C., which outperformed every other region in the world last year, according to PricewaterhouseCoopers. But many are wondering what will happen to communities in infested areas when the industry's honeymoon with the pine beetle is over.
"The bust is likely to be quite profound," said Ben Parfitt, a resource policy analyst for the Canadian Centre for Policy Alternatives. Past resource failures in the province have meant "communities have to go through a lot of pain and slow rebuilding."
Seed money belies 'doom and gloom'
Len Fox, Mayor of Vanderhoof and one-time Reform Party MLA, takes a slightly more optimistic view. "It's certainly isn't doom and gloom," he said. "Quite the contrary."
Fox and representatives of communities from Prince George to Smithers have formed a coalition, and they plan to present a proposal to Premier Campbell this month. The group is hoping for seed money to manage the land and diversify their economies.
"There are a whole host of opportunities," said Fox, citing agriculture and tourism along with a continuing logging industry.
When will boom end?
In April, the provincial government committed $50 million to a pine beetle trust fund administered by the arm's length agency, the Northern Development Initiative.
Fox is confident that, with enough support from the provincial government, Vanderhoof and other towns will be able to prepare for the inevitable downturn in logging even while they reap the rewards of the boom. He said that money invested in mills in Vanderhoof has already translated into jobs and he expects the local economy to continue to benefit for the next 20 to 25 years.
Others predict the boom will last for a considerably shorter period of time. Craig Campbell of PricewaterhouseCoopers told conference-goers in Vancouver in early June to expect mill closures in 10 years, the Canadian Press reported.
But Lee Coonfer of the forestry giant Canfor said that while "there are going to be people shifting employment from one sector to another," mills will not shut down since there are other species that can continue to be logged.
Upgrade and downgrade
Canfor is pouring $100 million into upgrading its Vanderhoof sawmill. It wants to increase its capacity to harvest pine in the area, one of three that saw their annual allowable cut (AAC) raised last year. The move was applauded by many in the logging industry who maintain it is necessary to harvest as much of the dead pine as possible.
"We either go in and use that fibre or it's lost," said Coonfer.
The Ministry of Forests is now considering raising the AAC in the Merrit timber supply area. But cut levels in some areas are already too high according to some environmental groups. "When you remove that much you're going to impair the ecosystem's ability to recover," said Justin Calof of the Sierra Club's BC chapter, who criticized the research underlying the ministry's decision-making process. He said that due to layoffs over the past few years, the ministry does not have enough staff to do proper research.
Who will share the pain?
Calof added that neither government nor industry is adequately preparing British Columbians for the inevitable and drastic decline in logging revenues. Instead, he said, many communities are becoming even more dependent on logging as investment in the industry continues.
Coonfer said that upgrades to mills such as the one in Vanderhoof are necessary in order to handle beetle pine, which cannot withstand rough treatment like healthy timber. He said the Vanderhoof mill, which is currently running around the clock, will scale back to two shifts within ten years as the pine runs out.
Coonfer added that Canfor's increased production has benefited communities. "When the company does well, money flows into its operating areas."
But Quesnel NDP MLA Bob Simpson believes that restructuring of the forestry industry under the B.C. Liberals has prevented communities from receiving their fair share of the profits from logging. "The way that the interior forest industry has been restructured is to the benefit of corporate interests and to the detriment of the community," he said.
"We need to give those communities the resources to prepare for the fallout," said Simpson.
Bugs could go national
If the staggering reach of the epidemic is any indication, the fallout may be just as dramatic for logging communities that are highly pine dependent. Some forest districts rely on pine for up to 80 percent of their annual timber harvest.
The mountain pine beetle infestation now covers more than seven million hectares, twice the size of New Brunswick. Government, industry and environmental groups agree that at least 80 percent of BC's pine trees will be dead within a decade. And the experts also agree that at this point the mountain pine beetle is unstoppable in BC.
In fact, the great fear is that the pine beetle epidemic could go national. For the past five years Alberta has banned imports of B.C. pine, but outbreaks still occur from time to time, whether from native beetles or those that have flown over the Rocky Mountains, which have traditionally acted as a buffer to keep the beetles in the west. Cold weather has thus far prevented a major pine beetle epidemic outside of B.C., but some researchers say it could be just a matter of time.
A man-made problem
"I think it's pretty much accepted now that global climate change is happening," said Staffan Lindgren of the forestry department at the University of Northern B.C. (UNBC) in Prince George. "In the boreal forests temperatures will be warmer."
If temperatures fail to hit minus 40 degrees for the one to two week periods necessary to kill pine beetles, the infestation has the potential to swallow pine forests throughout Canada.
"If it continues to spread east from where it is now it'll get into jackpine, and jackpine are spread across the continent," said Lindgren.
Pine beetles are not the only entomological threat to Canada's forests. The Yukon is now struggling to contain a spruce beetle outbreak that has gobbled up 300,000 hectares in the southwest of the territory.
Although cold weather has historically contained mountain pine beetles, which are a natural part of the ecosystem, rising temperatures are not the only cause of the current outbreaks. Mismanagement of B.C.'s forests has also played a part, researchers say.
Along with cold, periodic fires are another way nature keeps beetles at bay, but increasingly effective fire fighting techniques have allowed pine forests to expand over more and more territory. This has created a belt of older pine, which are more susceptible than young, allowing pine beetles to spread like wildfire throughout the interior.
Crisis creates opportunity
In order to manage the mountain pine beetle, experts say that the forests of the future must be diverse in both species and age. But that is a long-term goal. "This is a problem that has been created over 50 to 80 years and we can't get rid of it in five," said Lindgren.
He also pointed out that forestry policies have contributed to an overabundance of pine. Logging companies are required by law to replant areas they cut. They are responsible for the cost of maintaining the young trees until their growth is no longer threatened by other species and they are deemed "free to grow". At that point the land becomes the responsibility of the crown.
Since pine are highly adaptable and fast growing, logging companies have over-planted the species in order to reach "free to grow" status more quickly. In some areas, where pine have been planted in wet ground more suited to spruce or hemlock, the practice has also led to fungal disease outbreaks, Lindgren said.
The mountain pine beetle epidemic is only the most obvious effect of mismanaged forests, according to Greg Halseth who holds the Canada Research Chair in Rural and Small Town Studies at UNBC. "Even without the pine beetle we are going to have to pay for bad behaviour," he said.
But like Len Fox, Halseth sees a silver lining to the ever-rising sea of red that engulfs B.C.'s interior as more and more pine trees succumb to their miniscule foe. "It shouldn't be read as a doomsday scenario," said Halseth. "It should be read as putting some pressure on the things we need to do."
He said that rural communities have long recognized the need to diversify their economies, but in the past they lacked support from the federal and provincial governments to do it. But the pine beetle epidemic has changed all that. "Now I think there's a willingness from both governments to be of assistance," said Halseth.
We'll have 10 years to find out if he's right.
Jared Ferrie is a freelance journalist who has planted many pine trees, but prefers fir.