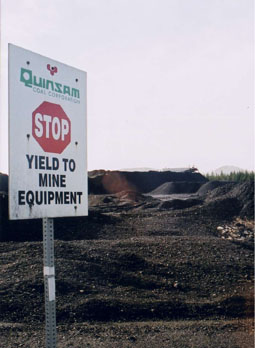 How did Canada's last underground coal mine, 20 kilometers outside of Campbell River, suddenly get "moved" inside that town's borders? The answer makes for a tale of heated political wrangling. And it highlights tough tradeoffs in B.C.'s faltering rural economy. How to weigh new energy sector jobs against the pollution they create? And who gets to decide?Quinsam Coal thought they had a perfect solution for what had been a struggling operation. Rather than hauling coal from the mine - 20 kilometres west of Campbell River - to a barge and then shipping it to clients, why not burn it right at the source? In the summer of 2002, Quinsam Coal mounted a flashy presentation at the Coast Discovery Inn in Campbell River to share their new vision for economic development in the area: a coal-fire electricity generating plant.Not everyone was enthusiastic. Since then the company has been involved in a public disagreement with the Comox-Strathcona Regional District, who believe a public review should be undertaken before Quinsam Coal gets the necessary rezoning.That dispute ended on March 7, when Community, Aboriginal and Women's Services Minister Murray Coell performed an act of bureaucratic magic and allowed the mine to shake itself free from the regional district and amalgamate with the Campbell River municipality. The new arrangement, which Coell calls an "umbilical cord boundary", puts the mine in the jurisdiction of the pro-business town council.In the face of an international trend toward phasing out coal power, British Columbia just moved one step closer to getting its first coal-fire plant.Way down in the mineThe Quinsam Coal mine isn't pretty, with slippery clay roads, towering piles of rough coal, and a vast open pit that was dug before 1994. To get to the latest excavation you take a big, lumbering, orange beast of a shuttle car for a 20-minute ride down through the dark, rough-hewn tunnels. At the end of one tunnel, about 200 feet underground, a miner focusses a jittery headlamp on his clunky remote control. Beside him a 20-foot long machine, with metal teeth the size of beer bottles, lurches toward the ink-black wall of the coal seam.This kind of mining requires a unique set of skills, says Norm Johnson, the safety and training supervisor for the mine. For that reason, the miners tend to be older fellows who have hopped from mine to mine over the years. "This is the last underground coal mine in Canada," says Johnson. "For a lot of us this will be the end of the road."The mine is more likely to shut down for economic reasons rather than exhaustion of coal reserves. In recent years coal prices have dipped, and for a long time Quinsam ran at a loss. It went into bankruptcy protection in 1999, and creditors had to submit themselves to being paid out at pennies on the dollar. David Slater, CEO for Hillsborough Resources, which owns Quinsam Coal, calls the stretch of years "a black period in my life."Business has perked up a bit for Quinsam Coal, but the Holy Grail for the company would be a long-term, secure, proximal buyer. In other words, an onsite power plant.Brenda Leigh meets me at a fish and chip shop in Campbell River, and brings with her a manila folder of files related to Quinsam Coal and the running dispute. Leigh has been on the Comox-Strathcona Regional District (CSRD) board since 1993, running on the campaign slogan "keep Area D rural." Electoral Area D happens to include the Quinsam coal mine, and Leigh's first thought, when she heard about Quinsam's plans to build a coal-fire plant, was, "Well, you might want to check with your neighbours first."According to Leigh, the CSRD already had a bylaw amendment in the works that would address this kind of situation. The amendment would mandate a public hearing process to allow residents to express concerns over new large utility developments.Forcing a public hearingRound One of the dispute between the regional district and Quinsam Coal was over this amendment. David Slater believes that the amendment was put forward to block the coal-fire plant. A public hearing was held last spring to discuss the amendment, says Slater, and the majority of people were firmly against it.
Leigh describes the event differently. Before the meeting began, Quinsam miners and their supporters held a placard-waving demonstration and then packed the hall. The meeting itself was quite raucous and intimidating, says Leigh.
Jim Abram, chair of the CSRD, believes that many people who attended the meeting had been convinced that the amendment would endanger their jobs. "It was just fear-mongering," he says. "We are not anti-business. We just thought people had a right to voice their concerns about new developments in their neighbourhood."
When the amendment came to a vote on March 31, 2002, a bloc of Campbell River representatives on the district board walked out, hoping to derail the vote by breaking quorum. The tactic didn't work. The Campbell River board members - including Mayor Lynn Nash - stood outside in the rain asthe amendment passed.Round One went against the coal mine."Business friendly' town council reaches outQuinsam Coal now faced a public hearing over the coal-fire plant. It was a daunting prospect. The regional district board had shown that they wouldn't be intimidated by Quinsam and its supporters. And a new coal development might not fare well in a public hearing. The Quinsam mine is situated at an environmentally sensitive point in the Quinsam watershed, upstream from the thriving Quinsam River salmon hatchery. (The Quinsam is one of few rivers in the area that still has a healthy salmon run.)What's more, burning coal has come to be associated with some foreboding phrases, like "acid rain" and "mercury poisoning" and, these days, "global warming.""My own personal philosophy," says CSRD chair Abram, "is that burning anything these days, when our survival as human beings is threatened by global warming, should be looked at pretty closely."My professional opinion is that what happens at the Quinsam mine site should be governed by rules and regulations. And we needed to look at how a new development might fit into the planning for the area. Will there be sufficient infrastructure? Are there traffic concerns? What do neighbours think? We needed to look at those questions."Slater was convinced that members of the regional district would thwart any attempt to build a coal plant. He turned to the Campbell River council, which had signalled that it would happily accommodate Quinsam's goals. The mine site applied to the province for "satelliteamalgamation" status. If granted, Campbell River could decide whether the site could be zoned for an electricity plant. As a bonus, it would collect taxes from the mine.Abram was appalled. "It's ridiculous that an industrial site 20 kilometres outside town boundaries could be annexed," he says. "You don't want different governments competing for tax bases. You want them to work together for the betterment of the region."For Campbell River mayor Lynn Nash, the deal was a no-brainer. "Quinsam Coal didn't see the regional district as being as business friendly as us," says Nash. "And we're happy to have them. We increase the tax base.and we don't really have to provide any services, except maybe a little extra policing."'Not dinky little McJobs'The Quinsam mine pays a little over $30,000 in property taxes-a tiny fraction of the budgets of either the regional district or the town of Campbell River. But for Mayor Nash, the bonanza would come as jobs. Quinsam Coal has suggested that an electricity plant would mean employment for about 50 people. "These would be real, high-paid jobs," says the mayor, "not dinky little McJobs."But shouldn't people who live in the electoral area that contains the mine be consulted about the development? "That's a good question," says the mayor. "But the provincial government, in its wisdom or lack of it, decided that this is what Quinsam Coal wants to do, and since Campbell River doesn't have any objections, they made it happen."According to Minister Coell, the precedent for the amalgamation was set when the Island Copper Mine joined with Port Hardy in 1971. It's been invoked twice more since then. The idea behind the amalgamation, he says, is that the municipalities provide the majority of services for the mine and its employees, ranging from shopping to recreation centers. As a result, the municipality deserves the tax revenue and decision-making power.Besides, says Coell, the local government doesn't need to worry about the environmental impact of a coal-fire plant, since any new development would have to go through federal and provincial environmental assessment processes.Round Two: Quinsam Coal.Round Three will inevitably pit environmentalists against the development of a coal-fire power plant. The possibility of coal-fire power was given a huge boost last fall, when the BC Utilities Commission rejected BC Hydro's application to build a gas-fired power plant at Duke Point, near Nanaimo. BC Hydro put out a tender call for independent power producers on Vancouver Island. Quinsam Coal, partnered with Cincinnati-basedCinergy Solutions, is registered as a bidder. (Bid results are expected in October.)Fired up against coal plantAt the moment, says Slater, the plan is to build a $325-million, 150 megawatt plant that "follows the stringent standards the B.C. government has put in place."He's not likely to get much opposition from the new landlord, the Campbell River municipality. Mayor Nash is satisfied by Slater's claims that technology exists to create a clean-burning coal plant, and he's happy to leave any environmental reviews to the provincial and federal governments. "If the [environmental] permits go through, then I'm all for it," he says.Alex Boston, a policy analyst at the Suzuki Foundation, argues that the provincial and federal regulations leave a lot to be desired."Burning coal is the dirtiest way to generate electricity," says Boston. "Most jurisdictions, even China, are trying to become less coal-dependent. Ontario is trying to phase it out completely. It's distressing that beautiful British Columbia might revert to a 19th century meansof energy production."Technological improvements have reduced - though not eliminated - pollutants like mercury, sulfur, and particulate matter. Not much can be done about greenhouse gas emissions, however, and coal produces more greenhouse gases per unit of power than other conventional energy sources.Slater is aware of public concern over greenhouse gas emissions and global warming, but says: "When the lights go out because no one has electricity on the island, even the most ardent environmentalist is not going to be worried about the Kyoto Accord but about how to heat his house."Environmentalists will argue that Vancouver Island could deal with its energy needs through alternative energy sources or conservation policies. But British Columbia is a massive coal producer - according to the Ministry of Energy and Mines, we produce about 25 million tonnes each year - and the Liberal government's November, 2002, energy plan explicitly states that coal power will be considered.Whether or not the Quinsam Coal power plant goes forward, there are sure to be more proposals for coal-fire generators. Until now this dispute has been fought in the Campbell River area, but you can expect that the battle over coal power will soon go province-wide.