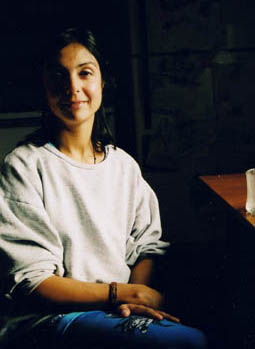 Tourists who visit Lillooet were for many years directed to Hangman's Tree, with its twisted, skeletal boughs and roots that were said to grow through the buried remains of unsuccessful defendants. The site's message: frontier justice was not pretty. Hangman's Tree recently met the executioner's axe (actually, a municipal employee's chainsaw), but suspicious judicial proceedings continue. When the judge comes to Lillooet these days the townsfolk don't expect a hanging, they expect a circus.
More than 100 people cram into two small rooms and wind down the hallway. Lawyers dash in and out of court. Duty counsel desperately tries to offer last-minute guidance to people who have arrived in court with no legal advice or support. Defendants who are representing themselves fumble their way through court proceedings, while the judge and court staff valiantly try to maintain decorum and efficiency.
"It's a zoo," says Yasmeen Grant, a poverty law advocate at the Lillooet Friendship Center. The town bought the courthouse after the provincial government closed it down in 2002, but the circuit court only runs for three or four days a month. It's a rush to get through the caseload, but Grant thinks the real problem comes from inadequate legal representation.
Up the creek without a paddle
"I've seen people go to court for their third or fourth appearance and still not have a lawyer," she says. "They haven't even passed go yet. A lot of people are pressured to make a guilty plea, just to get out of the system."
The Liberal government cut funding to the Legal Services Society of British Columbia - the independent body that supplies legal aid - by 38 per cent, from $88 million in 2001-'02 to $55 million this year. The LSS was forced to slash full-time legal staff from 147 to 21, and replaced 60 offices around the province with nine regional centres. Legal aid is no longer provided for poverty law (which includes issues like tenancy and income assistance) or for family law (except in cases of family violence or when children may be removed from the home.) Criminal cases still warrant legal aid, but, says Grant, the lack of local legal aid offices makes it more difficult to secure and consult with lawyers.
When Attorney-General Geoff Plant announced the legal aid cuts in early 2002 there was a burst of media attention, which crescendoed when the province's lawyers passed a motion to censure him. In an interview with The Tyee, Plant argued that the reduction in legal aid was and is needed to help the government balance the budget, but he also sees it as an opportunity to develop a "new approach to what it means to help low-income people solve their legal problems."
No research on consequences
Since the initial outcry in 2002, no one, including the Ministry of the Attorney General, has done systematic research to determine the impact of the cuts. In an attempt to help fill that gap, The Tyee spoke with legal advocacy groups and with lawyers and law advocates around the province. The interviews echoed Grant's description of inadequate access to justice by the poor and marginalized.
Legal aid cuts hit Vancouver and Victoria as well, but communities outside the Lower Mainland face further challenges, including distant courthouses, lower education levels, limited Internet access to critical information, and economies in flux or a nose-dive. The end result seems to be that if you're poor and rural, justice is not on your side.
Prince Rupert is not a healthy town. When the Skeena Cellulose mill shut down in 2001, several thousand direct and indirect jobs evaporated. Boarded-up buildings appeared on Main Street, houses are being sold for a fraction of their former value, and families are pulling apart. Prince Rupert also has the province's highest rate of child apprehensions, says family lawyer Brenda Muliner-and when a community unravels, the courts tend to get involved. So it was bad timing when the legal aid office shut down in the summer of 2002.
Poor mothers most at risk
Muliner, who was the managing lawyer of the Prince Rupert legal aid office, now spends one day a week as duty counsel at family court. She is paid by the Legal Services Society to offer advice and help to people without lawyers, but she does not provide representation at trial. Clients file by and tell her stories of family chaos and fear of the future and (for them) incomprehensible legal hoops and negotiations. Muliner has time for a brief consultation before they face a judge and, often, a well-prepared legal team. As the cases go by, she sees the "substantial loss of access to justice" that she warned Attorney-General Geoff Plant about when he visited Prince Rupert in the spring of 2002.
The cases that bother her most are poor mothers, unable to get legal aid, who are overpowered by lawyers hired by wealthier fathers or grandparents. "I've seen that happen about six times-when single moms either give up custody or don't fight for access," says Muliner.
She estimates that nearly half the people she sees as duty counsel are functionally illiterate. Many sign their names with rickety letters, like children in grade two. It's painfully obvious that they won't be able to untangle difficult legal and familial issues after a short chat with duty counsel.
"The family duty counsel is a Band-Aid on the dam," Muliner says, "and people are going thought the cracks."
At least people going to family court have access to duty counsel. When it comes to poverty law, most people have no representation at all. Muliner was recently contacted by an impoverished native woman, thrown out of her home on inappropriate grounds. The landlord will probably get away with it, says Muliner, because the woman is semi-literate and has no idea how to fight the eviction.
She also describes cases where insurance companies refuse to honour long-term disability payments. When she used to take on these cases as a legal aid lawyer, the companies would "snap up and pay the bill," but that's not happening anymore.
The attorney-general's two-by-four
Muliner clearly remembers the meeting she and other lawyers had with the attorney-general in the spring of 2002 at the office of MLA Bill Belsey. "He said that he would 'like to hit everyone in family court over the head with a two-by-four,'" she says. "It looks like he is doing just that with his [legal aid] cuts."
Geoff Plant says that the comment, made in "a pretty facetious way," was intended as a criticism of the traditional approach to family law litigation. "Too often family law cases become divisive, arenas of conflict, rather than responsible exercises in solving the problem of how to construct new responsibilities after a marriage or relationship has broken down," he says. "It had nothing to do with whether someone was poor or rich."
Irene Peters, another lawyer present at the get-together, says, "His 'hit them with a two-by-four' remark reflects an attitude that is fairly prevalent with people who haven't practiced law with this group of people. In fairness to [Plant], it was intended to be funny, and it's the kind of thing a lot of lawyers and even judges say. The difference is that he's the attorney-general."
While there has been no systematic research to determine the impact of the cuts, it's not difficult to collect troubling stories. Just call up Dan Webb, a legal advocate at the North Island AIDS Society in Campbell River. He'll tell you about people with Fetal Alcohol Syndrome trying to negotiate the courts with little support, or people thrown out of apartments who don't know how to challenge their evictions.
Or listen to the overwhelmed, panicky voice of lawyer Linda Locke, who is trying to scrounge money together to keep a legal aid office going in Hazelton, despite the loss of government funding. She'll describe men who lose well-paying resource jobs and can't get legal help to lower their maintenance payments, or how people with a sixth grade education are expected to get legal advice from an automated system that bewildered her own paralegal assistant.
Hope has dissipated
For Locke, the worst part is that things were getting better. The Hazelton region seemed to be reaping the rewards of a justice system that helped resolve conflicts in the community before they spiralled out of control. "I was so proud of this legal aid office, and so pleased with what we were doing in this province," she says. "Now it's come to a screeching halt."
To deal with funding cuts and the loss of live bodies, the Legal Services Society has centralized and automated some of their activities. There are 1-800 numbers to call to register for legal aid, now that local offices are shut. There is LawLINE, which offers advice over the phone, and LawLINK, a website that provides information on a broad range of topics. These programs sound sensible and, as field operations manager Heidi Mason explains, the society "can't sit back and complain. We've got to do as much as possible with the resources available."
But when describing the new programs, the society can sound a little like the Black Knight of Monty Python fame: the provincial government hacks a limb off and the LSS hops on one leg and shouts "No problems here. True, we have no poverty law services, but people can still go to our website!"
Unfortunately, people most in need of legal aid tend not to be equipped for self-directed research and legal action. Laurence Scott, chairman of the Legal Aid Committee of the B.C. Branch of the Canadian Bar Association, argues that Internet and phone services provided by the LSS can't fill the gaps created by government cuts. "These new initiatives are inaccessible to a large number of people who formerly accessed the system," he says. "They tend to have alcohol and substance abuse problems, they tend to be illiterate or not have English as their first language, and they're often housebound, or at least without a computers.
"All this aside, you can't just go to a website and download what you need and then go up against a lawyer with 10 years experience," says Scott. "It's a ridiculous suggestion."
Legal pressure planned
Several groups, including the Canadian Bar Association, the B.C. Public Interest Advocacy Centre, and the West Coast Women's Legal Education and Action Fund (LEAF), plan to put legal pressure on the government to restore funding. West Coast LEAF is collecting affidavits from people who may have had their constitutional rights breached by lack of access to legal aid. The affidavits may be used in a test case against the government, or as part of a law reform initiative.
"We've noticed that the impact of these cuts seems to play out more severely in small communities," notes Audrey Johnson, executive director of West Coast LEAF.
The Liberals have shown that they're not easily intimidated, however. When the board of directors of the LSS tried to stand firm against the cuts, the government pressured them to resign and then restructured the board so it would be dominated by provincial government appointees. The Liberals shrugged it off when the Law Society of BC officially censured Geoff Plant, arguing that the attorney-general's cuts to legal aid threatened the administration of justice.
And the government has refused to honour a recommendation made by Plant himself when he was in opposition: that the seven-percent provincial tax on legal services, which was put in place to fund legal aid, actually go to legal aid. When Plant stood up in court to complain, he accused the NDP government of collecting $83 million on the legal services tax and paying out $74 million to the Legal Services Society. Since then the tax has been raised to 7.5 per cent. Revenues in 2002-2003 on the tax were $104.5 million, and for April 1 to December 1st 2003 they were $81.4 million. This year the province gave $55 million to the LSS.
Plant won't promise more money
Plant says that the promise to dedicate those tax revenues to legal aid was made by the previous government, not the Liberals. "You will search the public record in vain for any promise I made or the BC Liberals made to create a dedicated revenue stream in that way," he says. "The amounts collected under that tax are like all sales tax revenue, they go into general revenue."
So does it all come down to dollars and cents?
Geoff Plant argues that a new legal approach is needed to deal with many family and poverty law disputes. "We have made some progress in helping people rethink the idea of legal aid," he says, "to move beyond traditional representation in court, to include offering information and advice, toward helping them solve their own problems."
In other words, he argues that a pitched court battle should be the last resort for many family and poverty law disputes. The reductions in legal aid provide an impetus for reform: Now that many poor people will be unable to get a lawyer for court cases, they will have to find other solutions. (That is, providing their opponent does not hire a lawyer, take them to court, and overwhelm them.)
But, Plant says, "the real challenge was that we ran out of money."
However, many argue that the cuts to legal aid won't save money at all. Laurence Scott believes that people who represent themselves in court slow down the whole system, since judges must take time to explain rules and court processes. "Generally speaking clients who act for themselves take two or three times as long when they don't have a lawyer in court," he says, "and court time is pricey."
Geoff Plant made a similar argument in the provincial legislature back in 2000. He stated that a reduction in legal aid "has redistributive effects and poses additional costs on the legal system," and he concluded that "the system does not get off lightly when the Legal Services Society is forced to cut back on services."
We will 'pay later' for cuts
Patricia MacDonald of the B.C. Public Interest Advocacy Centre in Vancouver argues that the true cost of legal aid cuts will be seen further in the future. "If someone loses their housing due to an unresolved tenancy problem, or if they get kicked off income assistance unfairly, what happens is that they turn to couch-surfing, or imposing on relatives and friends, or moving onto the streets," she says. "In the long-term you have destabilized families, you have children who are hungry or distracted and unable to succeed at school. All of those costs are invisible now, but we'll have to pay them later."
The amount of pro bono legal work in the province has increased over the last couple years, perhaps as a reaction to the decline in legal aid. Pro Bono Law of B.C.was set up in 2002 to help match good-hearted lawyers with needy clients. But, says executive director Pat Pitsula, lawyers are concentrated in the Lower Mainland and it's difficult for them to help small-town or rural British Columbians. "Pro bono work is no substitute for a well-funded legal aid plan," she adds. "That has to remain the priority."
Some critics suggest that the legal aid cuts help the Liberals push through parts of their agenda that are seen as anti-poor. For example, the withdrawal of poverty law services means that the Ministry of Human Resources won't have to face government-funded lawyers when it starts to cut people off welfare under the new two-year time limits.
Problem invisible to middle class
But Laurence Scott thinks that to a large degree the government cut legal aid because they could get away with it. "Most middle-class families don't know the problems of a social worker at their door, threatening to take away their kids, or why it might be impossible to travel several hundred kilometers to get court documents," he says. By contrast, most families will see the state of the health care system, and lobby strongly to make sure it is working.
Yasmeen Grant, the poverty lawyer in Lillooet, argued that there's still a sense of "frontier justice" these days. But now the frontiers are poverty, illiteracy, and a postal code outside the Lower Mainland.
Chris Tenove ctenove@yahoo.com, who has contributed to the National Post, CBC Radio, the Globe and Mail, Maclean's, and Adbusters, files irregular dispatches to The Tyee from around British Columbia.