The largest-ever document leak in history had already begun Sunday as roughly 50 reporters and media observers packed into a room in downtown Vancouver to talk about the future of their craft.
The so-called "Panama Papers" -- a trove of nearly 12 million documents revealing the offshore finances of hundreds of the world's rich and powerful -- took 370 investigative journalists from 76 nations a year to pore through.
The ambitious collaboration was coordinated by the U.S.-based International Consortium of Investigative Journalists.
Although Sunday's leaks weren't on the panel's agenda, the fact that such a mega-collaboration of investigative reporters could immediately grab the entire world's attention would come as no surprise to the panelists.
One of them was Erin Millar, CEO of Discourse Media, a company of journalists and researchers that collaborates with existing media outlets to report on "complex issues," for instance an in-depth project on Metro Vancouver's transportation plebiscite last year.
"We need to be thinking more collaboratively," Millar said. "Even though our industry is very traditional and competitive, we have a lot of resources to play with here. We are constantly churning in this environment of scarcity, but are still sending 10 reporters to cover the same news event.
"How can we collaborate to bring expertise and resources to the table to do work that's ambitious and has impact?"
Support beyond direct subsidies
The panel, titled "The Future of Journalism," was organized by Vancouver Press Club, an informal group of current and former journalists.
Other panelists included Tyee founder David Beers and veteran newspaperman Paul Willcocks, a former publisher of the Victoria Times Colonist who currently assists with editing The Tyee.
Willcocks told the audience via videoconference that the recent spate of layoffs and buyouts at Canada's increasingly concentrated media companies is an example of the "downward spiral" of declining advertising revenues and corporate debt.
"We're at a critical point in this long, slow decline in traditional news media," he said. "Although this is certainly being accelerating... this hasn't just come out of the blue."
Willcocks said that solutions to the current news media crisis, which was recently discussed before a parliamentary committee headed by MP Hedy Fry, could be found through government intervention -- but that doesn't necessarily mean direct subsidies, such as those CBC receives.
He hopes that local and digital media could benefit from tax credits or reforms to how charitable status is issued by the government, for example.
The public broadcaster, too, could potentially be retooled to foster more collaboration with independent, smaller outlets, he said. "There's much governments can do without direct subsidies."
Beers -- who before launching the Tyee in 2003 was an editor at the Vancouver Sun and before that Mother Jones magazine in the U.S. -- said that too much time has been spent bemoaning the death of newspapers.
Instead, the decline of traditional or what he called "legacy" media outlets presents an opportunity for new platforms to thrive.
"We're at a really interesting moment, when we can start thinking about journalism as a conversation -- and small organizations that find the right investors and... stakeholders to fund the production of content to feed into that existing network," he said.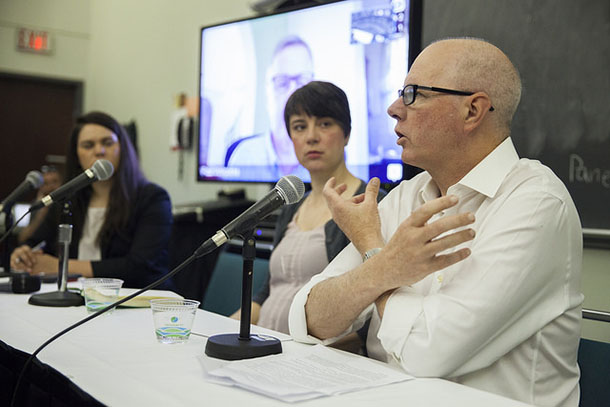 US leads on new investigative models
The panelists cited several examples of emerging media models that Canadian outlets could learn from. Some are new ways of consuming content, such as Blendle, an application that allows users to easily pay small amounts to read content they value.
Millar pointed to Hearken, which allows readers to help set the news agenda for journalists as partners.
On the investigative side of news production, panelists lauded collaborative models such as the International Consortium of Investigative Journalists launched by the journalism non-profit Center for Public Integrity -- which aims "to reveal abuses of power, corruption and dereliction of duty by powerful public and private institutions" -- as well as the investigative non-profit ProPublica.
One example of ProPublica's collaborative successes was an expose last year into the common painkiller acetaminophen, on which it partnered with the popular public radio This American Life and the New York Times.
Clearly, such pilot partnerships are proliferating in the United States. So why, panelists asked, is there such a dearth of innovative partnership north of the 49th Parallel?
It's time, they agreed, for that conversation to begin.