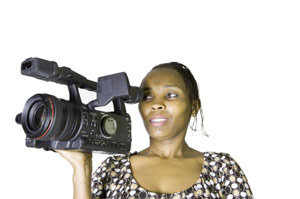 Unbeknownst to most Canadians, cable companies and local community groups have been wrestling for control over community channel assets: the community groups want space on the TV dial and production resources; the cable companies want to call the shots, control the programming, and move their community channels in the direction of commercial television. Approximately $80 million collected annually from Canadians and earmarked for community programming, is at stake.
Meanwhile, the digital revolution is transforming citizens into media producers and every home computer into a virtual television station. In such a radically altered media environment, the question remains: what will community TV be in the 21st century?
Community Media 2.0
Community television is a throwback to a time when cable technology was new and the web was not yet born. It allowed anyone to create a program that could be seen on cable. Community television was the YouTube of its day; but things have changed. Downloading and streaming have precipitated a complicated restructuring of the television industry, brought on in part by new viewing habits. Traditional TV now seems to be on the wane.
But there are some things that are harder for the Internet to replace. Most television takes more than one person to make. The Internet cannot replace the studio space, hands-on training and possibilities for in-person collaboration and mentorship that community television allowed for. And it won't replace the sense of place provided by a community production studio; a space where people can gather, work, learn and create together.
We are at a critical moment when traditional media ownership is more concentrated than ever, and yet we have perhaps the most participatory medium in history at our fingertips. As such, citizens need access to media literacy, knowledge and media production skills more than ever before. And Community Media Centres -- modeled on the idea of recreation centres and local libraries -- may be a crucial piece of the digital divide puzzle.
The physical rendering of the Internet
The Internet has become an engine of innovation, choice and free expression because it is a relatively open platform for citizen engagement and free enterprise. This open platform facilitates free association and collaboration, which then produces exciting projects like Wikipedia, Firefox, and citizen-powered events like ChangeCamp.
As noted in previous columns, various projects in the "terrestrial" world are integrating web practices and values like transparency, openness and participatory decision making, into their work. The new push by groups in many cities to revamp community media centres looks to be part of this larger process of physically rendering the Internet.
Community Media Centres are attracting interest because they are in many ways, a physical mirror image of the Internet. If nothing else, Community Media Centres are an open platform for citizen collaborations of all types. Take a look at the description of soon-to-be launched W2 Community Media Centre in Vancouver:
"W2 will bring together hybrid art forms, community art practices, individual human development and community cultural development in a single environment. It will be home to a diverse grouping of Vancouver arts and community service organizations offering developmental programs in writing, radio and television production, painting, sculpture, photography, mixed media, video and cross-media."
Like the Internet, W2 will allow community members to engage at a level with which they are comfortable, and to freely develop their own ambitions and capacities. The Internet is nothing if not an online space where intrinsic motivation and open communication encourage and enable personal and collective exploration, collaboration and creativity. Community Media Centres could be the offline world equivalent of this open space, or rather a site where the offline and online can effortlessly merge. They are, in a sense, the next phase of social media, bringing to life the collaborative potential of the Internet in physical production spaces that mirror the complicated technological capacities of commercial studios.
Allocating community funds to communities
This fall, the CRTC will reconsider the role of community television in Canada. And they will ask Canadians what should happen with community channel policy. CACTUS (the Canadian Association of Community Television Users and Stations), an innovative group based in Ottawa, is putting forward a proposal for community channel money to be used to create community media centres across the country.
CACTUS is proposing that a portion of the $80 million allocated to community channels be used to create a fund that community groups can apply to set up community media centres. The centres will provide training, equipment and may even acquire community broadcast licenses for radio or television. They would offer facilities for sound recording, television production, web design, broadband streaming and share resources with other community organizations that specialize in communications, for example, community newspapers, libraries, and theatres.
The best part of the plan is that this money is already being spent by cable companies. With CACTUS's proposal, Canadians won't have to pay another dime -- the media centre proposal will tap into funding that is already available.
The offline web
With the popularization of the Internet, it was only a matter of time before people figured out that online practices and values can have a place in our offline world. The beginning of what might be a long bleed of practices and values to the terrestrial may have begun with growing interest in participatory events. But why stop there?
As the desire for open systems and practices gains momentum, we can look to these and other hubs of open collaboration as an exciting new social nexus. A network of networks, you might say, much like the Internet.