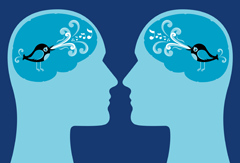 Social media tools like Facebook and Twitter are all the rage these days. We often hear about social media's incredible potential or conversely, its lack of relevance compared to traditional media.
But what exactly is "social media"?
Social media is a term used to describe the web-based tools, applications, spaces, and practices that people use to interact with each other and share information online. For example, social networks like Facebook, Twitter, and MySpace provide online tools that can be used for sharing media and engaging in online conversations, while also providing users with online personal space that forms a repository of shared content and social interactions.
Social media is highly participatory, unlike most traditional (offline) media. With traditional media like television, audience members are passive participants, consuming content that is produced by others. In stark contrast, online social media represent something of a return to a pre-print oral culture -- more of an ongoing dialogue than a form of production and consumption -- in the form of commentary, anecdotes, and shared stories (in audio, video and text forms). Through social media, the means of communicating and producing social meaning, narratives, and values have been returned to what citizen media commentator Dan Gillmor calls "the people formerly known as the audience."
Canadians love Facebook
Canada has a remarkably vibrant social media community. According to cyberlawyer Michael Geist, we have the second highest per capita usage of Facebook in the world. Our cities are also stacked with revered social media innovators and well-followed media and technology commentators, many of whom reach thousands or more people with just the stroke of a key.
Most importantly, the use of social media enables the large portion of society that has access to its tools to connect with endless numbers of people, and in real time. Social media facilitates the mobilization of people who are able to unite under common fronts via their cell phone or computer. The remarkable movement for fair copyright legislation in Canada -- the result of an uprising of concerned Internet users -- is testament to its power. The 1.5 million American citizens who lobbied politicians in 2007, demanding an open Internet, is another example of how these tools can be used to mobilize for social change.
Please attend the 'unconference'
Social media use is also enabling a plethora of offline meet-ups, collaborations, and events. Many of these face-to-face or "real world" activities are in part inspired by and infused with the collaborative practices and values associated with social media. Unconferences, for instance, are a new form of radically democratic conferences inspired by open-source software development processes.
Many conferences revolving around technology or media issues are now set up as "unconferences", where participants direct the conference through a combination of online chat/wiki technologies and face-to-face interactions. For example, BarCamp is a series of technology-focused unconferences formatted as an "ad-hoc gathering born from the desire for people to share and learn in an open environment."
These unconferences share an element of online social media practices like distributed decision making, and apply it to offline activities. BarCamp co-founder Ryan King "figured there was much more expertise in the audience than there possibly could be onstage." New media commentator Kate Milberry notes, "if users actualize values of cooperation, collaboration, voluntarism, sharing and trust in their social interactions online, this surely has implications for social engagement offline."
Power for social change outweighs negatives
Social media comprise an important toolkit for social change, with huge potential for reinvigorating local communities and opening up government. For example, this year a new set of autonomous local conferences called ChangeCamp are underway, where citizens and government workers gather to address the question: "How do we re-imagine government and citizenship in the age of participation?"
There are valid concerns about Internet usage, the digital divide, and the social surveillance undertaken by the owners of commercial social media platforms. But with current economic, political, and ecological challenges in mind, the social experiments enabled by social media are more than necessary, and potentially critical to finding our way through these challenges.
Related Tyee stories: