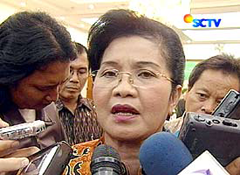 On May 14, a 16-year-old girl in Jakarta, Indonesia, died of bird flu.
She had the beautiful name of Istiqomah. Ten days before her death, her brother Ahmad Rizki died with similar symptoms, and when she died her older brother Alamsyah was under treatment for flu-like symptoms. (The outcome of his case is still unknown.)
Istiqomah was at least the 109th Indonesian to die of bird flu. Normally, the World Health Organization would have officially confirmed her death.
But Indonesia's health minister is a woman named Siti Fadilah Supari, who has been playing politics with bird flu for over a year. Sometime in May, Dr. Supari stopped cooperating with WHO. In effect, she clamped down on news of a disease that has killed four out of every five Indonesians it's infected.
Dr. Supari has been a problem for a long time. Last year she refused to share H5N1 virus samples with the rest of the world, claiming that foreign drug companies would use them to create flu vaccines that Indonesia couldn't afford. WHO tried to negotiate with her, to no effect.
More recently, she led a campaign to eject a U.S. Navy medical lab, NAMRU-2, from Indonesia. The lab is one of the most advanced in Southeast Asia, and has helped Indonesia track the advance of H5N1, but Dr. Supari wanted it out.
A minister with a lot of clout
WHO, which is also trying to deal with malaria, HIV/AIDS, TB, dengue, and a host of other diseases, had to deal patiently with Dr. Supari. Like many other international agencies, it's a creature of its members, and it has no powers to coerce those members. Dr. Supari, the daughter of a prominent member of a large Muslim organization, appears to have a lot of political clout.
On my blog, H5N1, I've followed the Indonesia story for almost three years. At first it was just another third-world hard-luck story: like Vietnam and China and Thailand, Indonesia had a lot of chickens and ducks, and some of them died of bird flu.
Worse yet, some of those chickens and ducks passed the disease along to humans -- usually young people under 30. In a country where scores of millions keep chickens in the house the way we keep cats and dogs, a few people got sick and most of them died in days.
For some reason, Indonesia has the worst H5N1 case fatality ratio of any country in the world. Egypt has a CFR of about 40 per cent. The world average is around 60 per cent. But Indonesia loses 81 per cent of those who contract the disease.
This is still small stuff compared to Indonesia's other sorrows: earthquakes, volcanoes, tsunamis, religious strife, dengue, and TB. But medical experts have been worried because at some point H5N1 could well mutate into a form that doesn't just jump from bird to human now and then. It will be a virus that can jump from human to human to human, like the Spanish flu of 1918.
Could we lose a billion people in a year?
The Spanish flu infected about a third of the world population, and killed about two per cent of those it infected. If H5N1 infected a third of today's 6.3 billion, and killed 60 per cent of its victims, we would lose over a billion human beings in a year or less. Most would be children and young people.
The stigma of such a disease obviously bothers the Indonesians. WHO reports on the country's first deaths were long and detailed. Then they became short and uninformative. Clearly the Indonesians didn't want the details out there for the world to see.
Evidently the death of Istiqomah pushed Dr. Supari over some line. Now she refused to pass the news along to WHO. The English-language source like The Jakarta Post and Antara news agency stopped reporting. Media in Bahasa Indonesia, the country's official language, kept publishing reports on suspected cases. But they didn't get official notice.
So WHO didn't publish an official confirmation of Istiqomah's death, and I couldn't find anything about her case -- or anyone else's.
'How does it help us to announce deaths?'
Then, on June 4, Associated Press reported that Dr. Supari was just not going to report human cases as they occurred. Instead, she said, she'd report them maybe twice a year.
"How does it help us to announce these deaths?" she asked. She saw them as only harming her country's reputation.
WHO said nothing except that it was seeking confirmation. Most global media paid little attention. Dr. Supari was publicly violating WHO's International Health Regulations, which require its members to report H5N1 promptly and in detail.
Baffled, I searched among my own blog's links and found something that startled me: OIE, the organization that monitors animal diseases, had stopped publishing reports on Indonesian poultry deaths in September of 2006. Everyone knew that H5N1 is endemic in Indonesia, so why had the reports stopped?
Well, it turned out that OIE reports on individual outbreaks, but once a disease is endemic, it doesn't ask for reports more often than every six months.
Even then, Indonesia hasn't updated its poultry outbreaks in almost two years. (Neither have many other countries.) And OIE, like WHO, can't do a thing about it. Complaining in public will only annoy the governments that are trying to cover up the problem.
Turning Indonesia into a no-news zone
Somehow, an enormous country of a quarter-billion people was trying to turn itself into a no-news zone like North Korea or Burma. H5N1 could continue to simmer in thousands of villages, and the world wouldn't know about it until someone boarded a flight from Jakarta and arrived sick in Vancouver or Tokyo.
With eerie good timing, on June 12 the Canadian Medical Association Journal published an article on the International Health Regulations and their importance for global health.
An editorial in the same issue criticized Canada's own failure to share epidemiologic information.
That same day, Helen Branswell of Canadian Press reported that Indonesia would resume reporting human H5N1 cases. It's hard to imagine the kind of pressure that Dr. Supari and her government must have been under, but I hope it means they'll follow up. As of June 16, they hadn't.
Sixteen-year-old Istiqomah was not the last Indonesian to die of H5N1. But if her government keeps its promise, she will not have died in vain.
Related Tyee stories: