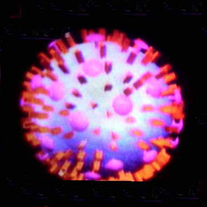 If I were writing the synopsis of a science-fiction novel about a flu pandemic, I'd treat it like any SF story -- as a thought experiment, taking known data and using them like a submarine captain's periscope to glimpse another world.
And if I were to base my thought experiment on the WHO report published last month, I'd probably use the following passage on page 15 as my starting point:
One especially important question that was discussed is whether the H5N1 virus is likely to retain its present high lethality should it acquire an ability to spread easily from person to person, and thus start a pandemic...should the virus improve its transmissibility through adaptation as a wholly avian virus, then the present high lethality could be maintained during a pandemic.
So let's base our synopsis on a virus that keeps its "present high lethality." The Spanish flu of 1918-1919 infected about a third of the human population, as far as we can tell, and killed about two to three per cent of those it infected.
That was a very high case fatality ratio (CFR). Most discussion of H5N1 has assumed an avian flu pandemic would inflict a similar mortality. Given our far larger world population, that's a very discouraging prospect.
But H5N1's present CFR, worldwide, is just under 60 per cent. In Indonesia, it's 76 per cent. In Vietnam, it's 45 per cent. (Cambodia's six cases have all been fatal, but that's a very small number.)
Well, in this SF novel, let's assume that a human-to-human (H2H) mutation breaks out with the capacity to infect one in three, and with the same CFR that it now has -- 60 percent. Let's give it a gimmicky title: H2H 60.
Outbreak on Tuesday, pandemic on Saturday
Given the speed of modern transportation, we can safely assume that a Tuesday outbreak of "H2H 60" in Indonesia or southern China is all over the planet by Saturday. Some infected persons arrive in, say, Sao Paulo when the disease has already been reported in Cairo or Paris. The Brazilians isolate incoming cases, ban further flights into the country, and perhaps win a few weeks' respite.
But H2H 60 entrenches itself in the major cities of Thailand, India, the Middle East, Africa, and Europe. It escapes from Heathrow in the UK and JFK International in New York City, not to mention Los Angeles, San Francisco and Vancouver. It arrives in Germany from Afghanistan and Iraq, where wounded Canadian and American soldiers have contracted it en route from the battlefields.
The first cases of course go into the hospitals, and instantly challenge those hospitals' basic hygiene. We have had many recent reports about filth in the U.K.'s hospitals, and Clostridium dificile in Canada's. The first cases of H2H 60 expose our hospitals as little better than the charnel houses that drove Semmelweis insane 200 years ago.
So the hospitals in London and Los Angeles and Vancouver implode. As with SARS, a third of exposed nurses, doctors and staff catch H2H 60. But now three out of five of them die, and three out of five of their patients also die.
9-11 to the tenth power
If the outbreak starts on Tuesday and reaches around the world by the next weekend, the following week is 9-11 to the tenth power. No skyscrapers are falling, but air travel ceases. So does most ocean shipping.
Cross-border travel of any kind is suspended. But when H2H 60 breaks out in San Diego and Mexico City, neither American nor Mexican border guards are on the job. Americans flood south into Baja while Mexicans flood north into Arizona and Texas.
In the north, the Vancouver outbreak quickly crosses to Seattle and Spokane, as well as Calgary, Toronto, and Ottawa. Where the border holds at all, it's held by small groups of guards, police and local residents who have sealed themselves off on both sides.
In some communities, through luck or draconian measures, H2H 60 doesn't penetrate. Like Treasure Island in San Francisco Bay in 1918-19, those communities seal themselves off and suffer not a single flu fatality. But across the rest of the world, the pandemic is unstoppable.
The first wave, and the second
In this thought experiment, let's assume that the first wave of H2H 60 infects 10 per cent of the population in two months. So within eight weeks of the original outbreak in Asia, 30 million Americans are sick and 18 million are dead. Canada suffers 11 million sick and 6,600,000 dead. The U.K. -- England, Scotland, Wales, and Northern Ireland -- has 20 million sick and 12 million dead.
Staggering as this toll seems, it's paltry compared to the deaths in Asia in the pandemic's first two months: China sees 130 million fall ill, with 78 million dead. India loses 65 million. Twenty-four million are infected in Indonesia, and almost 15 million die. Worldwide, 360 million are dead.
This is just the first wave. The second, five or six months later, takes almost 850 million additional lives. By the time the pandemic has run its course, two billion people have been infected and 1.2 billion have died. If H2H 60 is like Spanish flu, most of the fatalities are children and young adults. Deaths have been worst in Africa and Asia. That brings the post-pandemic population down to 4.8 billion -- the number of humans on the planet in 1985. We do not, however, simply return to the happy days of Ronald Reagan and Margaret Thatcher and Deng Xiaoping. We have lost engineers, health-care workers, skilled workers, scientists, administrators, teachers, farmers. We have lost a generation of children, and almost every woman pregnant during the pandemic.
What if and what's more
A good science-fiction novel isn't just "what if" -- it's also "what's more." If avian flu sustains its 60 per cent case fatality ratio, the "what's more" includes the collateral damage: those who die of diabetes, heart disease, cancer, and violence.
The collateral damage also includes those who die because no one has made or transported their medication, and those who die of simple starvation. And it includes those who are simply traumatized by death on a scale not seen since the Black Death arrived in Italy from the Black Sea in 1347.
North Americans have a big ecological footprint; some reports say that to give all six billion people our lifestyle, we would need five earths. After a pandemic with 60 per cent mortality, that footprint dwindles.
Most of us have to live on what we can grow ourselves, or purchase what is grown within a day's bike ride of where we live. Whether it is a sack of potatoes or a bag of runner beans, its price is far higher than today's.
We pay for it with gold or jewels or sex or brute labour. And if we can't, we have to hope that some small shred of charity remains in the hearts of those with some small surplus.
No hiding place
My synopsis doesn't hold out much hope for those who hole up. They expect to live on the bottled water and freeze-dried meals stored in their basements, to listen to news bulletins on their hand-cranked radios, and then to emerge -- with their dogs and cats -- into a quiet new post-pandemic world.
Having lived through the Cold War debates on whether to admit your neighbours to your fallout shelter, I expect these persons to be killed or robbed precisely because of their foresight. Never mind that some are buying weapons to defend themselves -- someone with more weapons eventually turns up on their street. Vancouver, San Antonio and Manchester are no different from Kigali in 1994 or Darfur in 2006.
But my synopsis offers one small hope: some of us are ready to die to support our institutions. After a quarter-century of hearing that government is the problem, not the solution, our lives depend on people who reject that view.
Just as soldiers give their lives to gain a hundred meters of ground, my synopsis shows police officers who go up alone against armed mobs, and doctors who go into hospitals full of corpses. It shows technicians who risk their lives to keep the water not just flowing, but drinkable. Some of my characters are truck drivers who carry food to strangers though they may bring disease back to their own children.
For more than a half-century, the industrial West has taken itself for granted: the food will grow, the oil will flow, the turbines will spin electricity. An H2H 60 pandemic would smash those assumptions to bits. The pandemic's aftershocks might well cost another billion lives -- not just in the West but also in AIDS-ridden Africa, in Third World sprawls like Jakarta and Mexico City.
But I won't write the novel I've synopsized. Since at least H.G. Wells's War of the Worlds, we in the wealthy nations have fantasized about losing it all, about suffering the fate we've inflicted on others.
But such novels (including Vonnegut's Cat's Cradle and Shute's On the Beach) haven't done a thing to move us off our self-destructive course. A novel about H2H 60 wouldn't save a single life, no matter how many copies it sold.
We will save lives by accepting the implications of the WHO report and similar expert assessments, and by taking concrete steps to prevent a pandemic before it spreads. The same is true of global warming and the destruction of the world's fish. Playing "let's pretend" about these threats will only distract us from a life-or-death struggle.