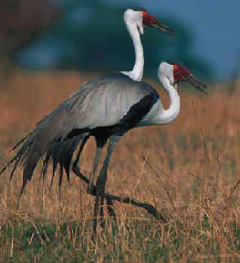 While scientists and conservationists are calling for a more careful, science-based approach to avian influenza, some members of the media are covering the story in a sensational and superficial manner. One ABC News story, for example, didn't mince words. "[Bird flu] is being spread much faster than first predicted from one wild flock of birds to another, an airborne delivery system that no government can stop."
"The North American media at the moment are being enormously irresponsible," says Nial Moores, Director of Birds Korea. Mr. Moores was particularly concerned by a Wall Street Journal article last summer (that can be read on-line at the Pittsburgh Post-Gazette) which compared migratory birds to "intercontinental ballistic missiles."
Although it is most likely true that avian influenza can spread from one flock of wild birds to another, and in so doing move short distances, there is, as yet, no conclusive evidence to suggest that wild birds can carry the disease "ballistic missile style" over long distances. In fact, scientists say anyone who argues wild birds are responsible, is speculating rather than relying on any facts.
"The collective expertise of the world right now cannot tell you whether the virus moved by human agency in poultry and poultry products in animal feeds or whether it moved by the natural agency of wild birds," says Dr. Ted Leighton, Executive Director of the Canadian Cooperative Wildlife Health Centre and one of Canada's foremost experts on avian influenza in wild birds. He insists there is much we need to learn about the spread of high pathogenicity H5N1.
'Silk Road' culprits
Dr. Hartup, Director of Veterinary Services at the International Crane Foundation, also cautions that we can't jump to conclusions. "People are oversimplifying the movement of birds. You can overlay a map with a huge circle on it and say, 'Yeah, that's what caused the spread.' But if we're going to pin the blame on wild bird movement, we're going to have to be much more specific. It's too easy to generalize."
Maps like the ones Dr. Hartup describes are common. BBC News offers one example. The Washington Post offers another.
Finding more sophisticated maps and materials that present alternate theories of the disease's transmission in the mainstream media is not as easy. America's National Public Radio, however, (on a web page that corresponds to a February 16, 2006 episode of All Things Considered) shows a map containing both a migratory bird flyway and the path of the Silk Road. Many experts believe the Silk Road and the Trans-Siberian railway have acted as conduits for the transmission of the disease through the legal and illegal trade in birds.
There's lots at stake in this issue. And like any threat this large, H5N1 is a story with many angles. The virus presents immediate and potential medical, social, economic, environmental and ethical ramifications for people around the globe.
Squalking at the real enemy
Naturally, we must consider how to protect ourselves from the next pandemic strain of influenza virus (which may or may not come from an H5N1 strain). At the same time, people must consider how to protect animals, many of which are already endangered. A Convention on the Conservation of Migratory Species of Wild Animals task force report, for example, lists six species of Eurasian birds that could entirely be wiped out by avian influenza. The report only considered Eurasian birds. In total, it compiled a list of 36 species that were at particular risk.
Some conservationists are worried about the threat people pose to wild birds through officially sanctioned or private culls. In support of this concern, Mr. Moores points to verified and reported wild bird culls in Vietnam, Indonesia and Russia. There have also been culls in Thailand.
So how likely is it that migratory birds could bring avian flu to Canada? "If I had to bet, I'd bet that if the virus does come to North America, it would come by human agency. That doesn't mean the probability of it coming by wild bird agency is zero. It would appear to be low. But the consequences could be high. So it's a risk, and we would be well advised to be on the lookout for it," says Dr. Ted Leighton, Executive Director of the Canadian Cooperative Wildlife Health Centre (CCWHC).
Avian health benefits
The CCWHC coordinates Canada's Inter-Agency Wild Bird Influenza Survey. Last summer and fall, that survey collected approximately 4300 wild ducks from six general Canadian migration corridors. Scientists then began to catalogue the range of influenza viruses present in the birds. At that time, the survey also began the routine testing of dead wild birds. No bird turned out to be highly pathogenic.
Recently, scientists have started to pay attention to the health benefits of nature, and not just to the potential cures found in plants. As ironic as it sounds, getting out and seeing birds could be the perfect antidote for anyone feeling stressed out about a possible pandemic.
For information about birding, check out Birding In BC, or in the Lower Mainland, visit the Reifel Bird Sanctuary whose website says the spring is an excellent time to see Western Sandpipers, hawks, eagles, cormorants and ospreys, all of which come to the mouth of the Fraser river to feed on salmon and eulachon.
Grant Sheppard is a freelance writer from B.C. He is currently teaching in Japan.